Muffins are a special breakfast around here. I don't put in the effort to bake them terribly often, but when I do throw together a batch I am always satisfied with the ease of grabbing one off the counter in the morning. Bread-y goodness paired with a pat of golden butter or dollop of creamy nut butter is quite the luxurious way to start the day. These basic coconut flour muffins are the perfect compromise. Made in the food processor with only nutrient-dense ingredients, this recipe is both simple and healthy enough for everyday munching. Now this is the type of breakfast routine I could get used to.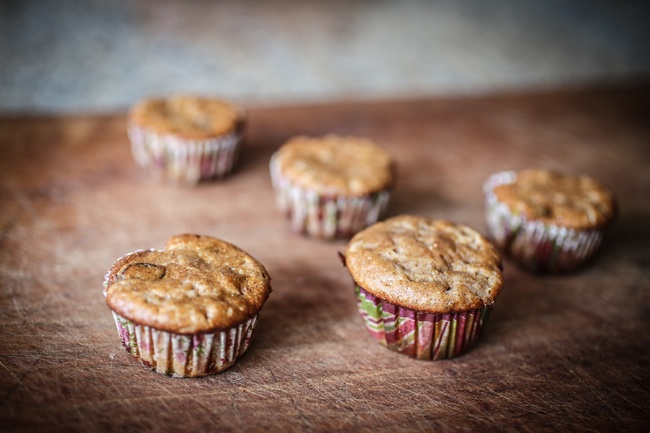 Working with coconut flour can be intimidating. As a highly absorbent flour with a unique texture, there are all sorts of directions and stipulations that apply when it comes to using it for baking. Leave the eggs out at room temperature, sift the flour first, let the batter set before pouring it into the pan...and on and on and on. While many of these tricks are useful in certain situations (I gab all about them in our Coconut Flour Bread e-book), they are definitely not hard and fast commands that must be unanimously applied to every single recipe. After all, what fun would that be?
I love this particular coconut flour muffin recipe for that very reason: it breaks all of the rules. Throw the ingredients into a food processor, pulse and pour. That's it. Why, it almost feels rebellious!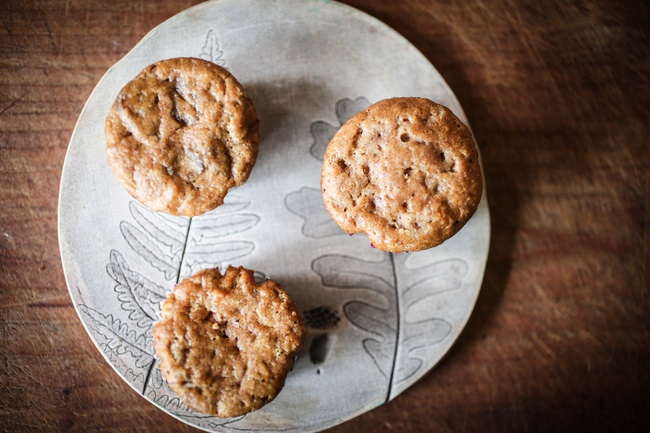 Basic Coconut Flour Muffins
Ingredients
1/2 cup coconut flour
1/2 teaspoon baking soda
1 teaspoon cinnamon
1 1/2 teaspoons organic vanilla extract
3 tablespoons raw honey
1/4 cup coconut oil
1/2 cup coconut milk
4 eggs
1 teaspoon apple cider vinegar
Optional
Add-ins
1/2 cup dried goji berries, cranberries or raisins
1/4 cup chopped nuts: walnuts, pecans, almonds etc.

Toppings
grass-fed ghee or sprouted nut butter
Directions
Pre-heat oven to 375 °F.
Place all primary ingredients in a mixer or food processor. Pulse until incorporated. Be mindful not to overdo- the batter should be smooth but not bubbly or frothy.
Sprinkle in nuts or dried fruit as optional add-ins. Stir to combine.
Fill a muffin pan with liners.* Pour batter into liners, filling about 3/4 full.
Bake 20-25 minutes or until a toothpick inserted to the center comes out clean.
Serve warm with your favorite topping, or store in an airtight container for future use. Enjoy!
*I used a mini-muffin tin for the recipe as pictured, but the standard size will also work. Add 5-10 minutes to the bake time for larger muffins.