High vitamin cod liver oil is considered a must for women and their male partners prior to conception, during pregnancy, and for growing children. Its excellent vitamin D content plays a major role in assisting the body to absorb calcium, which protects against osteoporosis, arthritis, cancer, mental disorders, chronic fatigue, digestive problems, and nerve problems. We can eat an abundance of calcium rich foods and yet not absorb enough if we are lacking in Vitamin D, so prevalent in today's age of "cave dwellers!"
Why High Vitamin?
Fat soluble vitamins A,D,E & K must be consumed regularly, in proper balance and in naturally high potency. Most cod liver oils today are either deficient in adequte amounts of vitamins A & D, or they rely on inferior, synthetic additives. Natural sources of vitamins A & D are all important catalysts for mineral absorption and essential for strong bones, healthy teeth, and normal growth. Vitamin A also plays a vital role in the utilization of protein and water-soluble vitamins. Radiant Life only offers high vitamin cod liver oil rich in all natural, fat-soluble vitamins A and D.
Don't Forget about Your Omega 3's!
Cod Liver Oil is also rich in Omega 3's consisting of the essential fatty acids EPA and DHA. EPA is necessary for the production of prostaglandins, which are hormones that direct many important processes in the cells. DHA is vital for the healthy development and functioning of the nervous system and brain.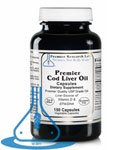 This pure U.S.P. grade cod liver oil is extracted from the world-famous, healthy cod fish from the deep, unpolluted oceans north of Norway. Collected from a specific species of cod, it contains more than twice the nutrients per serving of other cod liver oils. Produced without harmful solvents, deodorants, bleaches, or synthetic vitamins, this oil is nitrogen flushed to prevent rancidity and is kept at cool temperatures before shipping to avoid spoilage. This oil is regularly tested for mercury, PCBs, and other toxicity, to be sure it is free of any toxins. Packaged in the highest grade PET plastic, tested to be completely inert - no leaching.
New Year Special!
Offer good through January 7th, 2012.
Limit 15 bottles per customer (12 bottles purchased with 3 free bottles)
We have only a limited supply of
Order Yours Now!