I love a challenge. I am stubborn, competitive, far too serious when it comes to board games and mini golf, and secretly revel in someone telling me that I can't do something. So you can only imagine what happened when a friend suggested that it was impossible to make a gluten-free breakfast bread that tasted as good as her prized wheat-filled, sugared-out versions. It wasn't easy. But after several evenings in a batter-smeared apron, I think I have finally done it. A Date Nut Coconut Flour Bread free of grains, dairy and refined sweeteners. This could very well be my favorite primal baking experiment to date.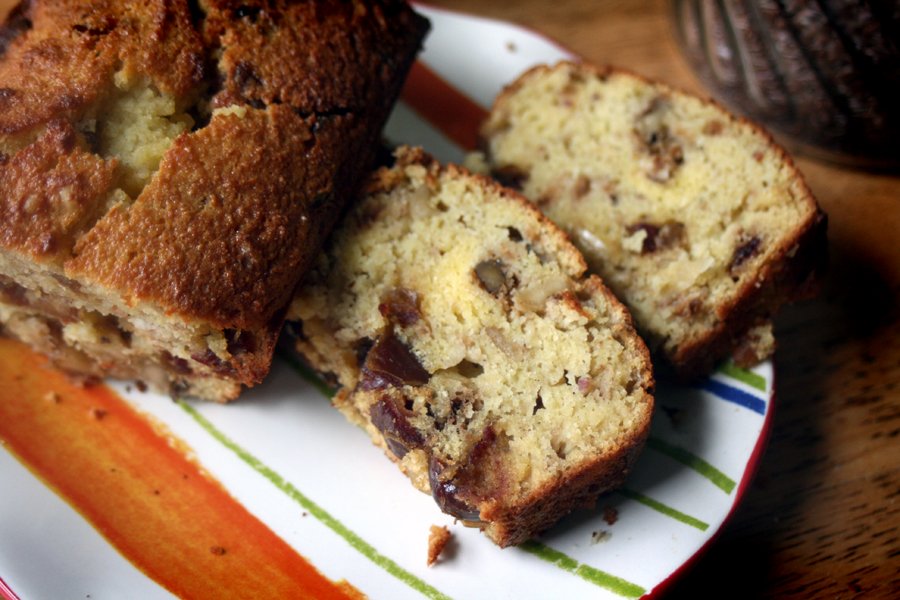 A Refresher on Coconut Flour
The dense texture of coconut flour lends itself perfectly to quick loaves like this one. If you have ever attempted baking with coconut flour, you probably know that it can be frustratingly finnicky. Because it is high in protein and fiber, lacks gluten for elasticity, and contains more fatty acids than conventional flours, coconut flour can be thick, dry and clumpy to work with. However, this also means that it is incredibly nutrient dense and oh-so good for you!
It is important not to give up on coconut flour. The most common mistake that I see is simply using it in the wrong kind of recipe. Flaky pastries and crusty baguettes are not easily achievable. However moist breads, wonderfully chewy cookies, muffins and frosting-covered cakes? That's where coconut flour shines. If disappointing baking results have made you leery of coconut flour, this recipe has the potential to change your mind.
I mentioned some tips for cooking with coconut flour back in my post on No-Sugar Blueberry Muffins. But as a reminder here are my top 2 hints for this recipe:
1. Have all ingredients at room temperature. You don't want the coconut oil to harden mid-stir.
2. Sift coconut flour prior to using. Eliminate lumps before they begin to create as smooth a batter as possible.
The Perfect Grain-Free Bread
I have always found the combination of sweet and crunchy in date nut bread to be absolutely divine. Growing up, my Memere would tote armfuls of her perfectly formed loaves to our house the day before Thanksgiving, and plunk them on the counter with an accompanying container of cream cheese and teasing smile. "You will have to wait until tomorrow," she would say, before I ever had the chance to ask. Now, I am happy to bring this tradition back: grain-free style.
If date nut is not for you, this recipe is also yummy with dried cranberries or cherries as a dried fruit substitute. The nuts can also be omitted for those with allergies.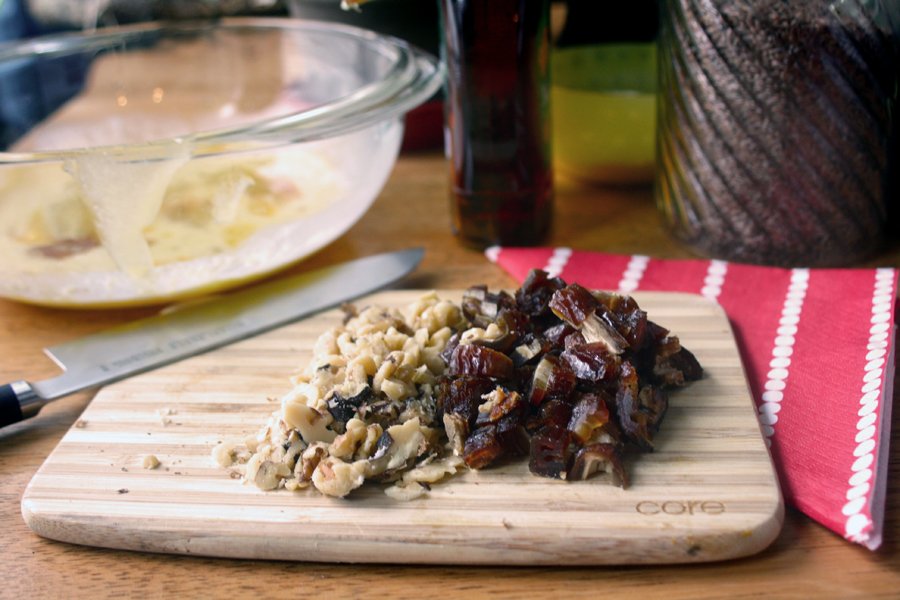 This recipe is for a mini-loaf, but it can be easily doubled to share. The pan that I filled measures about 5 1/2 x 3. It was gone very quickly, so adjust accordingly!
Ingredients
3 eggs
2 tablespoons cold-pressed coconut oil
2 tablespoons coconut milk (I made my own with this recipe)
3 tablepoons honey or maple syrup (I used a mix of both)
1/4 teaspoon vanilla extract
1/8 teaspoon almond extract
1/4 cup sifted coconut flour
1/4 teaspoon baking powder
1/4 teaspoon unrefined salt (sea salt or himalayan)
1/2 cup chopped dates
1/3 cup chopped soaked walnuts
In a small bowl sift together coconut flour and baking powder. Set aside. Separately blend eggs, coconut oil, coconut milk, extracts, salt and combination of sweeteners. Slowly add flour mix, stirring gently until no lumps remain. Fold in dates and walnuts. Spoon into greased mini loaf pan and bake at 350
°F
for 30-40 minutes or until a toothpick inserted in the center comes out clean.