Who doesn't love the scent and sound of onions sizzling in butter? Two basic ingredients that create pure magic just by cooking (sorta) slowly over medium heat - oh miracle of miracles! Add to that the scent of fried sage and roasted butternut squash. And you're right on your way to a delicious, festive dish that will delight your guests to no end! (But really isn't difficult to make… shh, we won't tell if you won't!)
This Caramelized Onion Farro Risotto with Butternut Squash and Sage is a study in balance. The chewy farro paired with the creamy butternut squash. The sweet caramelized onions with the deep herbaceous-ness from the fried sage. A fancy tasting dish that takes little skill and just a bit of time.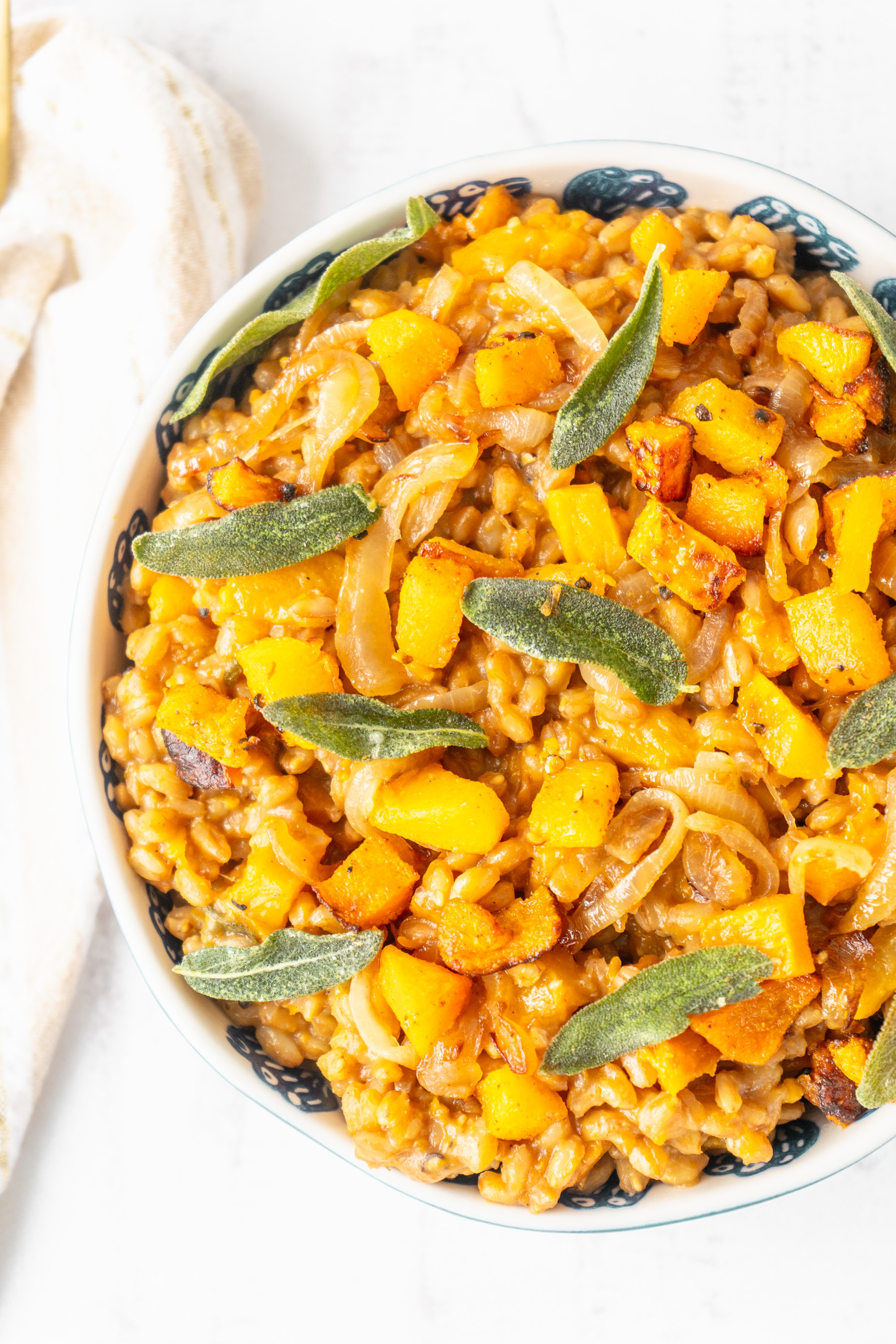 Risotto makes for a fabulous holiday meal or side dish because it seems so fancy, but it's actually not hard at all! The only challenging part is the constant stirring at the end of the cooking. It's the not-so-secret secret to an ultra-creamy risotto though and I can promise you, it's entirely worth it.
While arborio rice is traditional for risotto, I love substituting in farro because it adds a lovely nutty flavor, chewy texture and is more nutritionally dense.
Farro has slightly more protein and more than twice as much fiber as arborio rice. And it has tons of magnesium, zinc and vitamin B3 for a healthy immune system, strong bones and healthy hair, skin and nails.
So, whether you're serving to your family on a Wednesday or to your loved ones on New Year's, this farro risotto is so out-of-this-world creamy (and quite good for you!) that everyone at the table will be asking for this dish for years to come.
How to Make Caramelized Onion Farro Risotto
First up, roast the butternut squash. Drizzle it with some olive oil and a sprinkling of chipotle, garlic, salt and pepper.
Next, fry up a few of the sage leaves. Some will go into the risotto, but by frying up a few before we start the farro, we'll save ourselves some pretty frizzled leaves to garnish the final dish with a few gorgeous pops of dark green.
Then get those onions caramelizing! Heat a knob of butter and add in the sliced onion. Make sure to stir frequently to keep them from burning. Then add in the farro and let it toast slightly.
Next, we start adding in the broth. The key to creamy farro risotto is to add the broth in very slowly, no more than a half cup at a time, allowing it to absorb fully into the farro before adding any more.
Once almost all broth has been added, we'll take some of the those roasted butternut squash cubes and mash them into a pulp, then stir them in with the remaining broth to round out the squash flavor throughout the farro. It's a small step, but it makes a huge difference in the final flavor.
Finally, stir in the rest of the roasted butternut squash and serve! Top with the fried sage leaves.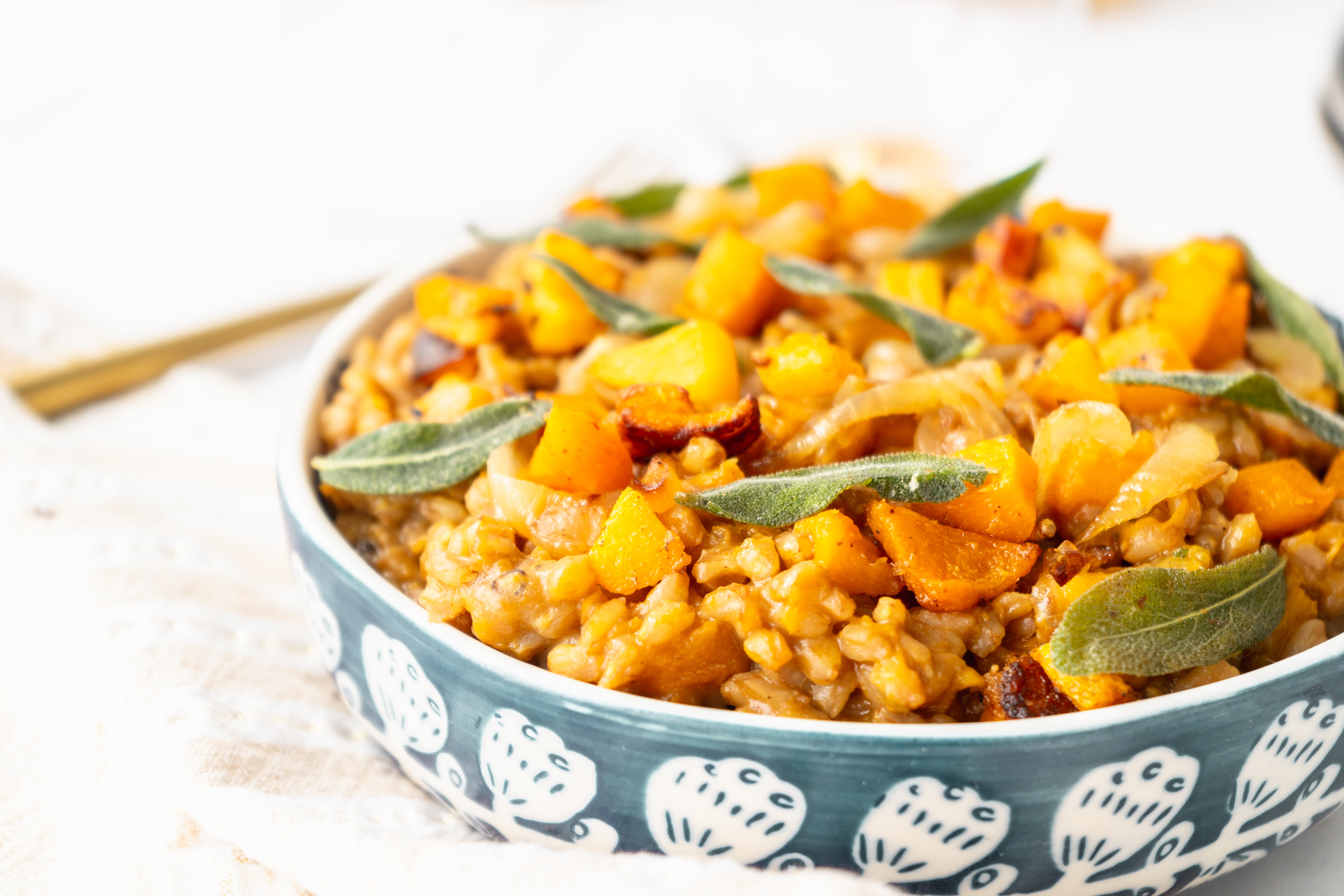 Caramelized Onion Farro Risotto with Butternut Squash and Sage
Makes: 4 servings
Prep Time: 20 minutes
Cook Time: 55 minutes
Roasted Butternut Squash Ingredients:
1 small cubed butternut squash
2 tablespoons organic olive oil
1/2 teaspoon garlic powder
1/2 teaspoon sea salt
1/4 teaspoon black pepper
1/4 teaspoon chipotle powder
Farro Risotto Ingredients:
2 medium onions, sliced thinly into half moons
2 tablespoons unsalted grass-fed butter, separated
15-20 fresh sage leaves, separated
2 cloves garlic, crushed
1/2 teaspoon sea salt
1/4 teaspoon black pepper
1 1/2 cups pearled farro
4 cups chicken or vegetable broth
1. Preheat the oven to 425° F. Place the butternut squash cubes on a sheet pan and drizzle with olive oil, salt, pepper, chipotle powder and garlic powder. Toss and roast for 25 minutes until fork-tender and just starting to brown. Remove from the oven and set aside.

2. In a medium sauce pan, heat 1 tablespoon butter over medium heat. Add 9-10 whole sage leaves and fry for about 2-3 minutes until crispy. Use tongs to carefully remove the leaves to a paper-towel lined plate to drain.

3. Return the sauce pan to the heat and add in the remaining tablespoon butter and let it melt. Toss in onions and sauté for 20-25 minutes, stirring frequently, until browned and very fragrant. Meanwhile, chop the remaining sage leaves.
4.Stir in the chopped sage, minced garlic, salt and pepper and let cook for 2 minutes, until fragrant. Add in farro and stir to coat completely, then let it toast for 2 minutes.
5.Begin to add in the broth a half cup at a time, stirring continuously to keep it from sticking. Once broth has been completely absorbed, add another half cup of broth and stir continuously again. Repeat this until 3 1/2 cups of broth have been added.
6. Take a 1/2 cup of the roasted butternut squash cubes and mash them into a paste. Add this mashed squash to the final 1/2 cup of broth and stir it into the farro pot. Let the farro finish cooking, about another 5 minutes until thick.
7.Then, add in the remaining roasted butternut squash cubes and stir to combine. Taste, and season with salt and pepper as needed. Serve and top with the fried sage.