Most nights we all need a dinner recipe that comes together in a snap. But a few times a year, we love to spend a little more time in the kitchen, whipping up something that feels just a little fancier.
Now that's not to say that we're looking to make something complicated with a lot of technique or skill. Or something that requires expensive, hard-to-source ingredients. On the contrary, we want a dish that looks and tastes elegant, made with simple ingredients, that doesn't make us want to throw in the towel from tricky cutting/folding/slicing/proofing.
This Braised Chicken in Red Wine Sauce over Root Vegetable Mash recipe is made for these nights..
Whether you're planning a date-night-in with your sweetheart after you get the kids down to bed or you just want to treat yourself to a little something extra, this Braised Chicken dish is a balance of feeling fancy and taking a bit of time without being over the top.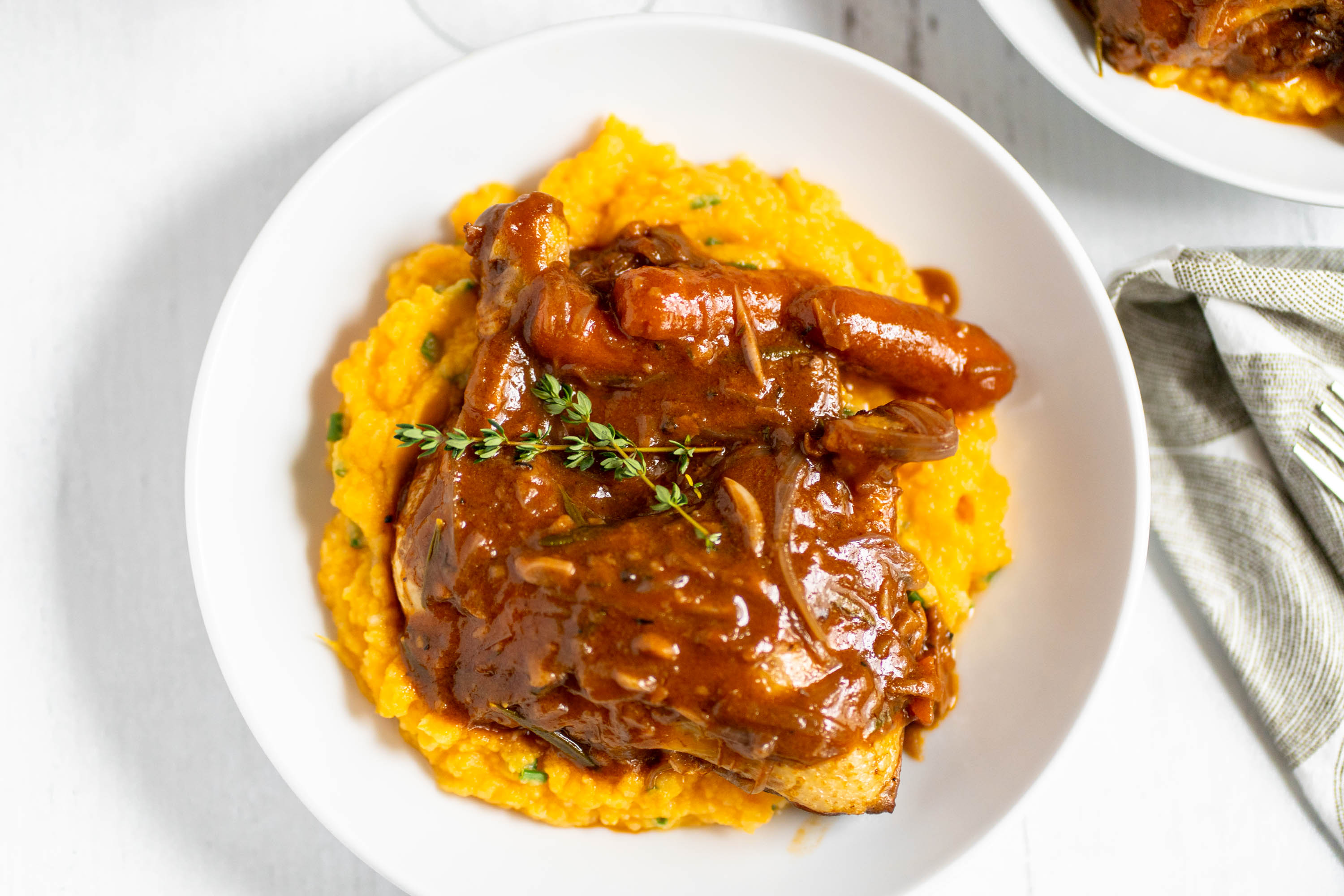 The chicken slow roasts in a sauce made from shallots, garlic, lots of red wine, and fresh herbs. Then we serve it atop a bed of garlicky mashed root vegetables. It's cozy, soul-warming and keeps you coming back for more.
It's true, this dish will take a bit of time to pull together, but the vast majority of the cooking time is spent letting the chicken bubble away in its sauce in the oven - totally hands-off.
First, we'll sear the chicken to lock in the moisture. Then we'll start to build the flavor in the pan by sautéing shallots, garlic and carrots. Next we'll deglaze the pan with a few good glugs of red wine. Once that's bubbling, we add in lots of fresh thyme and rosemary. Let the chicken cook away in the oven while we prep the mash.
By combining regular potatoes and sweet potatoes with a turnip or rutabaga or parsnips, we can make a vegetable mash that's lighter than traditional mashed potatoes with far more flavor. Add in a little garlic and a handful of chopped chives and you've got a gorgeous base to soak up all that delicious, shiny sauce from the chicken.
Once the chicken's done braising, we'll put the sauce back over the stovetop for a few minutes to thicken and voila! Fancy dinner without too much fuss.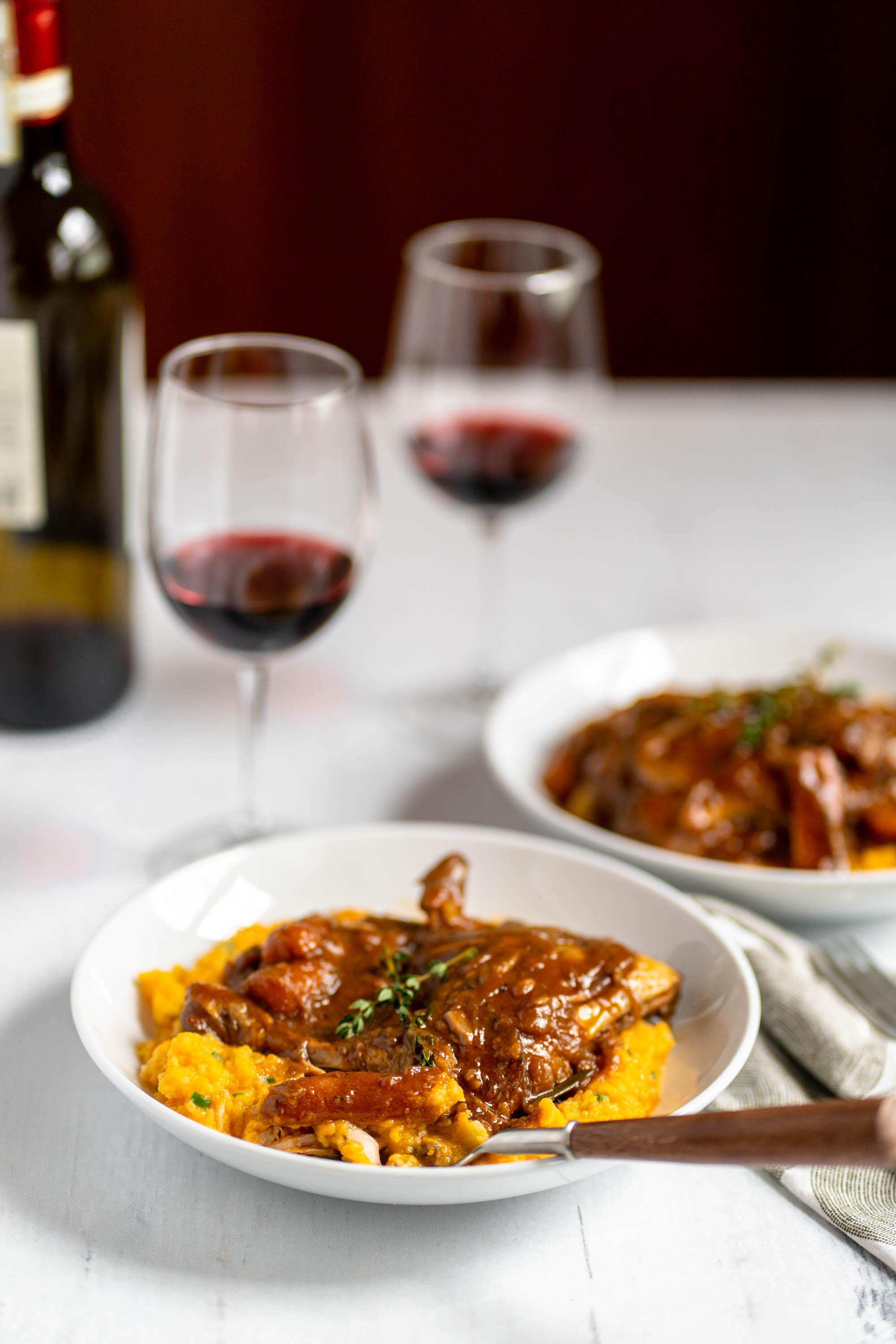 One of the best things about this dish is that it uses chicken quarters - a cut where the leg and thigh are still attached. It's an inexpensive piece of meat that's easy to find and cooks relatively quickly.
By combining this un-fancy cut with a luscious sauce packed with loads of flavor and served on top of a creamy, light vegetable mash, this dish becomes elevated without being stuffy or over-the-top.
In fact, it's completely cozy and delicious and perfect for a cold winter night.
Braised Chicken in Red Wine Sauce over Root Vegetable Mash Recipe
Makes: 2 servings
Prep Time: 30 minutes
Cook Time: 60 minutes
Total Time: 1 hour 30 minutes
2 tablespoons neutral oil (avocado oil)
2 chicken quarters (thigh and leg attached, skin on, bone in)
Salt and pepper
2 shallots, sliced thinly
4 garlic cloves, sliced thinly
2 carrots, cut into bite sized pieces
1 cup red wine, anything you like
1 tablespoon tomato paste
1/2 tablespoon Worcestershire sauce
1 cup organic chicken broth
6 sprigs fresh rosemary
6 sprigs fresh thyme
1 tablespoon white whole wheat or einkorn flour
Vegetable Mash:
1 small sweet potato
1 small Idaho potato
1 turnip, rutabaga or 2 parsnips
1/2 cup milk of choice, warmed
Salt and pepper
1 garlic clove, minced
1 bunch Chives, chopped
Preheat the oven to 325 F.


In a cast iron skillet, heat the oil over medium-high heat. Season the chicken quarters with salt and pepper. Add chicken to the pan skin-side down and sear for 5-6 minutes on each side. Remove the chicken to a plate.


In the hot skillet, add the sliced shallot and garlic and cook for about 3 minutes until softened and browned. Add in the carrots, stir and let cook for another 5 minutes.


Deglaze the pan with the red wine, scraping up any browned bits on the bottom of the pot. Bring the wine to a boil and let it cook down by about half, about 5 minutes. Add in the tomato paste and Worcestershire and stir together.


Nestle the chicken back into the pan, along with any juices from the plate, then pour in the chicken broth. Add in the sprigs of thyme and rosemary, then cover the pan with a lid or aluminum foil and place in the oven.


Roast in the 325 F oven for 45-55 minutes, until chicken is cooked through and just starting to fall apart.


In the meantime, prep the root vegetable mash. Boil the potatoes and turnip/rutabaga/parsnips until fork tender, about 30 minutes. Then drain off the water and mash with a potato masher or large fork. Add in the warm milk, butter, garlic, and salt and pepper to taste. Whip using a hand blender until light and smooth. Stir in the chopped chives and cover to stay warm.


Once chicken is done roasting, remove from the oven and place on the stovetop. Transfer the chicken to a plate and cover with foil to keep warm. Remove the stems from the thyme and rosemary. Place the pan over medium-high heat and bring to a boil and let cook for 2-3 minutes until starting to thicken.


In a small bowl, combine the flour and some of the liquid from the pan. Stir until there are no lumps, then pour into the pan with the rest of the sauce. Stir well and let the sauce thicken for another 2-3 minutes then turn off the heat. Nestle the chicken back in the pan to reheat.


To serve, place a few dollops of the vegetable mash on a plate or shallow bowl, then top with a piece of chicken and lots of the delicious sauce. Enjoy!