Confession: I love pudding. Smooth, melt-in-your mouth swirls of it, topped with angelic wisps of whipped cream and garnished with delicate slivered nuts...sigh. Layer it into a darling parfait dish or bake it in a ramekin and I find the stuff to be completely irresistible. While I enjoy most flavors, I have always been particularly fond of pistachio pudding, with its sophisticated taste and charming pale green color. One thing is for sure however...a dessert this good shouldn't come from a box mix, nor should it be something that is sacrificed for those needing to avoid dairy. So, here is a cunning no-cook, dairy-free version that uses the natural coloring of an avocado, the robust sweetness of a banana and the creamy texture of coconut milk to create an easily-digested, satisfying mousse-like treat in minutes.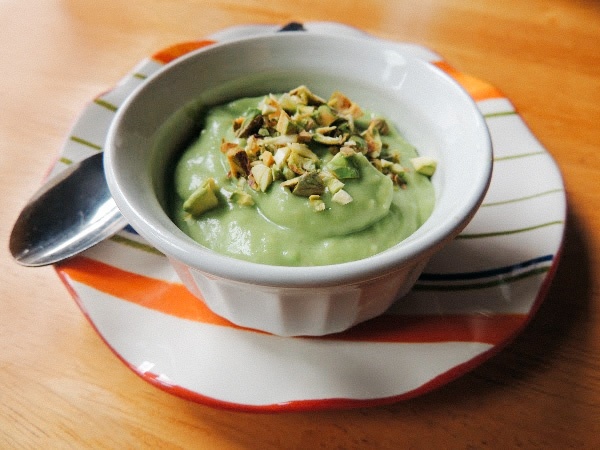 I used to believe that pudding only came from a box or plastic tub. Sad but true. In college I would keep a bulk supply of pudding snacks in my dorm room, tucked beneath my bed. On late nights spent peering into the mystifying blue glow of the computer screen, my desk would transform into a cluttered heap of empty plastic snack cups- all toppled over, with the forgotten spoon sticking out here or there, and lids licked immaculately clean. And then one day, came that sudden realization: these "milk" snacks were not refrigerated and remained good for, well...forever. Hmmmm. The best part of this paradox is that companies claim that these "wholesome snacks," which come in a shocking 20 flavors, have "as much calcium as an 8oz glass of milk," "no high fructose corn syrup" and "no trans fats." So, one might ask, what is possibly in there? Well, it turns out most of these marketing claims aren't exactly true, as the ingredients include:
Nonfat Milk, Water, Sugar, Modified Corn Starch, Partially Hydrogenated Soybean Oil, less than 2% of: Cocoa (Processed with Alkali), Salt, Calcium Carbonate, Sodium Stearoyl Lactylate, Natural and Artificial Flavors, Yellow 5, Yellow 6.
Laced with food dyes, chalky unusable calcium, unstable fats, potent sweeteners and some difficult-to-pronounce preservatives, these popular snacks just aren't as innocent as they seem. Recent media breaks have even reported that many of the well-to-do executives from companies producing these sugary, experimental psuedo foods, will not even serve them to their own children. Instead, they admit, such never-expiring, portable products are marketed largely to the sugar-addicted and those with a low-income (1).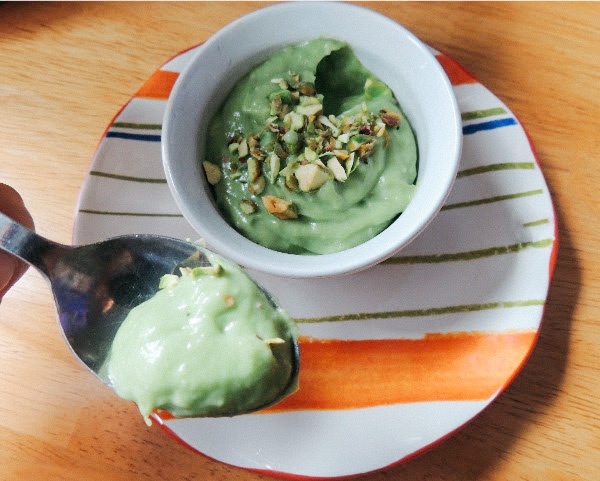 If you tolerate raw milk well and are up for a bit of an adventure, making some real pudding is certainly rewarding. Delicious whole food pudding that is, created from creme friache or piima cream and egg whites, heated slowly and then chilled to set. You can even find recipes for baked treats like Macadamia Nut Pudding in the brilliant Nourishing Traditions cookbook. However, if you want something that is quick, simple, delicious and dairy free- you can give this tasty avocado based alternative a try. Not only is the flavor and texture of this recipe captivating, but it is raw, enzyme-rich and full of complex healthy fats from the avocado and coconut, soluble fiber from banana, and then finally sprinkled with thiamine, protein and potassium-rich pistachios. There are hundreds of avocado pudding recipes out there (most of which are blended with chocolate), however as a true pudding-lover I long doubted their legitimacy. Yet I must say that I was completely enamored with the unique flavor combination presented in this recipe. Thank you to Diane at Balanced Bites for the inspiration. The delicate flavor balance and nutrient profile makes it very versatile. If you have a flare for the unusual, try it as part of a satisfying breakfast, afternoon snack or beautiful dessert served to guests.
Dairy-Free Pistachio Pudding
2 ripe avocados
1 1/2 tsp almond extract (if you can find pistachio extract that also works well)
1/4 cup coconut milk (storebought or make your own)
1 large or 2 small bananas (check out why organic is best)
pinch sea salt
1 tbsp raw honey (optional- bananas may very well be sweet enough to suit your taste)
Topping:
2 tbsps raw pistachios, chopped
Scoop the flesh from the avocados into a small food processor or mixing bowl. Peel the bananas and add them in as well. Process until smooth. Add the remaining ingredients and process or whisk until well-combined. Garnish with pistachio bits and serve right away.