Doesn't summer just scream smoothies?! I don't know about you, but I love smoothies. And during this season, with the hot weather and ocean breeze, they taste all the better. Smoothies offer an icy, simply, and irresistible way to quench your thirst and nourish your body, all at the same time. Is anybody else's mouth-watering? On some days, particularly when the weather is intensely hot, a real meal doesn't always seem appetizing. This is when a mason jar of blended goodness seems like the perfect match. However, there is no reason why a smoothie should be any less nutrient dense than a fully cooked meal. And that will be the focus of my post today! How can we combine amazing nutrients and flavors into one perfectly poured, convenient cup?
I have been shocked at some of the ingredients in your typical smoothies, even at so-called "health stores." Sugar, fruit juice concentrates, synthetic vitamins, and more are found in abundance in many of these drinks, making them worse than even my homemade dessert recipes! Just because it's a smoothie, and just because it tastes oh-so-good, does not mean it cannot be nutrient dense too!
There are so many viable options for incorporating the best nutrition into your daily smoothies. And yes, you can even sneak leafy greens into great tasting smoothies and have your children enjoy them as well! Below are three of my favorite go-to recipes, each with their own flavor and feel, and all of which supply a wide variety of nutrition to meet your different needs.
Smoothie One – A Little Bit of Everything…
The first is my classic smoothie. I like to call it "a little bit of everything" because this blend is versatile and can be easily adjusted depending on the foods you have on hand and your mood!
Ingredients (serves 2):
*A handful or two of your favorite fresh or frozen fruit – I love raspberries and blackberries!
*An avocado – because who doesn't love the rich, creamy texture it adds- not to mention the incredible nutrients this fruit has!
*One teaspoon of honey
*One tablespoon of nut butter (for protein) – I usually go with almond
*8-16 ounces of milk. This can be cow's milk (preferably unpasteurized) or if your family has any dairy allergies like mine, a can of full fat coconut milk is a great substitute!
*One teaspoon of your choice vegetable powder
Veggie powders from Dr. Cowan's Garden and Pure Synergy are full of spectacular nutrition in easy-to-use powder form. To enhance the nutrition of my smoothies, I always blend in a teaspoon of a different vegetable or fruit powder, depending on what taste and nutrients I am looking for that day. Have fun checking out the many options and experimenting with each one!
For all of the smoothie recipes, simply toss the ingredients in a blender and blend well.
Smoothie Two – Beets, Carrots, Apple, Oh My!
This recipe is a little different. It is more of a juice, for those who prefer this option. But rather than merely drinking this recipe as a juice, I blend mine with ice, and a quarter teaspoon of Pure Radiance C to boost my immune system! This makes for the perfect "pick me up" when energy is low, or for when you are feeling under the weather.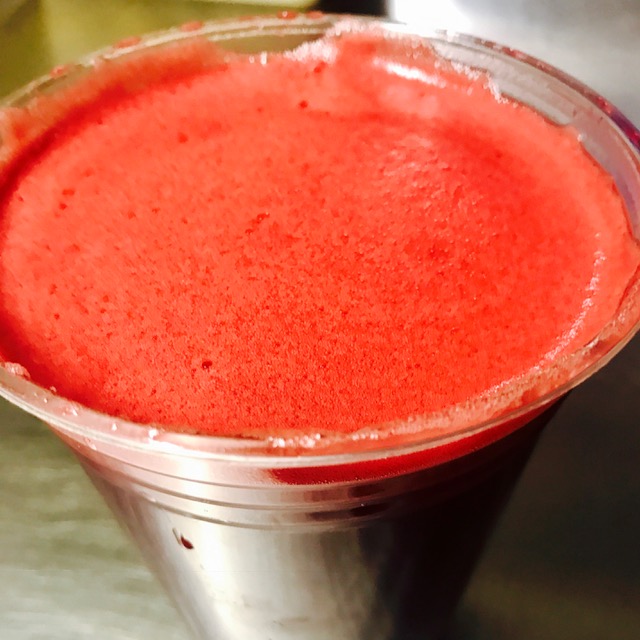 Ingredients (Serves 2):
*Two beets peeled and quartered
*Six whole carrots, peeled and rinsed
*Two apples peeled, cored, and quartered
*Juice from one fresh-squeezed lemon
*One teaspoon of vegetable powder
*A quarter teaspoon Pure Radiance C
*One cup of ice
On a side note for the above recipe; the beets and the carrots could be substituted for powders as well.
Smoothie Three – Go Bananas Over Chocolate!
I cannot end this post without including a tasty dessert-like smoothie blend. But who says dessert can't be healthy?! What I love about this recipe is that it is not only delicious, but also packed full of healthy ingredients. Dessert for breakfast, anyone?
Ingredients (Serves 2):
*One large banana
*Two tablespoons nut butter (I like almond)
*One tablespoon cocoa powder
*One can (about 12 ounces) full fat coconut milk
*One teaspoon of berry or vegetable powder
I personally love Dr. Cowan's Threefold Blend as it has a mix of a number of different vegetables, leaves, and fruits that makes it slightly sweet and a perfect addition to chocolate and coconut!
As you can see, there are so many exquisite smoothie options out there for keeping your palate satisfied and body fueled. Check out the Radiant Life website tabs for a plethora of options and information on all the essential minerals and nutrients that each product contains.
Pictured below are some of my favorite smoothies and the products used to make them. You'll also spot my little Aloe Vera plant in the background, which is also well loved and used throughout these sunny summer months!