Now's the perfect opportunity to embark on a tasty baking project - and we all have plenty of time and everyone needs a little treat now and again! These Fudgy Flourless Brownies with a Nut Butter Swirl are equal parts delicious, easy and satisfying.
First of all, let's chat about baking and mental health. The idea of undertaking a baking project for your emotional health might seem a little foreign at first. But if you've ever found yourself with a sense of calm, joy, love or pride after spending some time in the kitchen, you know exactly what I'm talking about!

Baking can be a tasty, stress-reducing activity when it's approached from a place of calm and well-being. In fact, cooking therapy has become a hot topic in the last few years.
The idea behind "culinary arts therapy" is that focusing on an activity that requires your full attention, like cooking or baking, can be incredibly beneficial for our mental health.
What's particularly interesting with baking or cooking as a meditative tool is that it can also have added emotional benefits beyond mindfulness since it can promote your sense of creativity, connectivity and nourishment. And when you bake to share with other people (as so many of us do), you actually double down on the good feelings by partaking in the altruistic act of feeding others.
Fulfilling a deep human need for yourself and those you love? Man, does that give us a sense of purpose and make us feel good!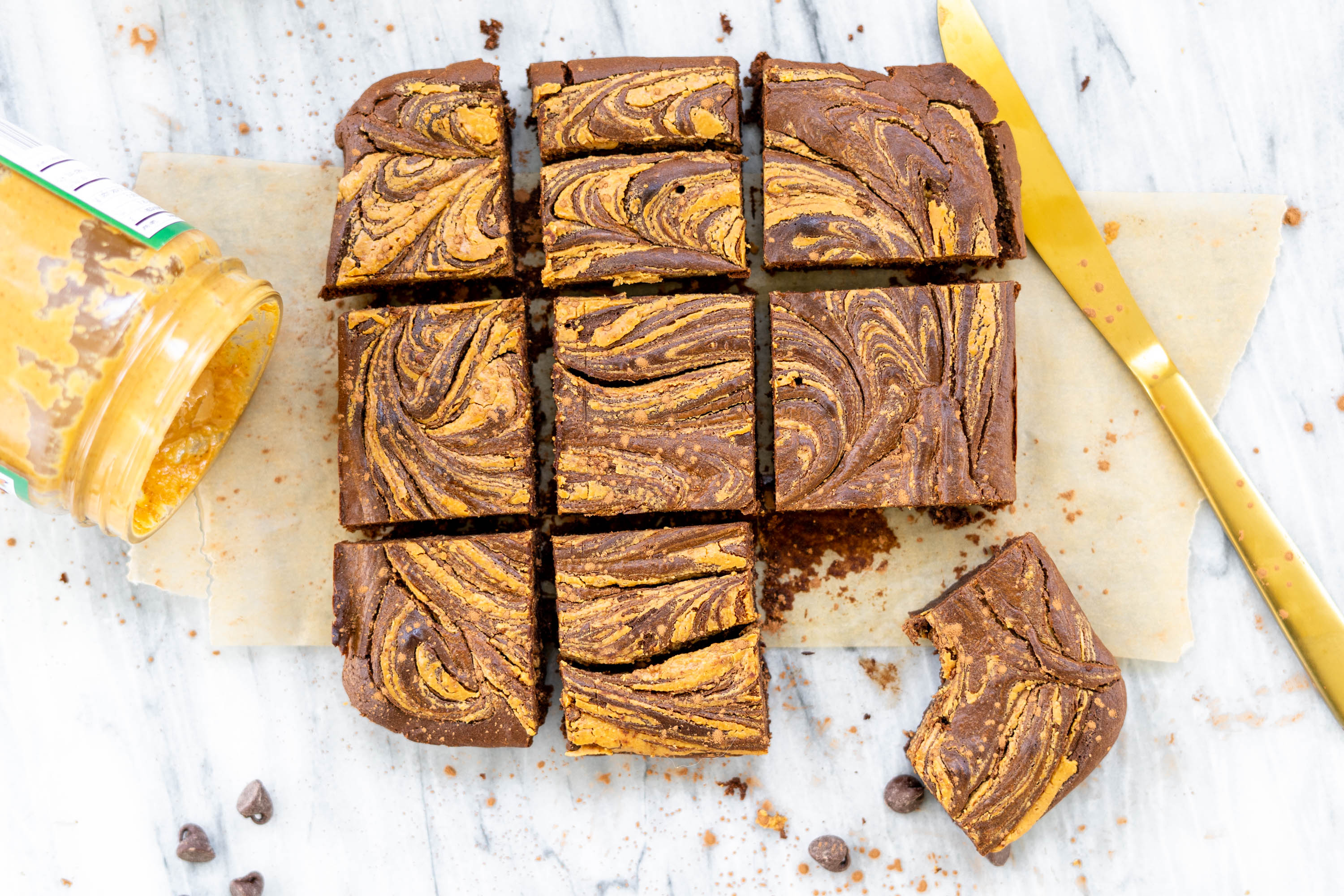 These Fudgy Flourless Brownies with a Nut Butter Swirl are a fabulous baking project that you and those you're feeding will love! And they're made without all the white sugar, flours or ingredients of more traditional baked goods, so you're nourishing the mind, body and soul.
These brownies are gluten-free, refined sugar free, dairy-free, can be made nut-free and vegan! Whew! A treat with lots to smile about.
I've also included a number of ingredient alternatives/swaps. So you should be able to make these with what you have in the pantry - no need for an extra trip to the store.
So let's get crackin'!
First up, we'll whisk together some cacao powder and arrowroot powder. Don't have those? Cocoa powder and cornstarch are great alternatives!
Then we'll melt together coconut oil, semisweet or bittersweet chocolate and some nut butter of your choice. Whatever oil, chocolate and nut butter you have on hand will work. Peanut Butter, Almond Butter, Tahini, Sunflower Seed Butter, etc. are all delicious!
Next, we'll mix up the eggs and sugar. By whipping the eggs very well with the sugar, all the incorporated air will lighten-up these brownies while also giving them structure. If you'd like to make these with a vegan egg replacement or a flaxseed egg, you certainly can, but just check out my quick word of warning below.
Once your eggs and sugar are fluffy, mix in some vanilla and salt, then the melted chocolate, then the cornstarch mixture, mixing well between each. Finally, pour the brownies in a square pan, add small dollops of your nut butter and swirl with a toothpick. And bake!
A note on veganizing these Fudgy Flourless Brownies
When testing a version of this recipe made with a flaxseed egg, I found that they will turn out… but the batter will be a bit oilier. This is because the flax egg, though an amazing egg substitute in most cases, just won't whip up to be as fluffy as a traditional egg. Swirling the nut butter will be a bit more challenging (but possible!) and the brownies will turn out a bit oilier after baking.
However, I found that if you let them cool, then slice and store in an airtight container overnight that they are better the next day! So if you'd like to go this route, I'd suggest baking them up a day in advance of serving.
Give yourself a little mental health break and bake up these Fudgy Gluten-Free Brownies with a Nut Butter Swirl! You'll feel calmer and more centered as you slide them into the oven. And you're bound to smile as you sink your teeth into that first square!
Fudgy Gluten-Free Brownies with a Nut Butter Swirl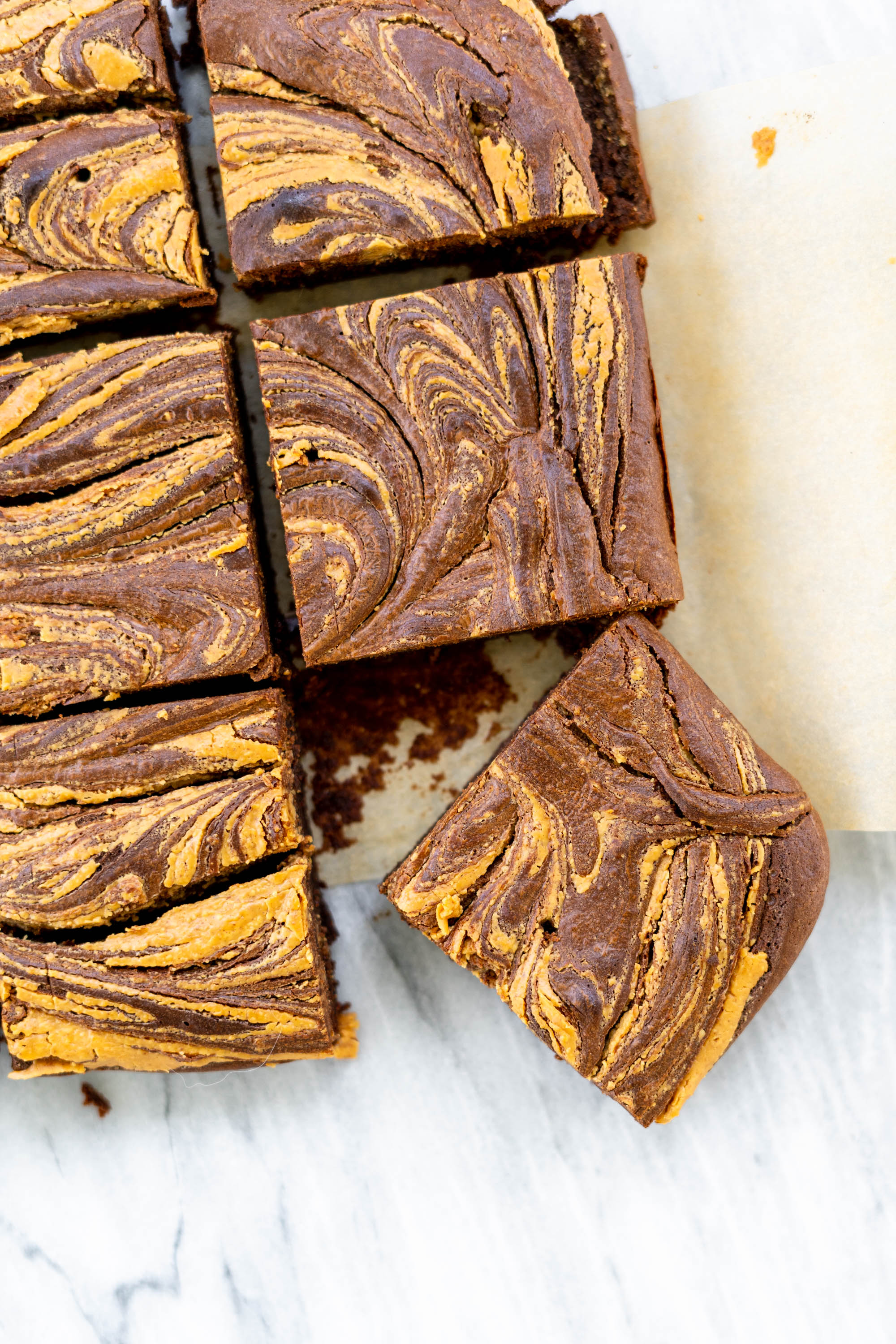 Prep Time: 15 minutes
Bake Time: 25 minutes
Total Time: 40 minutes
Servings: 9-12 (depending on how big you like your brownies!)
3 tablespoons arrowroot powder
2 tablespoons cacao powder or cocoa powder
6 ounces bittersweet or semisweet chocolate chips (chop if in bars)
3 tablespoons virgin coconut oil
4 tablespoons nut butter (peanut, almond, tahini, sunflower), divided
2 large eggs (can use flaxseeds if necessary, but see note)
1/2 cup coconut sugar
1 teaspoon salt
1 teaspoon vanilla extract
Preheat the oven to 350° F. Line an 8x8" baking dish with parchment paper.
In a small bowl, whisk together the arrowroot/cornstarch and cacao/cocoa powder until no lumps remain. Set aside.
In a small saucepan, heat chocolate, oil, and 1 tablespoon of nut butter over low heat, stirring the whole time, until melted and smooth.
Using an electric mixer on medium-high speed, beat eggs and coconut sugar until light and smooth, and doubled in volume, about 3 minutes. Beat in salt and vanilla, then add in chocolate mixture, beating until incorporated. Scrape down the sides, then mix in cornstarch mixture and beat until mixture is thick and shiny, about 30 seconds.
Transfer batter into your prepared baking dish and smooth out the top with a spatula. Drop the remaining nut butter mixture on the top in small 1/2 teaspoon dollops. Then swirl into the batter with a toothpick.
Pop brownies in the oven and bake for about 22-25 minutes, until a toothpick inserted in the center comes out clean. The sides should be slightly puffed up and the nut butter swirl should be just a touch brown. Let them cool fully, then lift up the parchment and cut them into squares.
*Note on eggs: If you'd like to use an egg alternative such as a flax/chia seed egg or a vegan egg replacer, know that the brownies will turn out, but they will be a touch oily. They are best if cooled fully and stored in an airtight container overnight, then enjoyed the next day