It's the most wonderful time of the year … cookie season! Whether you're baking at home with the kids or grandkids, participating in a cookie swap or bringing sweets into work for a little midweek cheer, cookie season is full of joy and, of course, tasty treats!
And in the spirit, we embarked on a journey to create a healthier version of a classic cookie that's loved by all: the Snickerdoodle.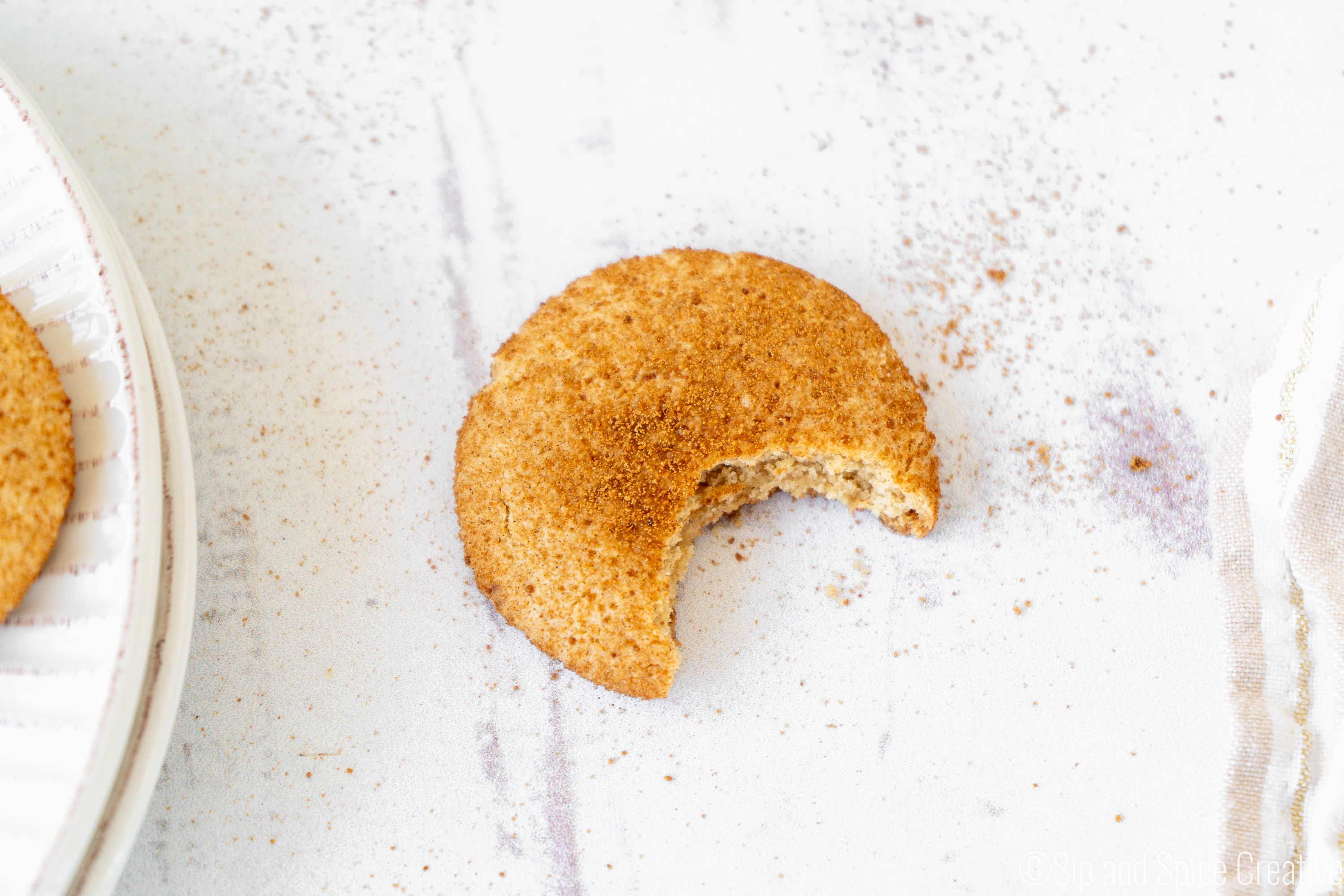 Traditional Snickerdoodles are made with butter, sugar and flour, and then rolled in cinnamon sugar before being baked. They're lightly spiced, not overly sweet and just a little nutty.
To make these Gluten-Free Vegan Snickerdoodles though, we swapped in a handful of healthier, more nutrient dense ingredients to create a similarly chewy, delicious, slightly sweet cookie that also happens to be gluten-free and vegan!
Here's how we did it!
First up, we're using almond flour in place of the all-purpose flour in traditional Snickerdoodles. Instead of reaching for a gluten-free alternative flour, we wanted something with a natural nuttiness to complement the cinnamon in and on the cookies. Plus, almond flour has tons of protein, calcium, iron and zinc.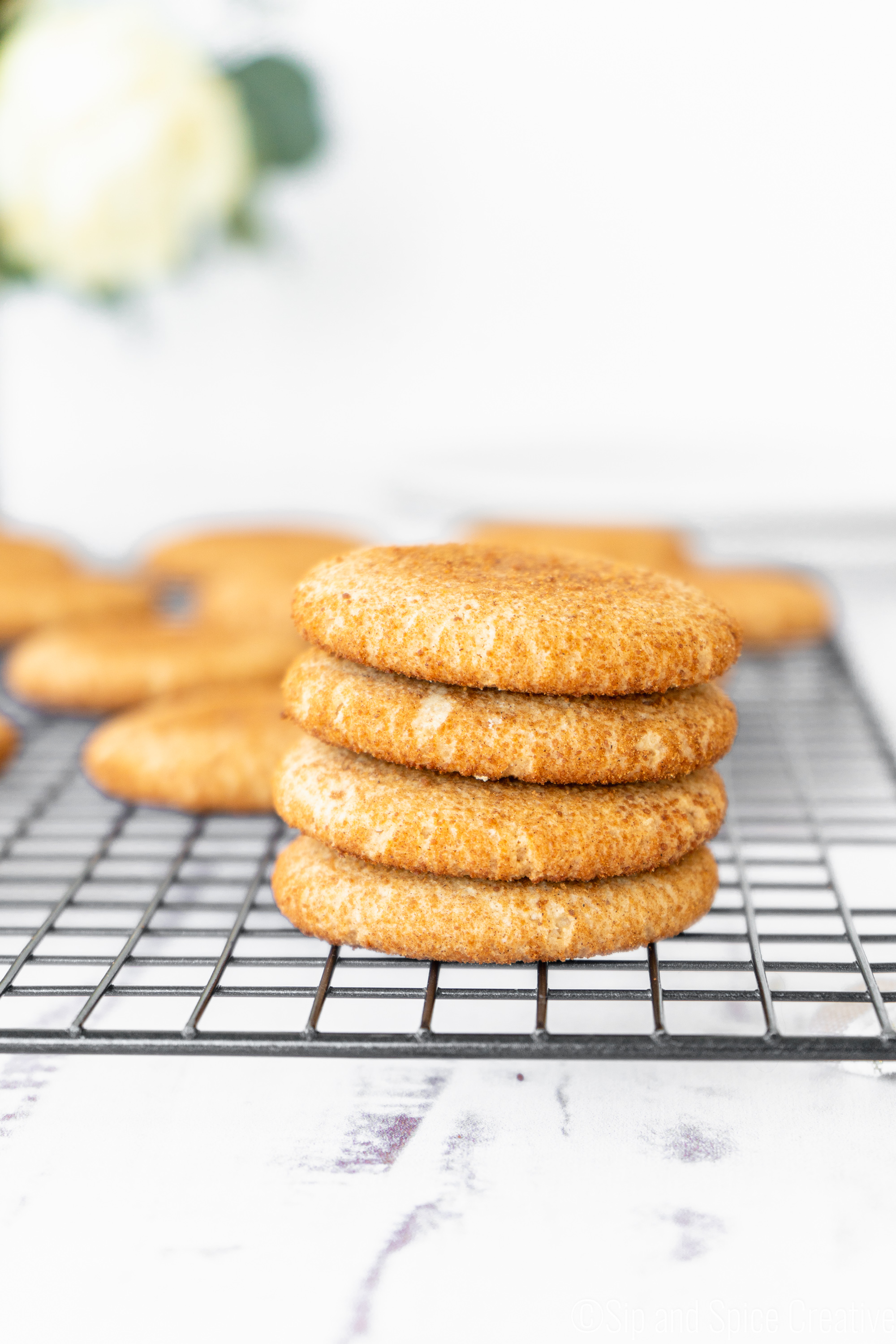 Then we swapped in coconut oil for the butter, because it further complements the nuttiness of the cookies - and as the added benefit of making these cookies vegan!
And then we used maple syrup for the sugar in the cookies and coconut sugar for the white sugar that we roll them in at the end. Maple syrup and coconut sugar have a slightly lower glycemic index and retain a few more nutrients than white sugar.
And voila! Gluten-free Vegan Snickerdoodles that taste just like the original, but are just a little better for you. They have that lovely crisp, cinnamon-sugary outside, with a perfectly soft chewy middle.
Plus, they could hardly be easier to make!
How to Make Gluten-Free Vegan Snickerdoodles
Heat the oven to 350 F and make sure that your coconut oil is melted.
If you live somewhere warm, your coconut oil may already be partially liquified. If not, heat it until it is clear and fully liquified, then let it cool just a bit before stirring in the maple syrup and vanilla extract.
In your stand mixer or a big bowl, combine all the dry ingredients, then pour in the coconut oil-maple-vanilla mixture and mix well. The result should look like wet sand!
Using a small, tablespoon-sized cookie scoop makes this step super easy, but if you don't have one, a spoon will do just fine. Scoop the dough, then lightly roll into a smooth ball with your hands. Toss the ball into a cinnamon and coconut sugar mixture and get it really well coated.
Place on a cookie sheet and repeat with remaining dough, placing dough balls 2 1/2 inches apart. Then using a flat-bottomed glass, press lightly on each cookie to flatten to about a 1/2 inch thick disk. If you skip this step, the cookies will still taste fabulous, but they won't have that classic snickerdoodle shape.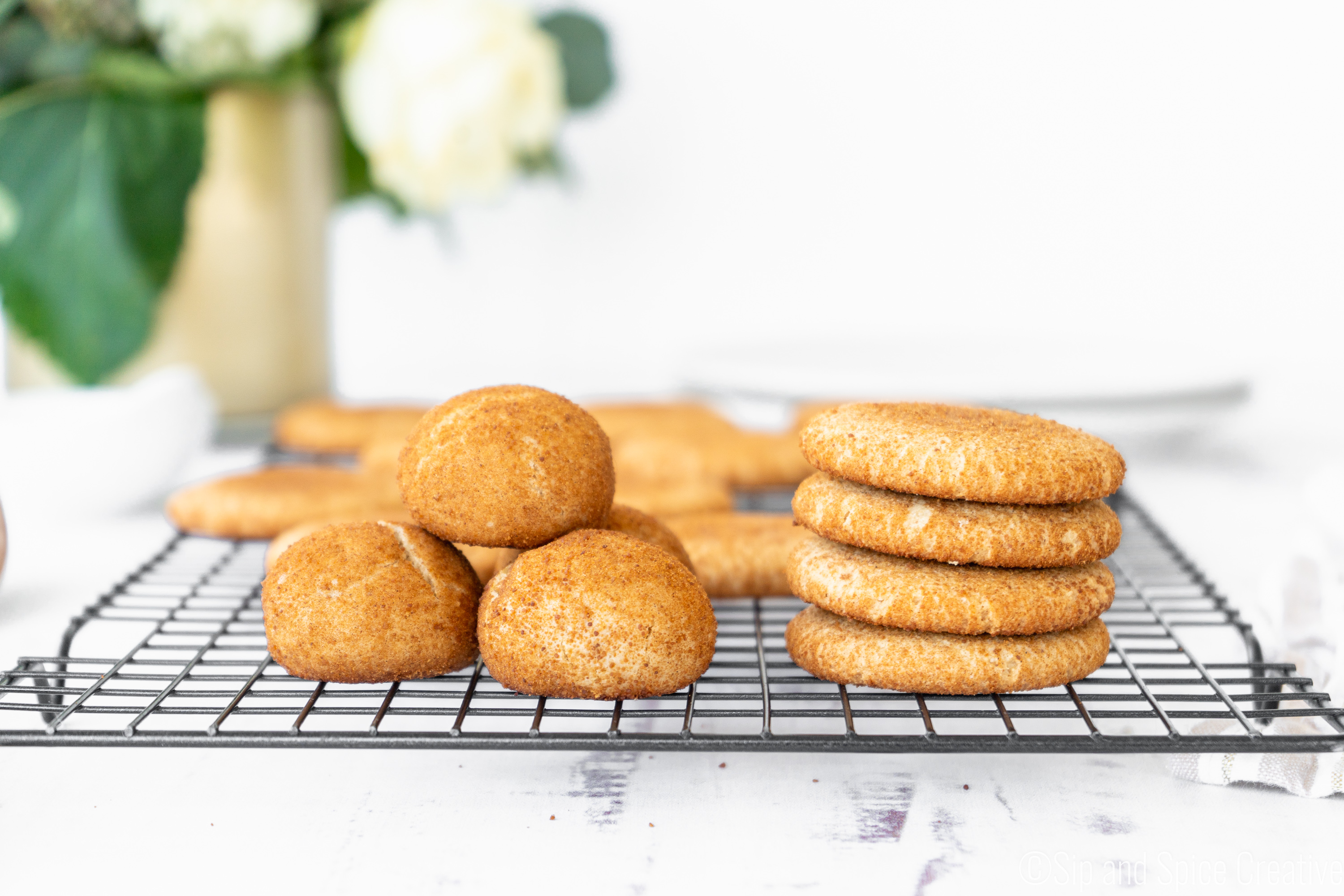 Then bake 'em up for 11-12 minutes until they just started to brown around the edges. Then remove from the oven and let them cool on the cookie sheet for a few minutes to set up properly before transferring to a cooling rack to cool all the way.
Gluten-Free Vegan Snickerdoodles
Makes: about 14
Prep Time: 10 minutes
Cook Time: 10 minutes
1 1/2 cups almond flour
1/4 teaspoon sea salt
1/4 teaspoon baking soda
1/4 teaspoon ground cinnamon
1/4 cup organic virgin coconut oil, melted
1/4 cup organic maple syrup
1/2 tablespoon vanilla extract
For Cinnamon-Sugar Topping:
2 tablespoons coconut sugar + ½ teaspoon ground cinnamon
Instructions
Preheat oven to 350 degrees F. In a small bowl mix together coconut sugar and 1/2 teaspoon cinnamon and set aside.
In a large bowl whisk together flour, salt, baking soda, and remaining 1/4 teaspoon cinnamon. In a medium bowl or large measuring cup, gently whisk together oil, maple syrup and vanilla. Add the wet ingredients to the dry ingredients and stir until the dough comes together. It will look like wet sand.

Using a tablespoon cookie scoop, scoop dough into balls, then lightly roll with your hands. Then toss in the cinnamon-coconut sugar blend and coat completely. Place on a cookie sheet about 2-inches apart. Press lightly with a flat-bottomed glass or measuring cup to flatten to about a ½ -inch.

Bake for 11-12 minutes, until just golden brown around the edges. Remove from the oven and allow to cool on the cookie sheet for 10 minutes to firm up. Then transfer to a cooling rack to cool completely.

Store in an airtight container at room temperature for up to 5 days or freeze for up to a month.