In the heat of summer, there are few things that are worth turning the oven on for. But fresh berry crisp is certainly one of them!
And with an abundance of sweet, delicious berries at farmer's markets and in stores, you're likely to find yourself with more berries than you know what to do with once or twice during the summer season. This Gluten-Free Berry Crisp recipe is here to help you out!
We love fresh berries not only because they are a delicious treat, but also because they're super nutritious. They're a great source of fiber, and are high in antioxidants and Vitamin C, as well as a number of other vitamins and minerals. Plus, their sweetness helps curb any sugar cravings -- we like to think of them as nature's pop-able candy!
And that's exactly what makes this berry crisp work so well! This recipe is naturally gluten-free and low in added sugar, purposefully designed to let the natural sweetness of ripe summer berries shine through.
It works wonderfully with whatever berries you can get your hands on. We prefer using a mix of strawberries, raspberries, blueberries and blackberries, as each brings its own unique favor, texture and level of sweetness. The most important thing here is that the berries are sweet and delicious.

*Note: You can totally make this crisp with frozen berries - whether you froze them yourself in a previous season or ones from the store. When following the recipe, just be sure to toss a tablespoon or so more of flour into the berries to help soak up the extra liquid.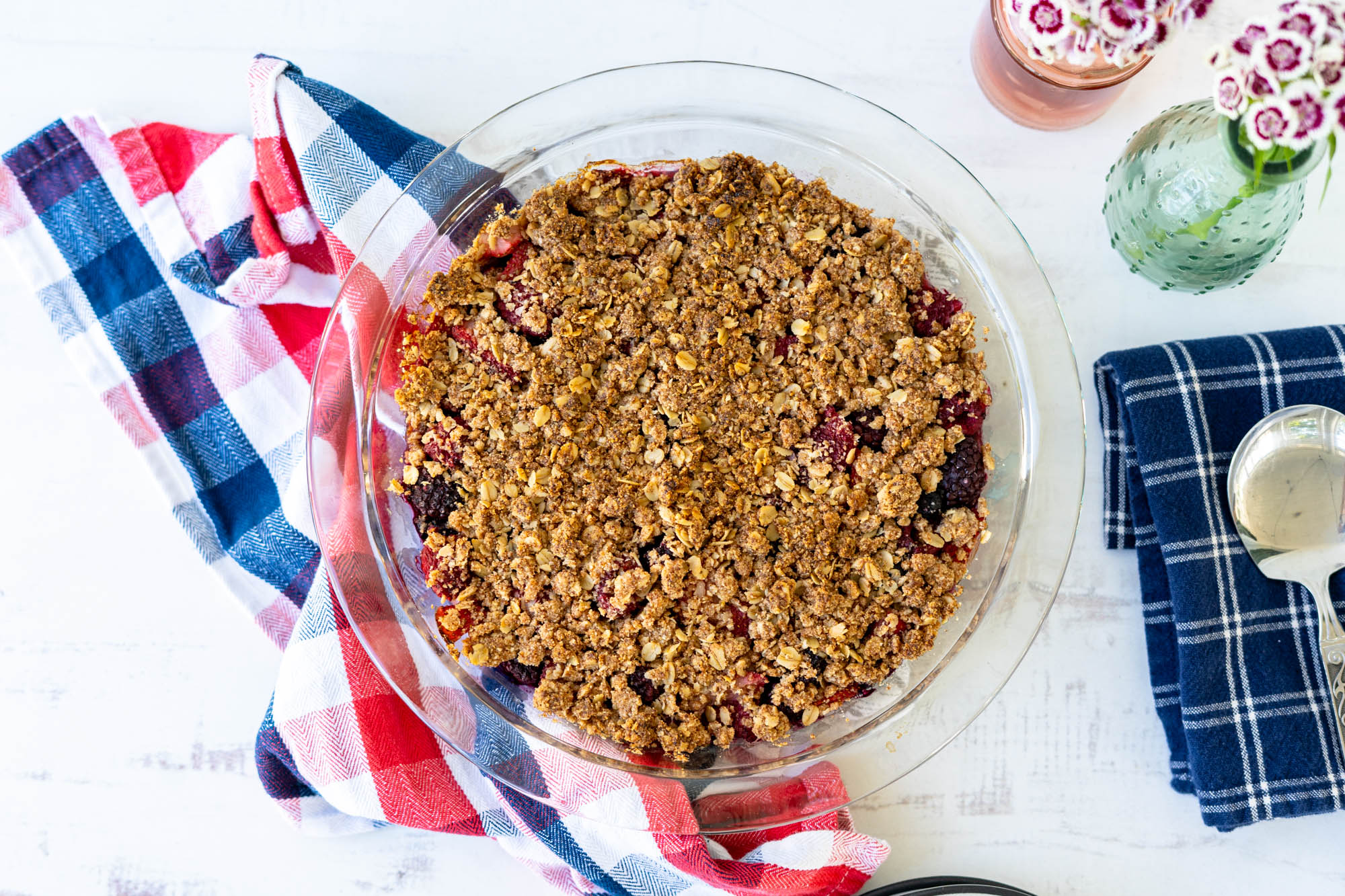 How to Make This Gluten-Free Berry Crisp


Making this Gluten-Free Berry Crisp really couldn't be any easier. First, wash and prep your berries. Remove any stems and cut any large berries into smaller pieces to better match the sizes of the other berries. Then toss them in a bowl with some almond or whole wheat flour, coconut sugar or maple syrup and vanilla extract. If your berries are sweet enough, you can forgo the additional sweetener -- totally up to you!

Next, we'll mix up the crumble to go on top. Combine the oats, almond or whole wheat flour, sugar, cinnamon and salt, then cut in the coconut oil. In the heat of summer, you may find that your coconut oil is less solid than usual. Just pop it into the fridge for a few minutes before prepping the crisp. More solid coconut oil will give the crisp topping a more typical crumbly texture.

Then we build the crisp! Layer the prepared berries in a baking dish and top with the oat crumble. Spread it out to cover the berries as evenly as possible, then bake at 350 F for about 30 minutes!

Let it cool, then serve however you like! Hot, cold or room temperature. With a scoop of ice cream, whipped cream or coconut cream or just plain.
Gluten-Free Berry Crisp
Prep Time: 10 minutes

Cook Time: 30 minutes
Total Time: 40 minutes
Servings: 4-6

2 lbs mixed organic berries (strawberries, blueberries, raspberries, blackberries), fresh or frozen
2-3 tablespoons whole wheat or almond flour (see note)
1 teaspoon maple syrup or coconut sugar
1 teaspoon vanilla extract

Topping
1/2 cup rolled oats
1/2 cup almond flour
1/2 teaspoon cinnamon
2 tablespoon coconut sugar
pinch of salt
1/4 cup solid coconut oil

Preheat the oven to 350 degrees F.

In a large bowl, toss together the berries, almond/whole wheat flour, syrup/coconut sugar and vanilla extract. Pour into a pie plate or medium sized baking dish.
In a separate bowl, combine the oats, flour, cinnamon, coconut sugar and salt. Add in the solid coconut oil, then cut it into the oat-flour mixture with a pastry blender or a fork. Mix until the topping resembles a course meal. Sprinkle on top of the berry mixture and spread out in an even layer.

Bake for 30 minutes until the topping is golden brown and the fruit is bubbling. Remove from the oven and let cool slightly before serving. Serve warm or cool, with coconut whipped cream or vanilla ice cream or alone!

Recipe Note: If using frozen berries or if your fresh berries are especially juicy, you'll need closer to 3 tablespoons of flour to help it thicken in the oven