Brighten up your morning (and likely your mood) with this recipe for gluten-free blood orange poppy seed muffins! They are a simple, fun twist on a classic with a hot pink drizzle to boot.
These muffins make for a delicious, filling breakfast or mid-day snack. They're packed with protein, nutrients and lots of zippy orange flavor, Vitamin C, and antioxidants from the blood oranges.
Blood Oranges are typically in season throughout the winter and early spring in the US. They have a more complex flavor than your typical navel orange and their ruby red color is enough to swoon over. (Hint: it's what makes the gorgeous hot pink glaze on these muffins!)
While Poppy Seed Muffins are a popular bakery/coffee shop choice, they're usually loaded with sugar and other white ingredients devoid of any real nutrients or staying power. Which then leaves you feeling hungry at best and grumpy at worst shortly after eating them. So I embarked on a mission to create a healthier, more filling muffin that would taste just as good!
The trick is in the combination of flours we'll use here! In this recipe, we use 3 parts almond flour and 1 part gluten-free all purpose flour. I find Bob's Red Mill to be a great GF AP flour that lends consistent results. The almond flour provides lots of protein and nutty flavor and the gluten-free flour helps to keep the muffins from getting too grainy or mushy when baked.
And as for the sweetness, we were able to cut back to using a small amount of maple syrup in the batter to leave room to use plenty of glaze on top.
I mean, just look at this gorgeous hot pink blood orange glaze!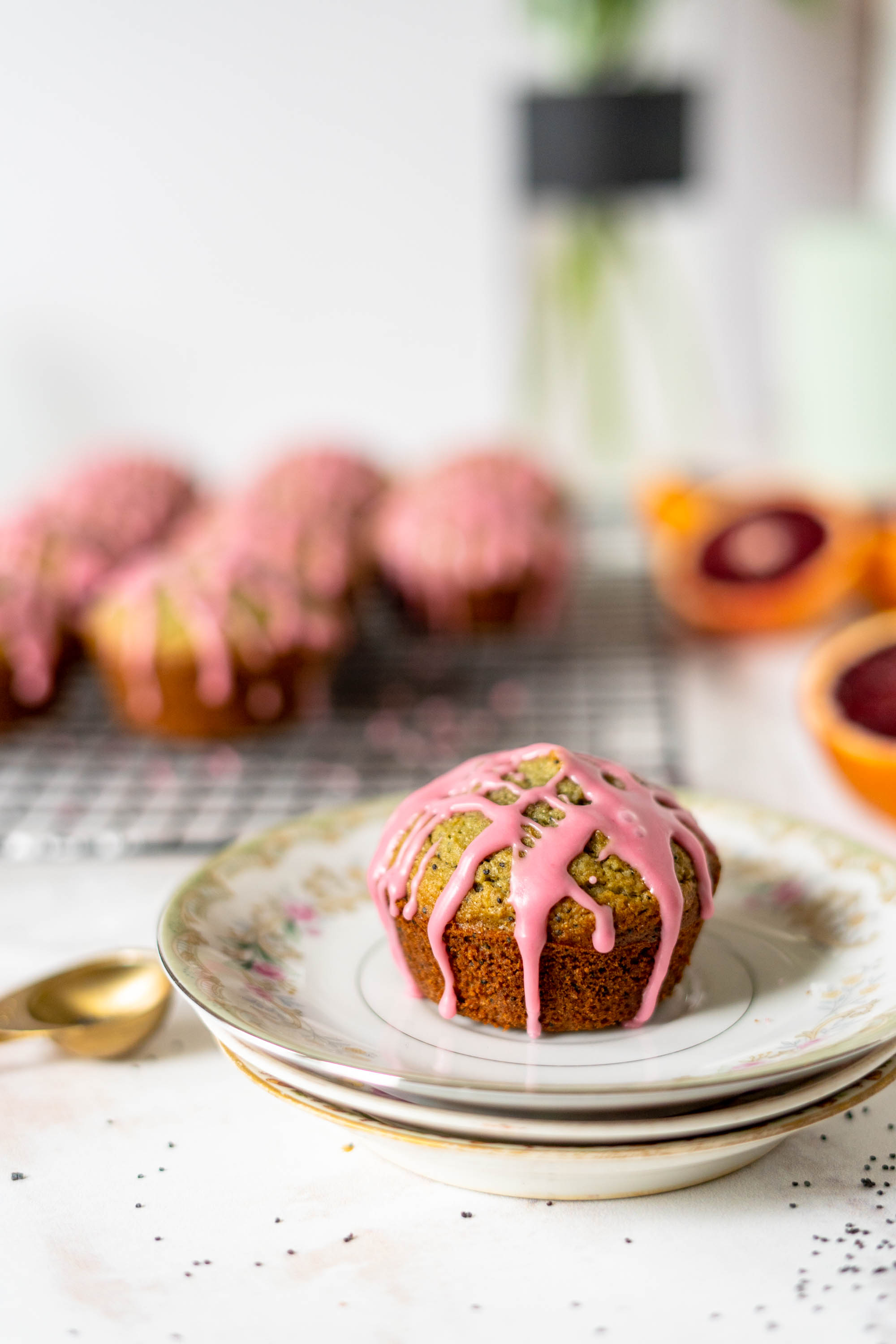 These Poppy Seed Muffins are super easy to whip up. Simply combine all the wet ingredients in a large mixing bowl - the eggs, melted coconut oil, apple sauce, maple syrup, vanilla extract and blood orange juice - and mix well. Then add in the dry ingredients, almond flour, GF all-purpose flour, baking soda and salt. Stir until combined, then add in the poppy seeds.
Divide the batter into 12 muffin tins, then bake for 20 minutes. Let the muffins cool while you mix up the blood orange glaze - a basic mix of blood orange juice and powdered sugar. The consistency should be thin enough to drizzle off a fork or spoon, but thick enough not to disappear into the muffin when it lands.
Once muffins are cool, drizzle the hot pink glaze on top and let harden, then enjoy!
Blood Orange Poppy Seed Muffins Recipe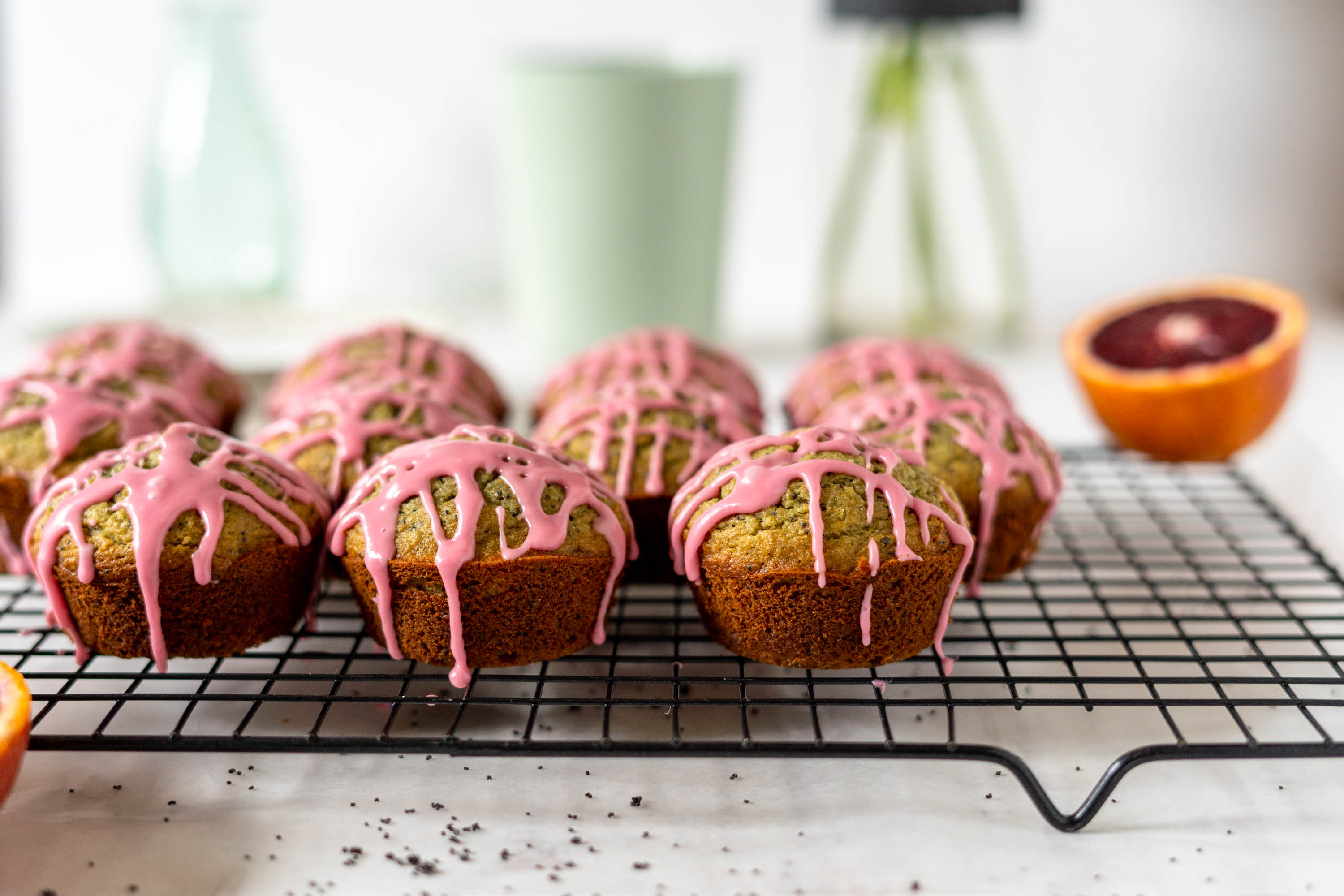 Makes: 12 muffins
Prep Time: 10 minutes
Cook Time: 20 minutes
Total Time: 30 minutes
Ingredients
1 1/2 cups almond flour
1/2 cup gluten-free all purpose flour
3/4 teaspoon baking soda
1/2 teaspoon salt
3 pastured eggs
2 tablespoons virgin coconut oil, melted
1/4 cup unsweetened organic apple sauce
1/4 cup organic maple syrup
1/2 teaspoon vanilla extract
Juice and zest of 1 blood orange
1 tablespoon poppy seeds
For the Glaze:
1/2 cup organic confectioners sugar
1 tablespoon blood orange juice
Instructions:
1. Preheat oven to 350 F. Prepare a muffin tin with muffin liners or spray with non-stick baking spray.
2. Whisk together the almond flour, gluten-free all purpose flour, baking soda and salt.
3. In a large bowl, mix together the melted coconut oil, eggs, applesauce, maple syrup, vanilla extract, blood orange juice and zest. Stir the dry ingredients into the wet and mix well. Then stir in the poppy seeds just to combine.
4. Divide amongst muffin tins, then bake for about 20 minutes, until a toothpick inserted into the center of a muffin comes out cleanly. Let muffins cool in the pan for about 10 minutes. Then loosen each muffin from the sides with a butter knife, remove to a wire rack and let cool fully.
5. In a small bowl, whisk together the confectioners sugar and blood orange juice until consistency is thick but drizzle-able. If too thick, add a couple drops of juice and if too thin, add more sugar.
6. Once muffins are cool, drizzle the blood orange glaze on top with a spoon or the tines of a fork. Let harden slightly and enjoy!
7. Store muffins in a airtight container at room temperature for 4 days or in the fridge for 1 week.