As the days get shorter and the weather finally starts to cool off a bit, we love getting back into the kitchen for fun Fall baking projects! A little flour on our noses and the smell of cinnamon in the air… mmm, heavenly.
We created these Gluten-Free Cardamom Cinnamon Apple Scones with exactly that vision in mind. They're a delicious, healthy, heart-warming treat that are fun to make and even more fun to eat! Especially this year when we may find our spirits in need of a lift more than ever, an easy weekend baking project is exactly what we need.
These Cardamom Cinnamon Apple Scones are loaded with diced apple, cardamom and cinnamon flavor - sort of reminiscent of chai spiced tea! They have just the right amount of sweetness making them a delicious breakfast treat, dessert or tea-time snack. And without any gluten, they won't have you feeling sluggish.
Make a batch for your family to enjoy. Then maybe make another to leave on your neighbor's doorstep! Sharing is caring after all.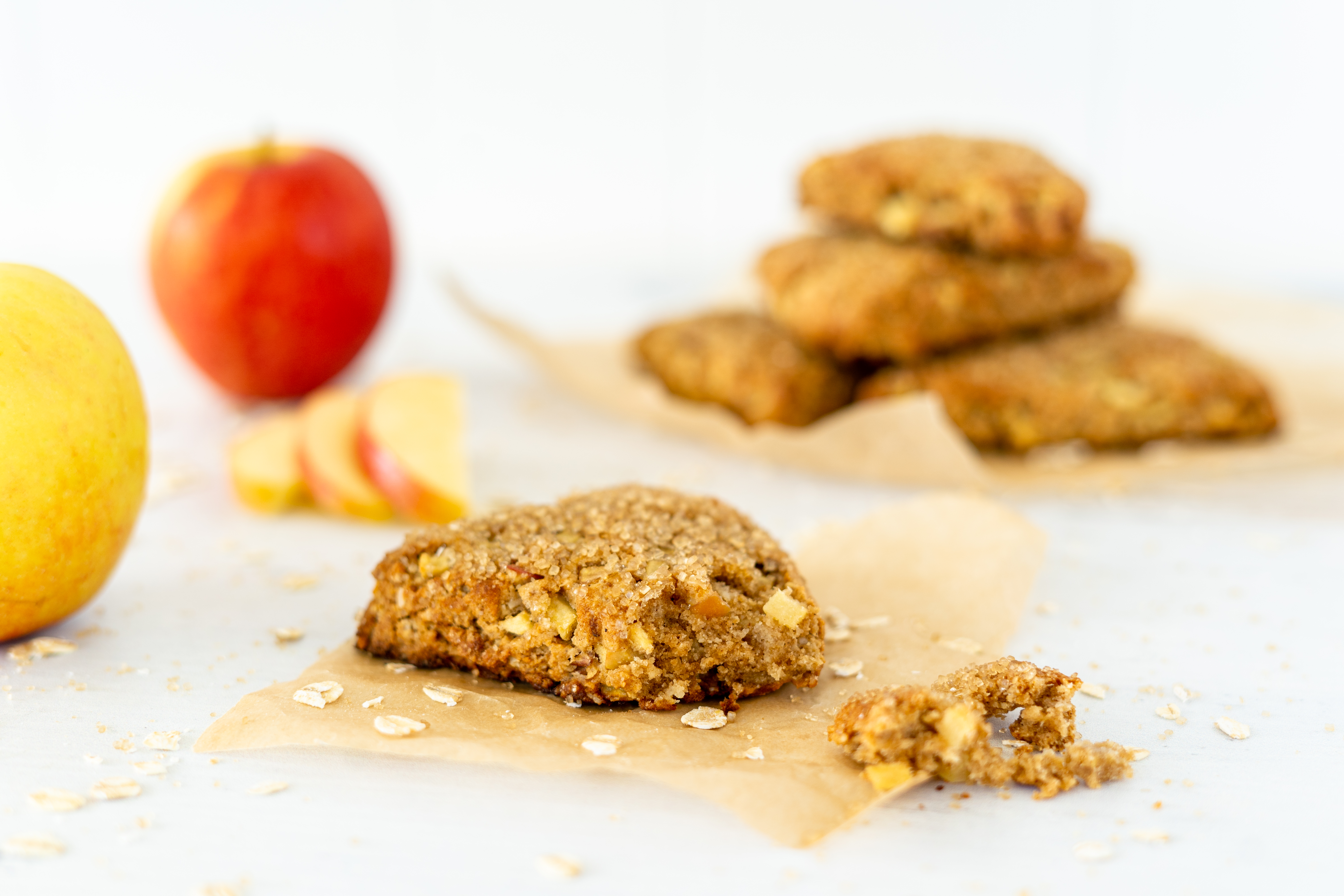 These scones highlight the most exciting part of September - APPLES! Whether you go apple picking, head to the farmer's market or just to your local grocery store, it's easy to find yourself inundated with fresh apples. And while we're more than happy to snack on apples for days on end, figuring out how to use them up in all sorts of treats is the very best way to keep busy in early Fall!
In these scones, we use a mix of gluten-free flours to create a nice light texture that doesn't dry out too quickly. The almond flour provides great flavor, weight and protein content, while the oats give a little texture to the bite. The additional gluten-free all-purpose flour will ensure that the scones hold their structure. If you'd prefer to use a normal all-purpose flour or a whole wheat flour in place of the gluten-free, that will work just fine!
We love using coconut oil in baked goods in place of butter due to its health benefits and ease of use. It cuts into the dry ingredients much like butter and creates those nice little flaky pockets inside the final scones.
How to Make These Gluten-Free Cardamom Cinnamon Apple Scones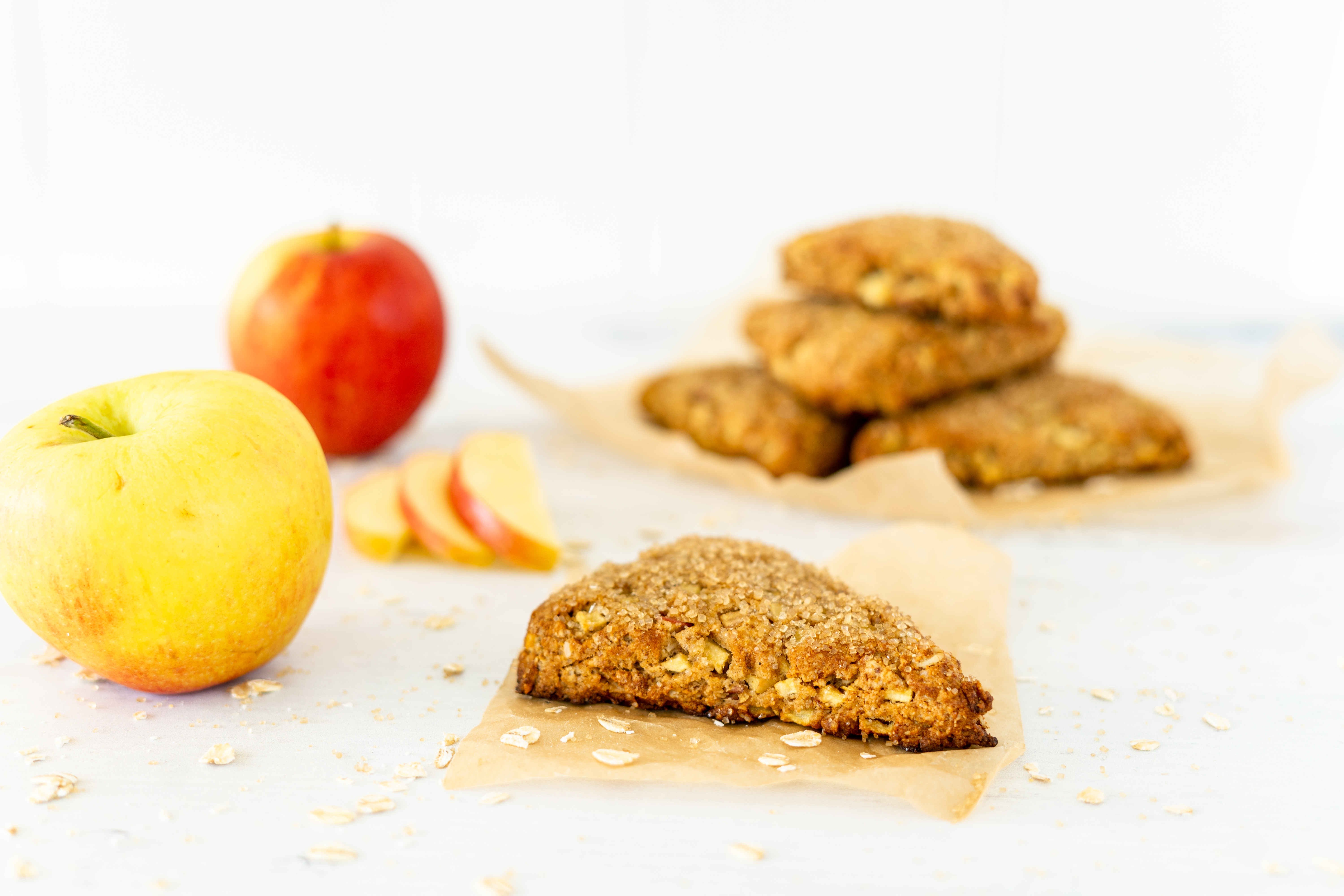 We start by combining the dry ingredients together including the flours, baking soda, sugar and spices. They work well with the gluten-free flour blend or with whole wheat flour - it's totally up to you!
Then we cut in the coconut oil using a pastry blender or a fork. The resulting texture should be a light crumble with pea-sized flakes of coconut oil left in the dry ingredients. These are what will melt while baking to create that night flaky texture.
Next, we'll add the wet ingredients, then the apple and stir to combine. The final dough will be just a little wet, but will hold together well.
To shape the scones, turn the dough out on a floured surface and shape into a round disk. Then cut the disk in half and in half again to create quarter sections. Then cut each quarter in half so you end up with 8 pie slices of dough.
Move each slice carefully on a baking sheet with at least 1 inch of space between all the sides. Sprinkle the scones with a little sugar - we like using Demerara sugar for just a little crunch on top. Then bake for 18-20 minutes until the bottoms of the scones are just beginning to brown. Remove from the oven and let cool for 5 minutes. Move to a cooling rack and let cool completely.
Gluten-Free Cardamom Cinnamon Apple Scones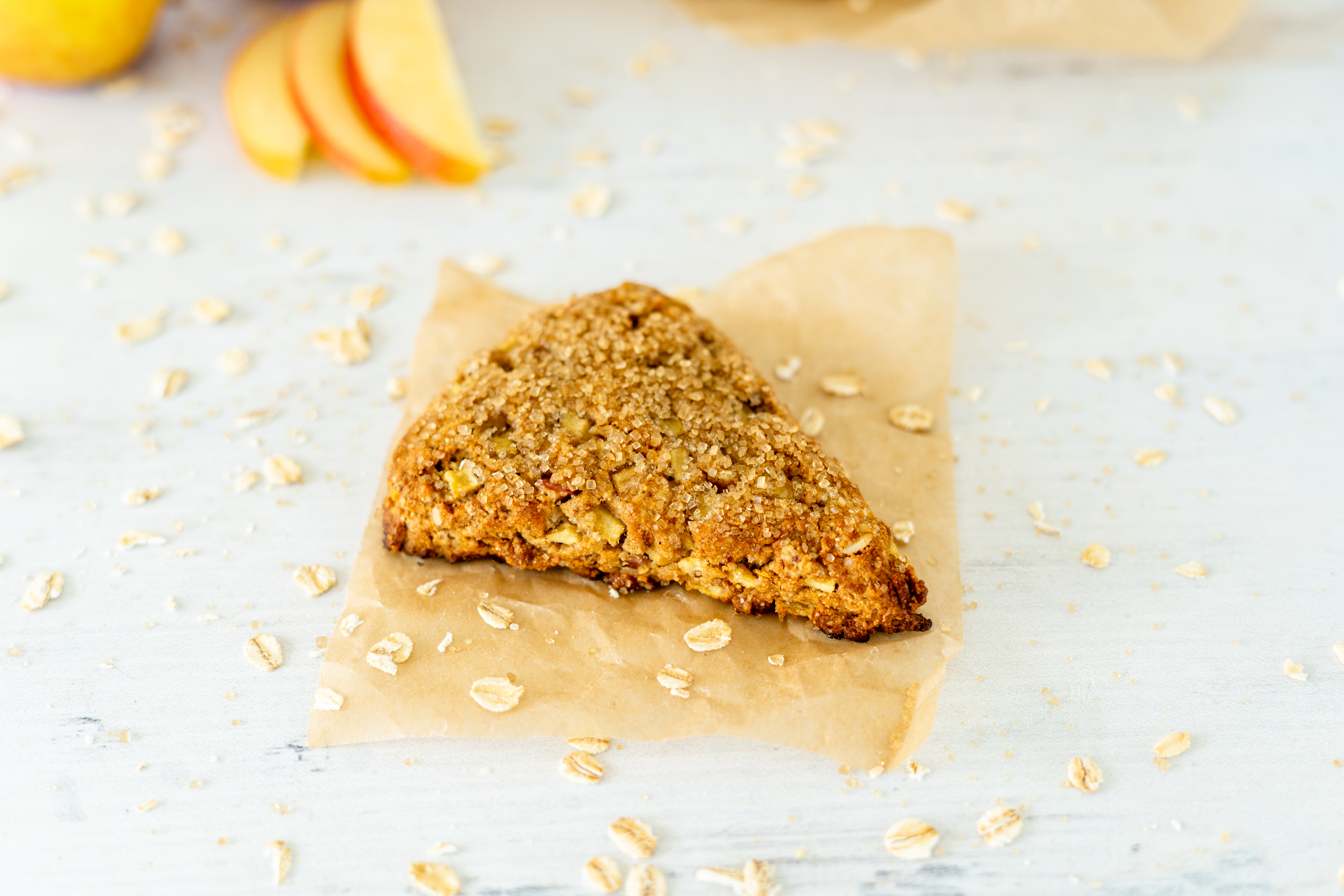 Prep Time: 20 minutes

Cook Time: 20 minutes
Total Time: 40 minutes

Servings: 8
1 cup almond flour
3/4 cup gluten-free all-purpose flour
1/2 cup oats
1/2 teaspoon baking soda
1/4 cup coconut sugar
1/4 teaspoon salt
1/4 teaspoon cinnamon
1/8 teaspoon ground cloves
1/8 teaspoon ground cardamom
1/4 cup virgin organic coconut oil
1 egg
1/2 tsp vanilla
2 tablespoons milk
1 cup diced apple
Demerara or sparkling sugar, for topping (optional)
Heat the oven to 400 F.
In a large bowl, whisk together the almond flour, whole wheat or gluten-free flour, oats, baking soda, sugar, cinnamon, salt and cardamom.
Using a pastry blender or a fork, mix in the coconut oil until coarse crumbs form.
In a small bowl, whisk the egg, vanilla and milk. Add the wet ingredients into the dry until a slightly dry dough forms. Stir in the apples.
On a lightly floured surface, pour out the dough. Form into a disk about 1-inch thick, then cut into 8 even slices. Carefully lift each slice and place on a sheet pan. Sprinkle each with a bit of demerara or sparkling sugar, if desired.
Bake for 18-20 minutes or until the bottoms just start to brown. Remove from the oven and let cool for 5 minutes on the sheet pan, then remove to a cooling rack to cool completely.
Best served the day they are made. Store at room temperature or in the fridge for up to 5 days in an airtight container.