Who doesn't love granola? With that perfect crunch, satisfying sweetness and coveted packability, granola is the dream snack for a foodie on-the-go. With so many variations, it seems hard to go wrong with this simple cereal. It makes a delicious breakfast covered with a splash of coconut milk and pile of berries, and there is nothing better than a big handful of the stuff on the hiking trail. Yet unfortunately, most manufactured granola has more sugar than a candy bar, is made with over-processed grains and costs an exorbitant amount of money. Store-bought granola can hardly be labelled as the "health" food it has the reputation for. If you are a die-hard granola fan, try this homemade variation as a special treat using properly soaked oats, nuts and seeds.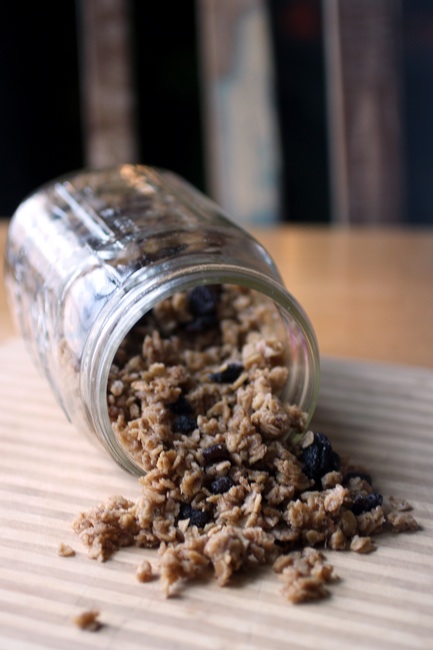 What's Wrong with Most Store-bought Granola
If you have read Nourishing Traditions, you will notice that author Sally Fallon writes "Nor do we recommend granola, a popular 'health' food made from grains subjected only to dry heat and therefore extremely indigestible." When I read this sentence for the very first time it broke my heart. As a recovering low-fat dieter and cereal-munching health nut, I was not pleased with the idea of giving up one of my go-to foods. But as I read more about the problems with the cereal industry, the evidence became too difficult to ignore.
Boxed granola is problematic and here's why:
1.) The oats used as the base of the cereal are naturally high in phytates and other antinutrients. These compounds are present in the plant as a way to deter premature consumption, that is being eaten before having a chance to germinate. Phytates are thus naturally irritating to the human gastrointestinal tract, and difficult to digest. What's more, they tend to bind to other nutrients and prevent their absorption as well. Unless neutralized through proper soaking preparations (which we will discuss below), phytates significantly diminish the nutritional value of foods. Needless to say, these timely practices don't make the cut in tightly engineered cereal assembly lines.
2.) The high temps and pressures used in cereal mass-production are sure to zap any remaining little nutrients out of the foods anyways. Naturally occurring vitamins, minerals and enzymes simply cannot withstand the conveyor belts, pressure chambers and massive ovens of a processing plant. This is partly why so many companies are forced to then re-add synthetic vitamin formulas at the end of production.
3.) The additives used in most granola are allergenic and largely unnecessary. Often they include rancid poly-unsaturated oils and addictive chemicals hidden under names like "natural flavors." Take for example this ingredients list from a popular granola brand:
Whole Grain Oats, Sugar, Canola Oil, Yellow Corn Flour, Honey, Soy Flour, Brown Sugar, Salt, Soy Lecithin, Baking Soda, Natural Flavor.
Soy, corn and canola in my granola?! No thank you!
4.) The sugar amounts used in commercial granola are just unbelievable. It's okay to have sweet treats every once in awhile, but some "health cereal" brands rival Coke and Pepsi when it comes to outrageous amounts of highly refined sugars. Many brands contain sugars from multiple sources like high fructose corn syrup, honey, brown sugar, cane sugar and more.
Making Granola Right: A Simple Soaked Granola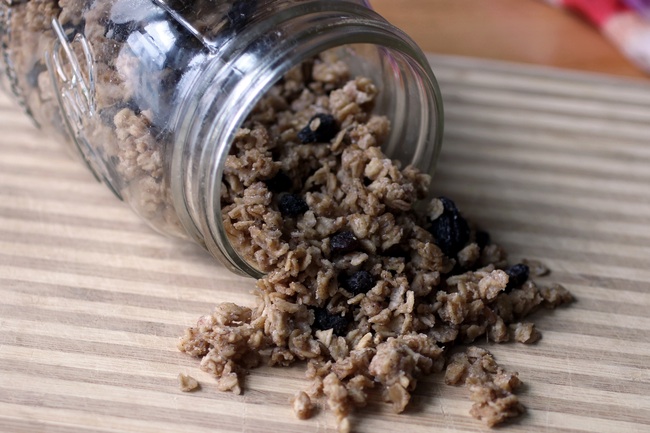 Homemade granola can serve as a great alternative for those wishing to keep this delicious treat in their lives without all of the "yuck" that comes with boxed varieties. It is more customizable, and far less expensive too. This recipe takes things a step further by first soaking the oats to neutralize antinutrients like phytates. It is also baked at a lower temperature than most (below 170°F) to maintain the nutrients and enzymes in the ingredients for their full benefit. I wrote about the process of soaking oats at greater length in the article Is Oatmeal Really Good For You? Keep in mind that if you feel as though you tolerate the oats without soaking, this a decision that you can make for yourself too.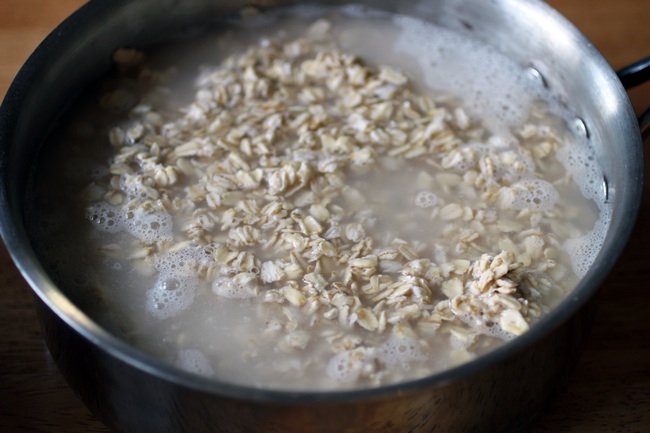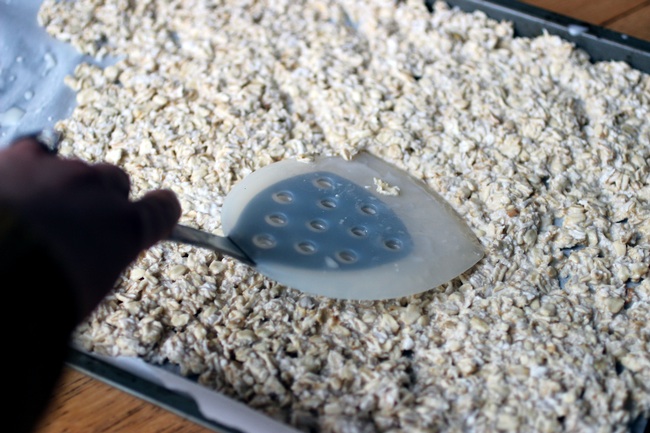 By Kayla- Radiant Life
Ingredients
For Step 1
4 cups rolled oats
4 cups filtered water
1/2 cup yogurt, whey, apple cider vinegar or lemon juice
For Step 2
1/2 teaspoon cinnamon
1/4 teaspoon nutmeg
1/2 cup raw honey
1/2 cup virgin coconut oil
about 1 cup each of soaked nuts, soaked seeds or coconut flakes (learn more about soaking nuts and seeds here)
1/2 cup dried fruit (optional- leave out if you are concerned about too much sugar)
Directions
Step 1
Place oats in large bowl and cover with warm water. Mix in acidic medium of your choosing (yogurt, whey, apple cider vinegar or lemon juice). Cover and allow to sit out on the counter for at least 7 hours or overnight.
Strain oats and discard water solution. Spread oats out onto a parchment-paper covered baking sheet. Place in a dehydrator or oven at 150°F (or as low as you can adjust it). Leave for about 8-10 hours, checking and turning every few hours with a spatula to ensure the oats are heated evenly. When they are mostly dry, remove from oven and add to large mixing bowl.
Step 2
Melt together coconut oil and honey over low heat. Stir in spices. Remove from heat and pour mixture over dried oats, tossing to coat evenly.
Spread oats mixture onto baking sheet and place in dehydrator/oven for another 2-4 hours. When crispy to desired degree, remove from oven. Let sit for about one hour before adding additional nuts, seeds or dried fruit. Transfer to air tight containers for storage. Enjoy!