If there's anything we need right now, it's any little reason to celebrate. Which is exactly why we created these Individual Orange Chocolate Hazelnut Tarts -- they'll turn any old evening into a full-blown celebration!
Whether you're looking for a snowy Sunday afternoon baking project, or you want to make your sweetheart a little treat for a post-Valentine's Day, these mini tarts are a decadent dessert that you'll fall in love with. The combination of the creaminess of the dark chocolate, the richness of the toasted hazelnuts and the pop of brightness from the orange make these small bites feel extra special.
While these Orange Chocolate Hazelnut tarts require a few steps, they're actually quite simple. Plus, they only require a few ingredients. Regardless, they're worth every bit of effort.
We created these tarts in a small-batch so that you can treat yourself and your loved one to a fancy dessert without feeling burdened by too many leftovers. We also opted to use a muffin/cupcake tin instead of small tart pans, because it's more likely that you'll have a muffin tin in your kitchen. If you do have mini tart pans though, go ahead on use those!
This recipe doesn't use many ingredients, so we had to be sure to pack each bite full of memorable flavor and texture. For example, the toasted hazelnuts are used as a rich, crunchy base for the tart shells, and they also fortify the chocolate ganache with richness and depth.
Such a simple recipe hack allows us to minimize ingredients and dishes while doubling down on the decadent flavor! Then, with the little addition of the orange zest right at the end, we elevate these Orange Chocolate Hazelnut Tarts, while also keeping them from becoming too rich and overpowering.
How to Make these Individual Orange Chocolate Hazelnut Tarts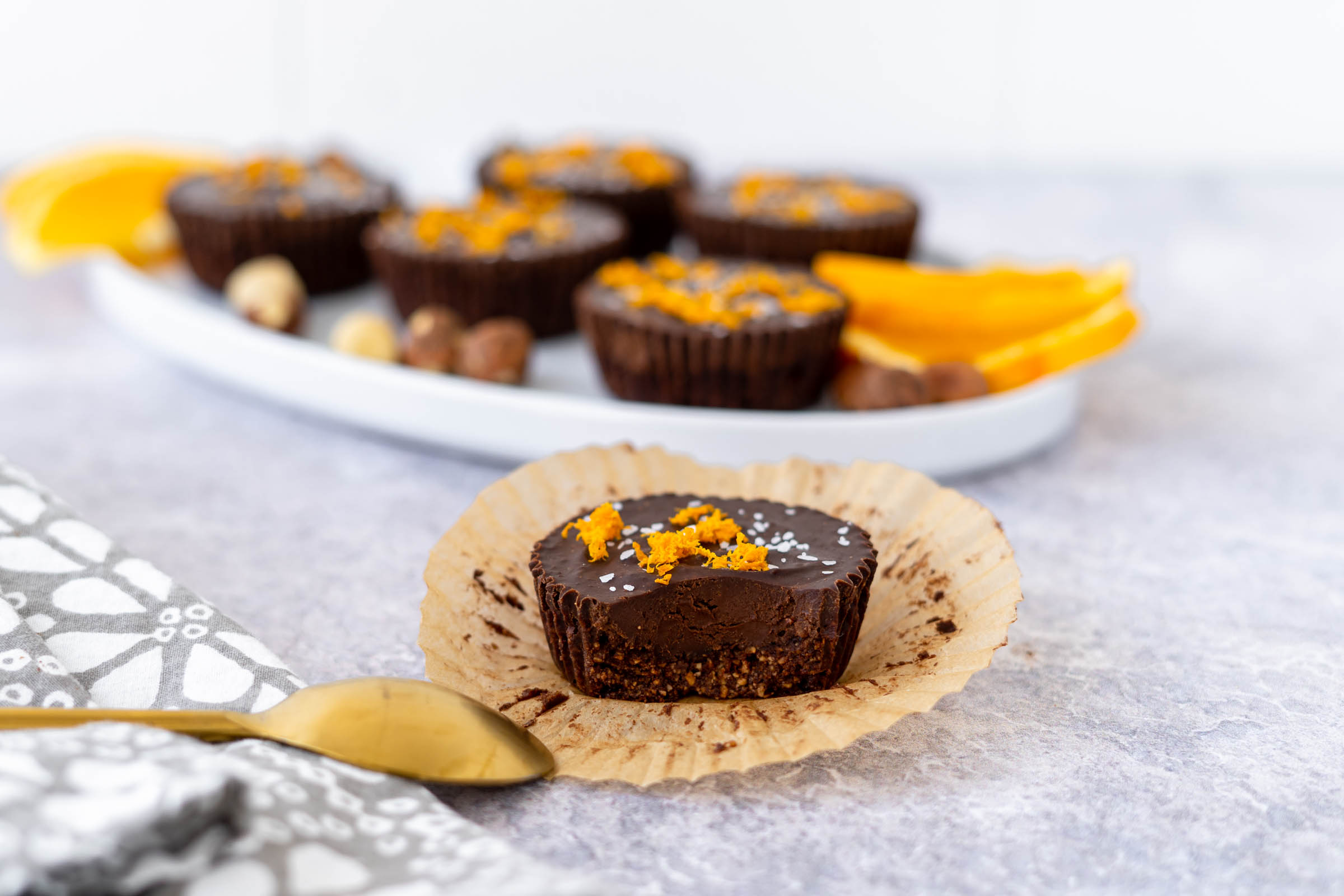 We start by toasting the hazelnuts and removing their skins. This is easily done by putting the warm, toasted nut in a clean kitchen towel and rubbing them together. The skins will simply fall off. We don't need them perfectly clean, but by removing some skin, the hazelnuts will blend much smoother.
Next, we'll create a hazelnut 'flour' that will become the base of these mini tarts by blending them in the food processor. Once you've reached a sandy texture, it's done! Remove some from the processor, but leave the rest. We'll come back to it in a few minutes.
Mix together the hazelnut flour with some cocoa powder, coconut sugar, salt and melted coconut oil, then separate into 6 cupcake liners in a muffin tin. Press together with the bottom of a small glass or the back of a spoon. Bake for about 15 minutes, then remove and let them cool while we prep the orange chocolate hazelnut ganache.
Going back to the hazelnut flour left the food processor, we'll continue blending it on high speed for about 2 minutes until a hazelnut butter forms. It should be smooth and runny. We only need a tablespoon of this, so if you have a little extra, simply save it in a glass jar to spread on toast later!
Next, we'll heat coconut milk over medium-low heat until it just starts to bubble, then pour it over a bowl of chopped chocolate. Whisk together slowly starting with small circles in the middle of the bowl, then slowly making bigger circles as the ganache starts to come together. It's done when the ganache is glossy and smooth.
Then add in a couple spoonfuls of hazelnut butter, some orange zest and vanilla. Whisk together, then pour the ganache into each cupcake liner on top of the baked tart shells. Tap the cupcake tin lightly on a flat surface to smooth out the top of each tart, then sprinkle with sea salt and place into the fridge to cool fully.
Individual Orange Chocolate Hazelnut Tarts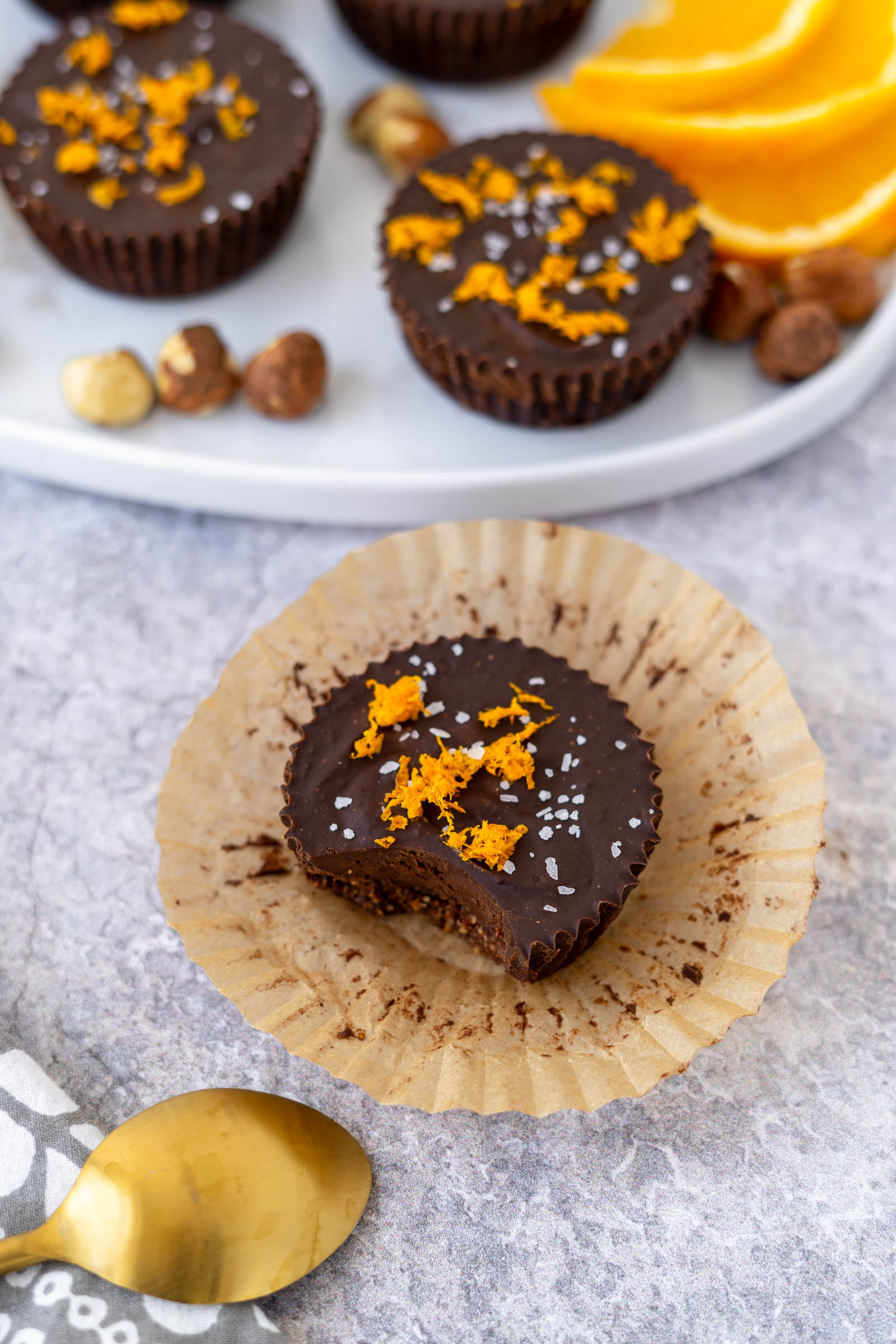 Prep Time: 30 minutes
Cook Time: 30 minutes
Cooling Time: 1 hour
Total Time: 2 hours
Servings: 6
1 cup hazelnuts, roasted and skins removed
1 tablespoon melted coconut oil
1 1/2 tablespoons cocoa powder
1 tablespoon coconut sugar
¼ teaspoon sea salt
1/2 cup full-fat coconut milk
4 oz dark chocolate, chopped
1/2 teaspoon orange zest (from 1/2 orange)
1/2 teaspoon vanilla extract
Heat the oven to 375 F and spread the hazelnuts on a baking sheet. Roast for 12 minutes until lightly toasted and fragrant. Remove toasted hazelnuts to a clean kitchen towel and fold up the corners so you can rub the hazelnuts together inside the towel to remove the skins. Set hazelnuts aside to cool slightly.
Once cooled, place the hazelnuts in a food processor fitted with the S-blade and pulse for about 10-15 seconds until a hazelnut 'flour' forms. It should feel sandy. Remove 3/4 cup of this hazelnut flour from the processor and leave the rest for a moment.
Lower the oven to 350 F. Prepare a muffin tin with 6 cupcake liners. Combine the hazelnut flour with the melted coconut oil, cocoa powder, coconut sugar and sea salt. Press the mixture evenly into the bottom of each cupcake liner - using a small flat-bottomed cup helps here! Bake for 14-15 minutes - they may seem bubbly and puffed, but don't worry, they'll settle back down and harden as they cool. Remove from the oven and let cool in the muffin tin.
While the tart crusts are baking, continue processing the remaining hazelnut flour into hazelnut butter by blending it on high-speed for about 2 minutes until very smooth. Chop the chocolate into very small pieces and place in a heat-proof bowl.
In a small saucepan, heat the coconut milk over medium-low heat until it just starts to bubble -- make sure to stir frequently as it heats up so that it doesn't burn. Pour the warm coconut milk over the chopped chocolate and let sit for 30 seconds to allow the coconut milk to soften the chocolate.
Starting in the center of the bowl, whisk the chocolate and coconut milk together in small circles until a smooth liquid chocolate starts to form. Continue whisking until it is fully smooth, then add in 1 1/2 tablespoons of the hazelnut butter from the food processor, along with orange zest and vanilla extract. Whisk to combine.
Pour the ganache on top of each of the cooled crusts in the muffin tin, splitting it evenly between all six tarts. Lightly tap the pan on a countertop to even out the top of the ganache, then sprinkle with a little sea salt and put in the refrigerator to cool completely, about 1 hour.
Store in an airtight container for up to 5 days.