We have been loving this brand new snack recipe and just had to share! This Lemony Spring Pea Hummus is so bright, cheerful and downright tasty that you'll be making it again and again throughout the warm months.
We always love snacking on hummus with veggies, but what makes this Spring Pea Hummus so much fun is the vibrant green color that the peas bring to the dip. The peas also impart a slight sweetness that chickpeas just can't compete with. Kids and adults alike will keep coming back for more!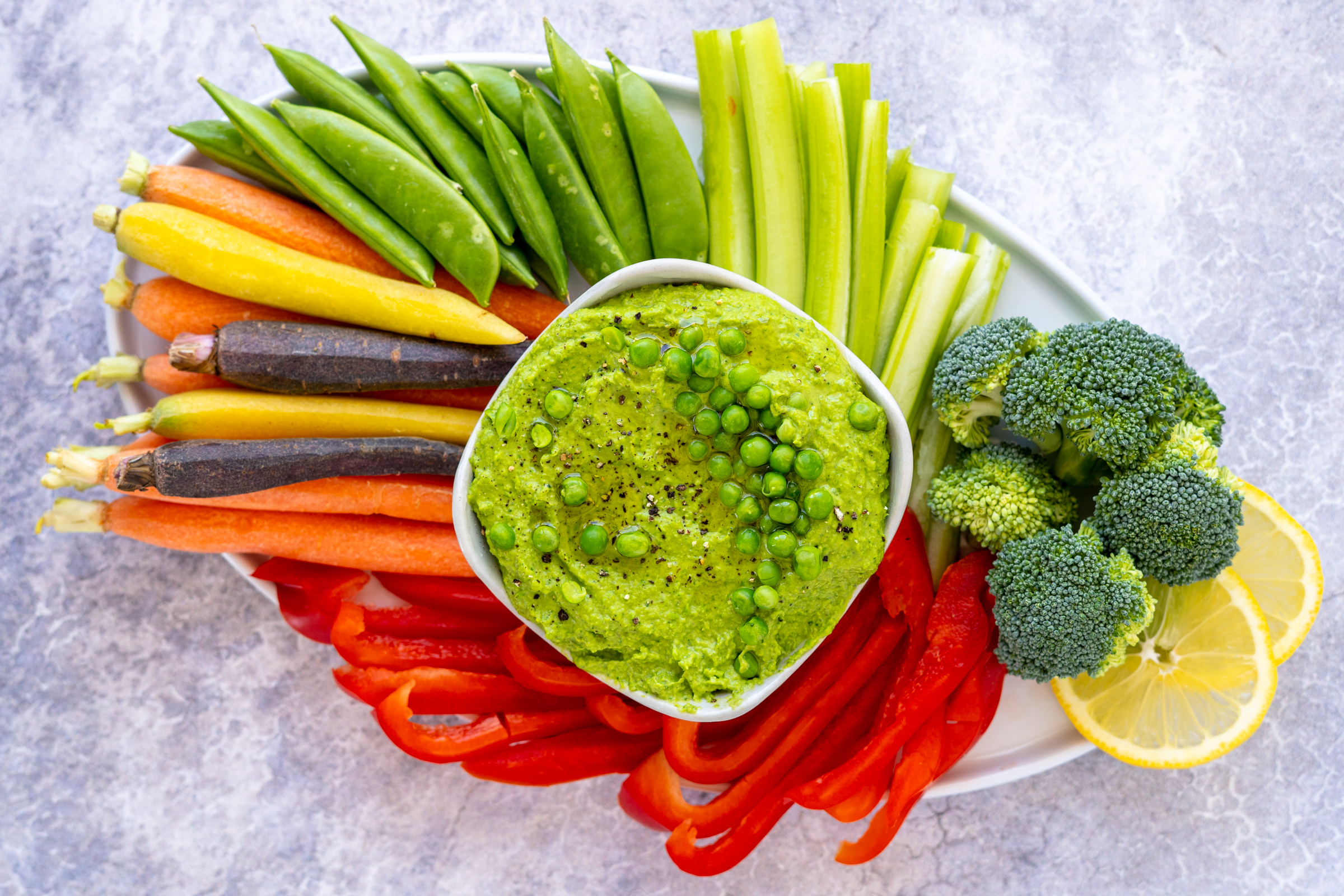 Not that we would ever try to pick a fight with a chickpea, but green peas are a nice change every once in a while. They are also packed with plant-based protein and fiber like chickpeas but are higher in Vitamin A and Vitamin C.
Making this Lemony Pea Hummus really couldn't be easier. It works amazingly well with frozen peas that are thawed and drained just before blending them up. The addition of the spinach helps to amp up the green color and provide a little bit more hidden veggie power. Raw spinach works best here, but if you don't have any on hand, you can just skip it!
Then, we'll use a handful of other ingredients that may look familiar if you've ever made hummus before! The lemon juice brings a lovely acidity, while the tahini imparts an earthiness and slight nuttiness to the dip. Add in a little bit of garlic, salt and pepper and voila! Lemony Spring Pea Hummus ready to be devoured!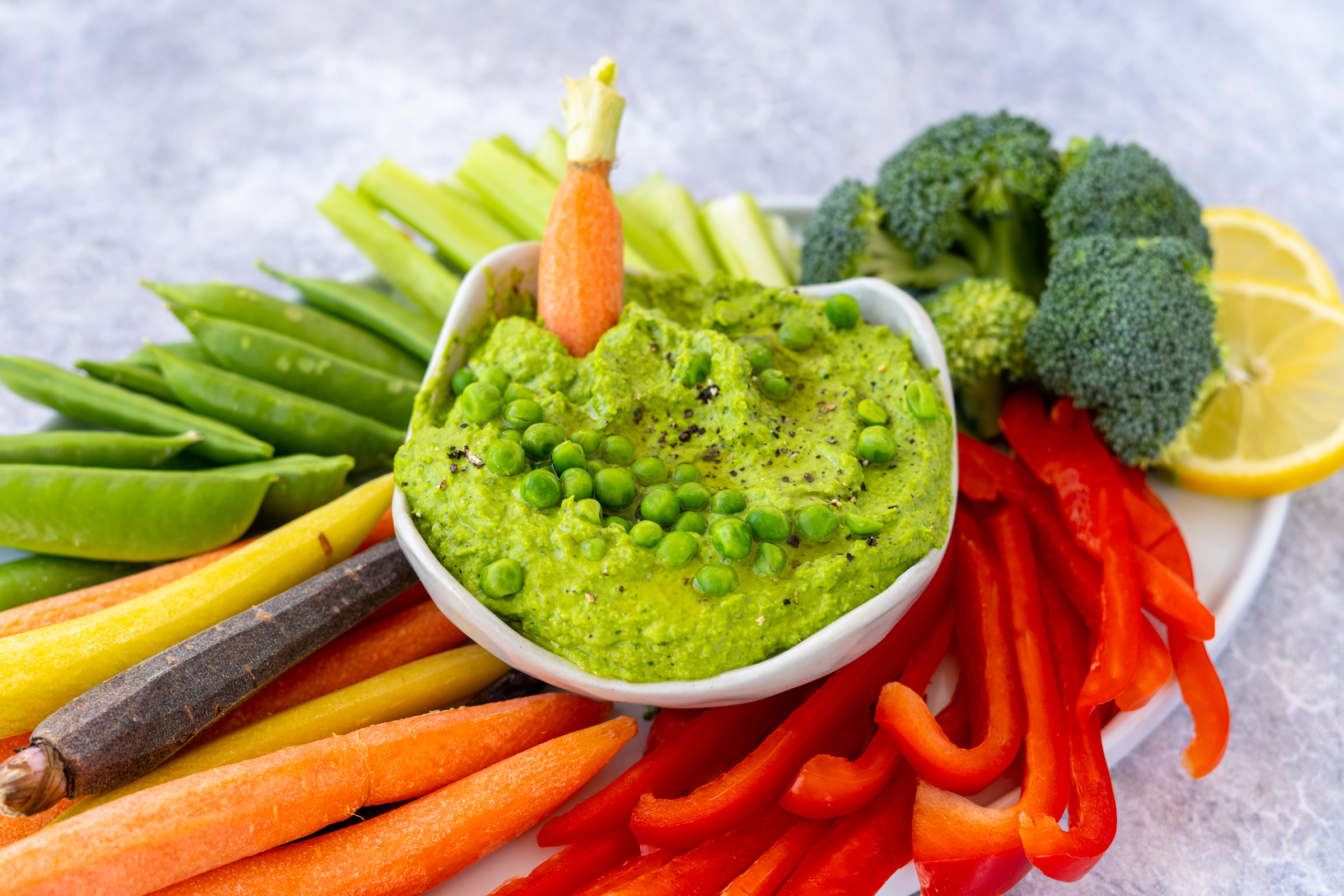 How to Make this Lemony Spring Pea Hummus
Making this Pea Hummus is super easy!
Start by blending the tahini and lemon juice in a food processor -- this little trick helps to incorporate the tahini from the start, so that you're not fighting with any lumps as you're blending.
Next, add the thawed peas, spinach, garlic, olive oil, salt and pepper. Blend until smooth, then drizzle in a bit of ice water. This will help make it super smooth and creamy.
And voila! Pea Hummus is ready to serve with cut vegetables, pita bread or on toast.
Lemony Spring Pea Hummus
Prep Time: 10 minutes
Makes: 2 cups
2 tablespoons tahini, well-stirred
2 tablespoons organic lemon juice
1 cup frozen organic peas, thawed
1 cup fresh organic spinach leaves, tightly packed
1 clove organic garlic, minced
1 tablespoon organic olive oil
1/2 teaspoon salt
¼ teaspoon freshly cracked pepper
2-3 tablespoons pure water
Place a small bowl filled with cold water into the freezer to get very cold while you start blending the hummus.
In a food processor fitted with an S-blade, blend the tahini and lemon juice on high for 30 seconds. Add the thawed peas, spinach, garlic, olive oil, salt and pepper. Blend on high for 1 minute, then scrape down the sides. Continue blending on high for another minute.
Scrape down the sides once again and turn on low. Slowly drizzle in the ice water about 1/2 tablespoon at a time, up to 2-3 tablespoons until the hummus has reached its desired thickness. Serve with veggies, pita or spread on toast.