Getting into the groove after the holidays can be such a drag. We're all trying to get back into some good habits, whether that's waking up earlier, sticking to a better sleep schedule or getting the whole family to eat breakfast in the morning.
In times like these, we love to lean on a miracle make-ahead breakfast: oatmeal jars, aka overnight oats. A little prep the night before can make it 100x easier to get out the door in the morning.
And when we say a little prep, we actually mean a little. 5 minutes or less!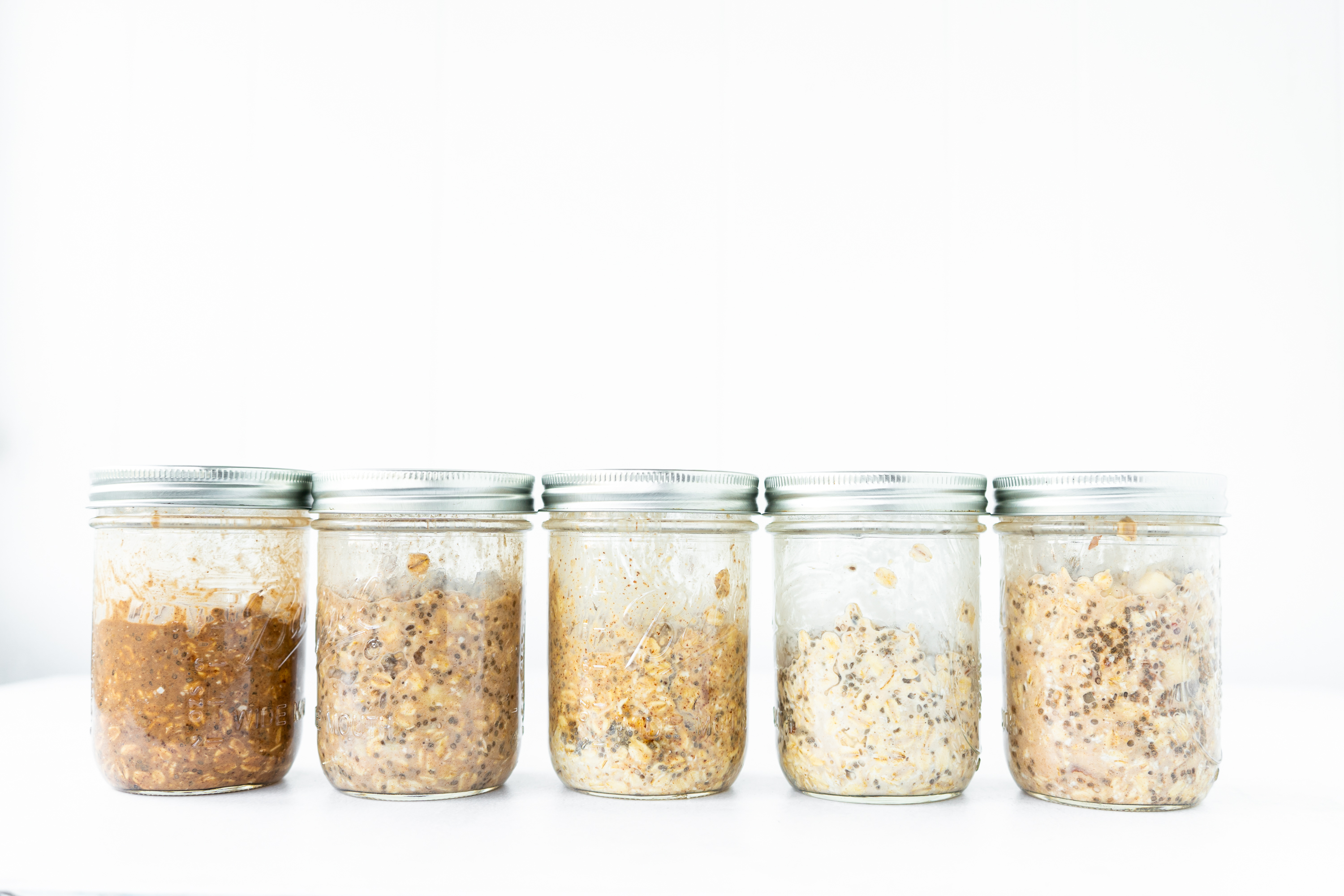 Simply grab a jar - we like using a wide mouth pint-sized Mason jar because it has plenty of room for mixing. And the wide opening makes it easy to eat right out of the next morning. Then add in all the base ingredients needed for a delicious, creamy overnight oat breakfast - oats, milk, chia seeds, maple syrup or honey and a dash of vanilla extract.
But hold up! Make-ahead oatmeal jars are great and all, but it can get far too boring eating the same thing morning after morning.
We need options, choices, variety! It's the spice of life, after all.
So here we've pulled together our top 5 easy overnight oat recipes with amazing flavor combos to mix things up. Make one of each on a Sunday night and you'll have different, unique grab-and-go breakfasts all week long:

Peanut Butter Chocolate Oats
Banana Bread Oats
Maple Chai Oats
Almond Joy Oats
Apple Pie Oats
How yummy do those sound? A decadent breakfast that you'll feel great about!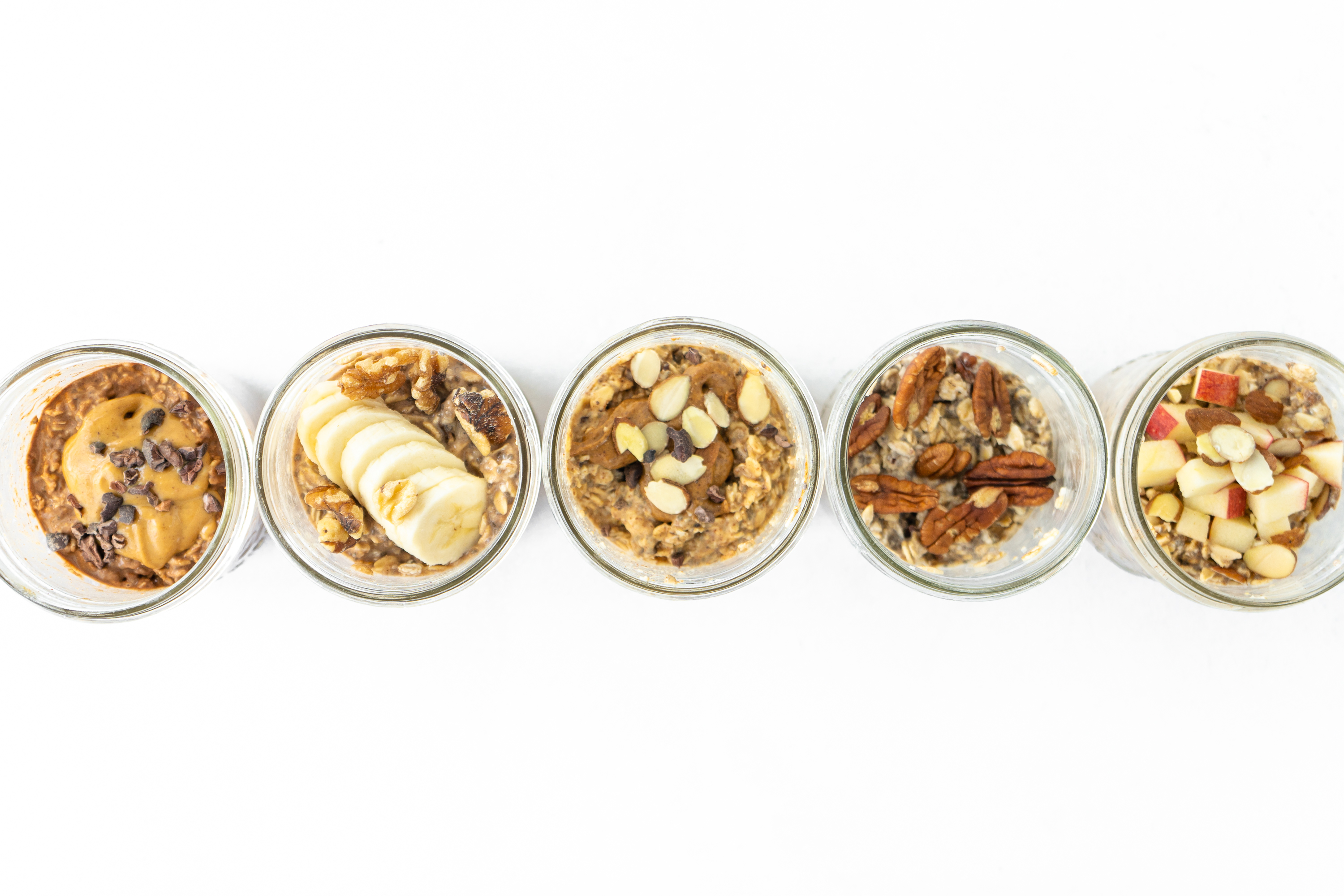 Overnight oats make for a fantastic weekday breakfast because they pack lots of protein, fiber, omega-3 fatty acids, antioxidants and vitamins into one compact, transportable jar. In all of our favorite flavor combinations They are filling and will keep you satisfied all the way to lunch!
Try these 5 easy overnight oat recipes for breakfast this week - you won't be disappointed!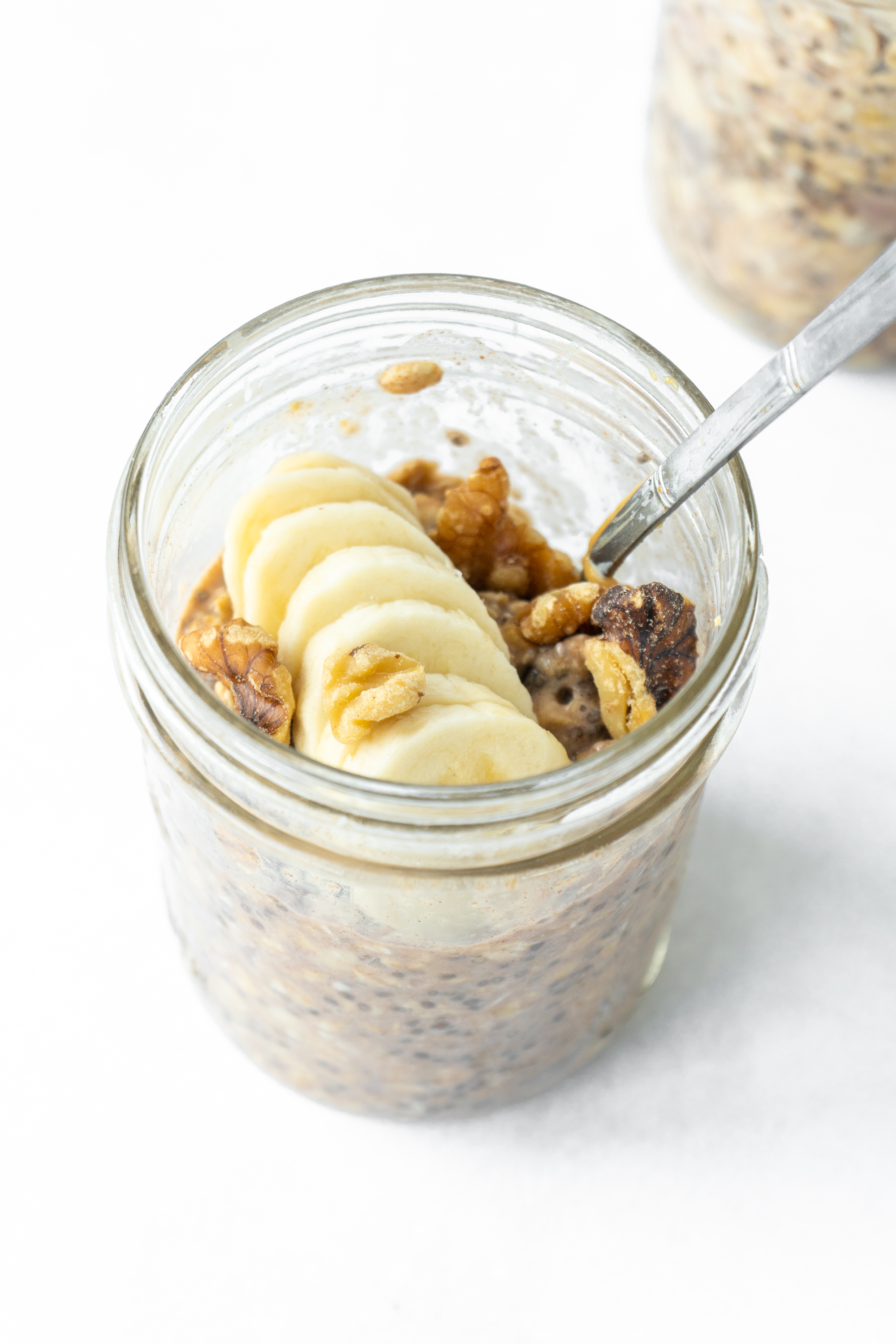 Overnight Oats Jars: 5 Minutes, 5 Ways
Makes: 1 serving
Prep Time: 5 minutes
Overnight Oats Base:
1/2 cup rolled old fashioned oats
1/2 cup milk of choice
3/4 tablespoon chia seeds
1 tablespoon maple syrup or honey
1/4 teaspoon vanilla extract
1.In a wide-mouth pint Mason jar or other glass container, combine all the base ingredients for the overnight oats: Oats, milk, chia seeds, maple syrup or honey and vanilla extract. Add Greek yogurt, if desired. Leave as is or see other additions for alternate flavors below.
2. Then screw on the air-tight lid and place in the refrigerator for at least 8 hours or overnight. Remove from fridge, stir and enjoy!
For Peanut Butter Chocolate Oats, add:
2 tablespoons natural peanut butter
1 tablespoon cacao powder
For Banana Bread Oats, add:
1 small banana, mashed
1/2 teaspoon cinnamon
2 tablespoons chopped walnuts
For Maple Chai Oats, add:

1 additional tablespoon maple syrup
2 tablespoons chopped pecans
¼ teaspoon of each: Cardamom, Cinnamon, Ginger, Cloves
For Almond Joy Oats, add:
2 tablespoons almond butter
1 tablespoon coconut flakes/chips
1 tablespoon cacao nibs
For Apple Pie Oats, add:

1/4 cup diced apple
2 tablespoons sliced almonds
1/2 teaspoon cinnamon
A sprinkle of ginger powder