We wanted to call this recipe "How to Make a Bright, Spring-y Vegetable Soup from Whatever's Hanging Around Your Kitchen" for a few reasons…
One, it's the recipe we all need right now when grocery shopping is harder (and less frequent) than ever - and the options can be super slim even when you do make it there!
Two, this is the exact type of dish we're craving right now. Something cozy and filling that's inexpensive and simple to make. With very little clean up, to boot!
Three, this vegetable soup recipe has so many substitutions that you're almost guaranteed to be able to make it any day, any time, any place, any ingredients you have on hand!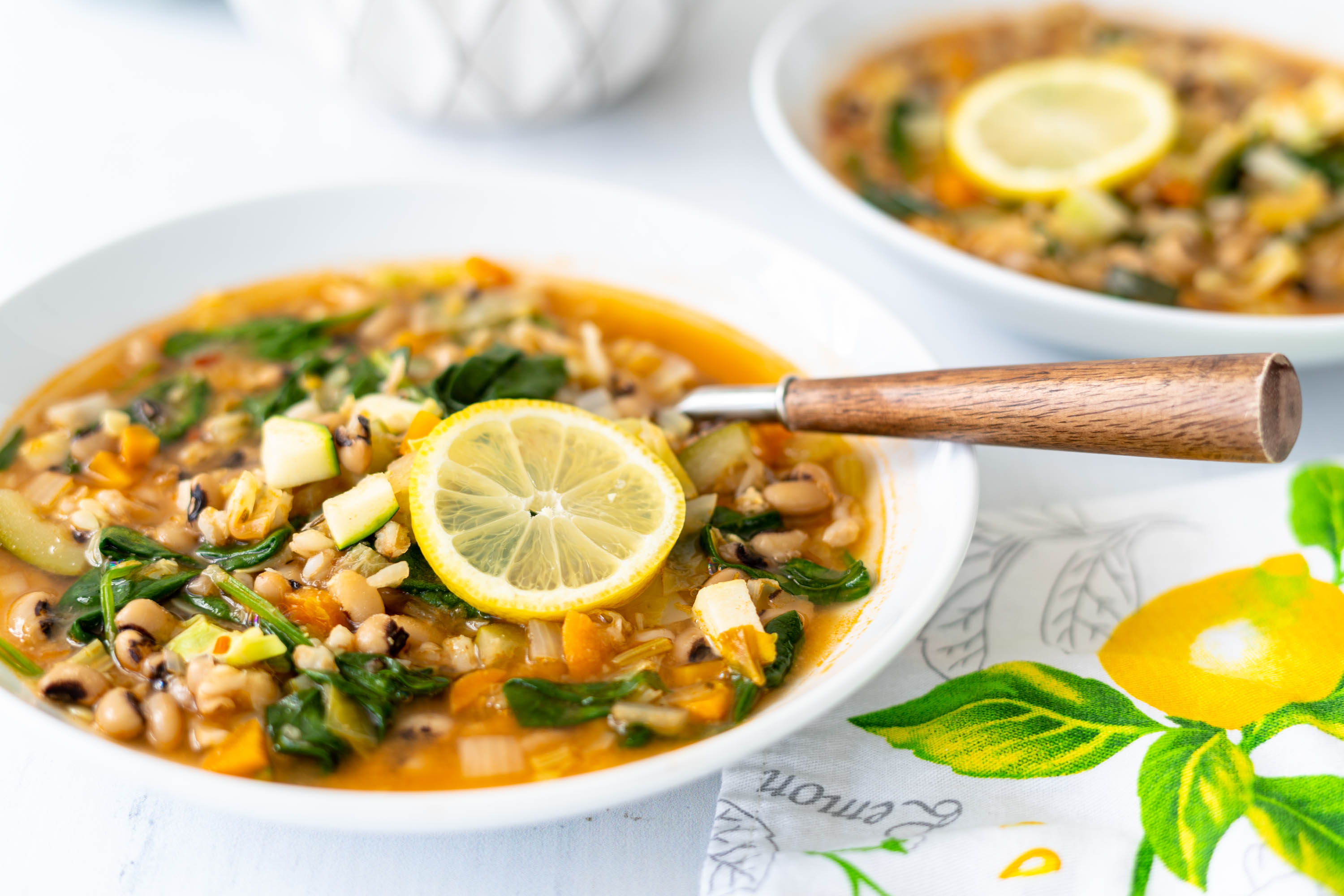 But we realized that title probably wouldn't fit in the header, so here's our Pantry-Based Spring Vegetable Soup - it's bright, colorful, flexible and darn tasty!
When grocery shopping is limited, having recipes that are flexible on ingredients yet still delicious and healthy is super important.
This Vegetable Soup Recipe is exactly that - it's based on having a bunch of vegetables in your fridge and/or freezer that you'd like to use up!
We start by sauteing some onions, carrots and celery in olive oil. I always keep these on hand to use as a base for recipes or for snacking on! While a ratio of 1 part carrot, 1 part celery, 2 parts onions is standard in soup, use what you have. More carrot than celery or some extra onion will work perfectly fine.
Then add in whatever other vegetables you might have in the refrigerator or freezer! Have a bag of frozen mixed vegetables? Half a zucchini? Leftover green beans? Potatoes in the pantry? Give 'em a quick dice and toss them in the soften.
Season all the sauteed vegetables with some tomato paste for depth and a dash of salt, pepper and some dried herbs -- I typically like dried thyme, parsley or rosemary, but it's really up to you!
Then add in your broth and bring to a boil, then lower and simmer.
In the meantime, check your fridge to see if you have any leftover protein or grains to toss in. I love leftover grilled chicken, cooked brown rice, marinated tofu, leftover pasta or lentils. If you don't have any cooked, head to the pantry. Grab a can of beans (black, cannellini, chickpeas, etc all work here!) and cook up some quinoa, rice or small-shaped pasta while the soup simmers.
Then once the soup flavors have melded a bit, toss in your chosen grains and protein and a handful of leafy greens (spinach, kale, chard, etc.) if you have it!
Finish it with a squeeze of lemon or a dash of vinegar to brighten all the flavors.
And voila! Vegetable Soup made from whatever's around! It really is as simple as that!
Use the recipe below as a guideline, but feel free to shake it up and get creative! Use other spices in the cabinet, mix up your vegetable combos or finish with a handful of fresh herbs that are about to go bad.
You never know… you may find your new favorite soup recipe all by accident!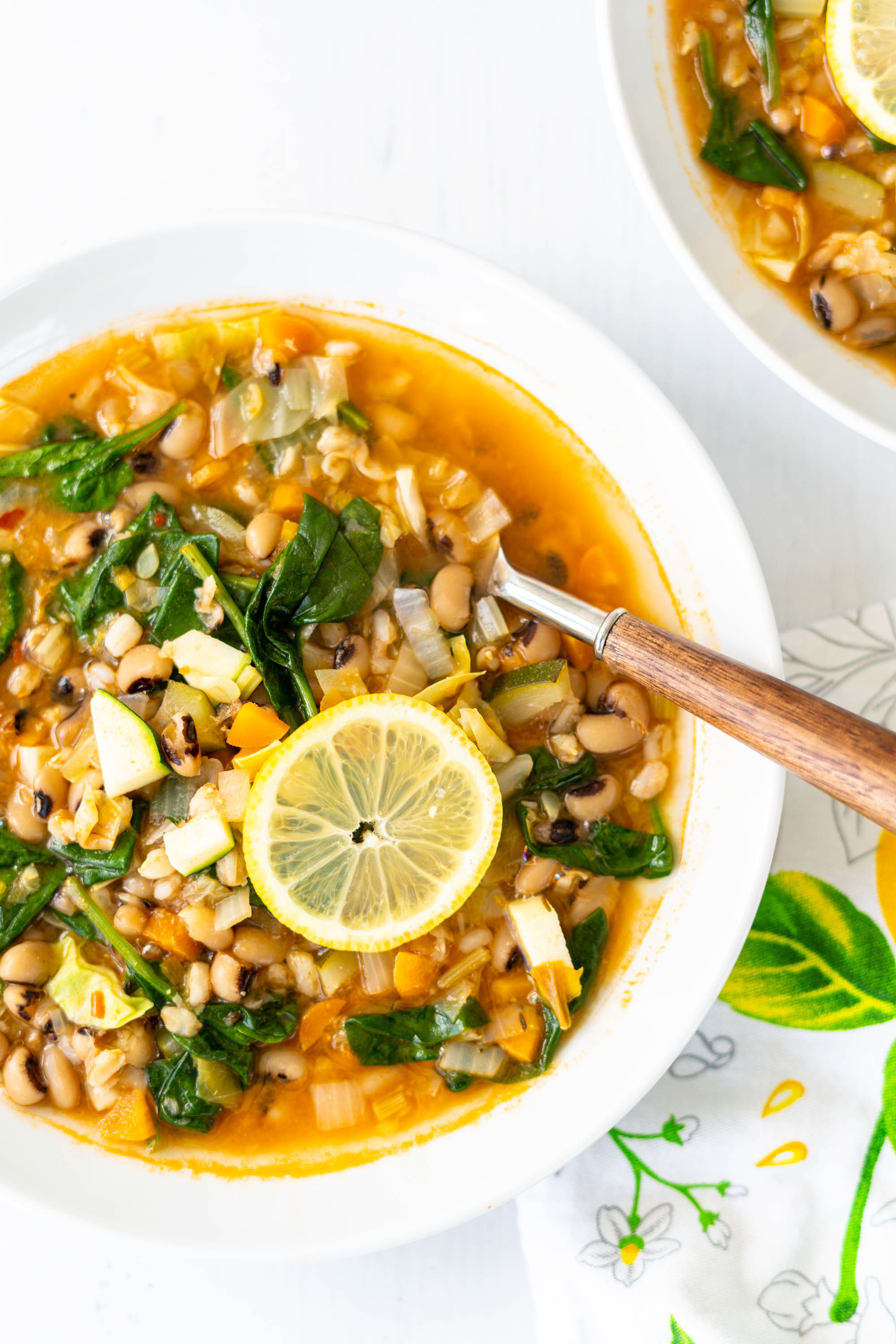 Pantry-Based Spring Vegetable Soup Recipe
Prep Time: 10 minutes
Cook Time: 45 minutes
Total Time: 55 minutes
Servings: 4
2 tablespoons olive oil
1 medium onion, chopped
2 carrots, peeled and chopped
2 celery stalks, chopped
2 cloves garlic, minced
1-2 cups of any other veggies you have in the fridge (zucchini, tomatoes, green beans, cabbage, bell peppers, etc.)
1 tablespoon tomato paste
1/2 teaspoon ground black pepper
1/2 teaspoon sea salt
1/4 teaspoon dried thyme
1/4 teaspoon crushed red pepper flakes
4 cups stock, any type
1 bay leaf
1 (15 oz.) can beans any type, drained and rinsed
1 cup cooked grains, any type (quinoa, rice, small pasta, etc.)
2 cups chopped leafy greens (spinach, kale, chard, etc)
1/2 lemon, juiced (or 1 teaspoon red wine vinegar)
In a medium saucepan, heat the olive oil over medium heat. Add in the chopped onions, carrots and celery. Stir to coat in oil and let soften for 5 minutes. Add in the minced garlic and the additional vegetables of your choice. Stir and let soften for another 5 minutes, stirring occasionally.
Add in the tomato paste, salt, pepper, thyme and red pepper flakes. Pour in the stock and drop in the bay leaf. Bring to a boil, then simmer for 20-25 minutes.
Add in the beans, grains and leafy greens and let cook for 5 minutes. Then finish with the lemon juice and serve!