We're well into the swing of fall with school schedules, sporting events and lots of all around busy-ness. In this cozy season, we're desperately in need of delicious, nutritious snacks to pack for lunch or eat on the go. These Pumpkin Granola Bars are a super filling, chewy, well-spiced snack to keep on hand.
Nothing says fall's here like snacking on all the pumpkin spice treats day in and out. These healthy pumpkin bars will make the whole family happy.
Granola bars are one of our favorite on-the-go snacks, but so many varieties at the store are packed with added sugar or unnecessary ingredients. These Pumpkin Granola Bars are packed with whole grains, healthy proteins and fats and are light on sugar.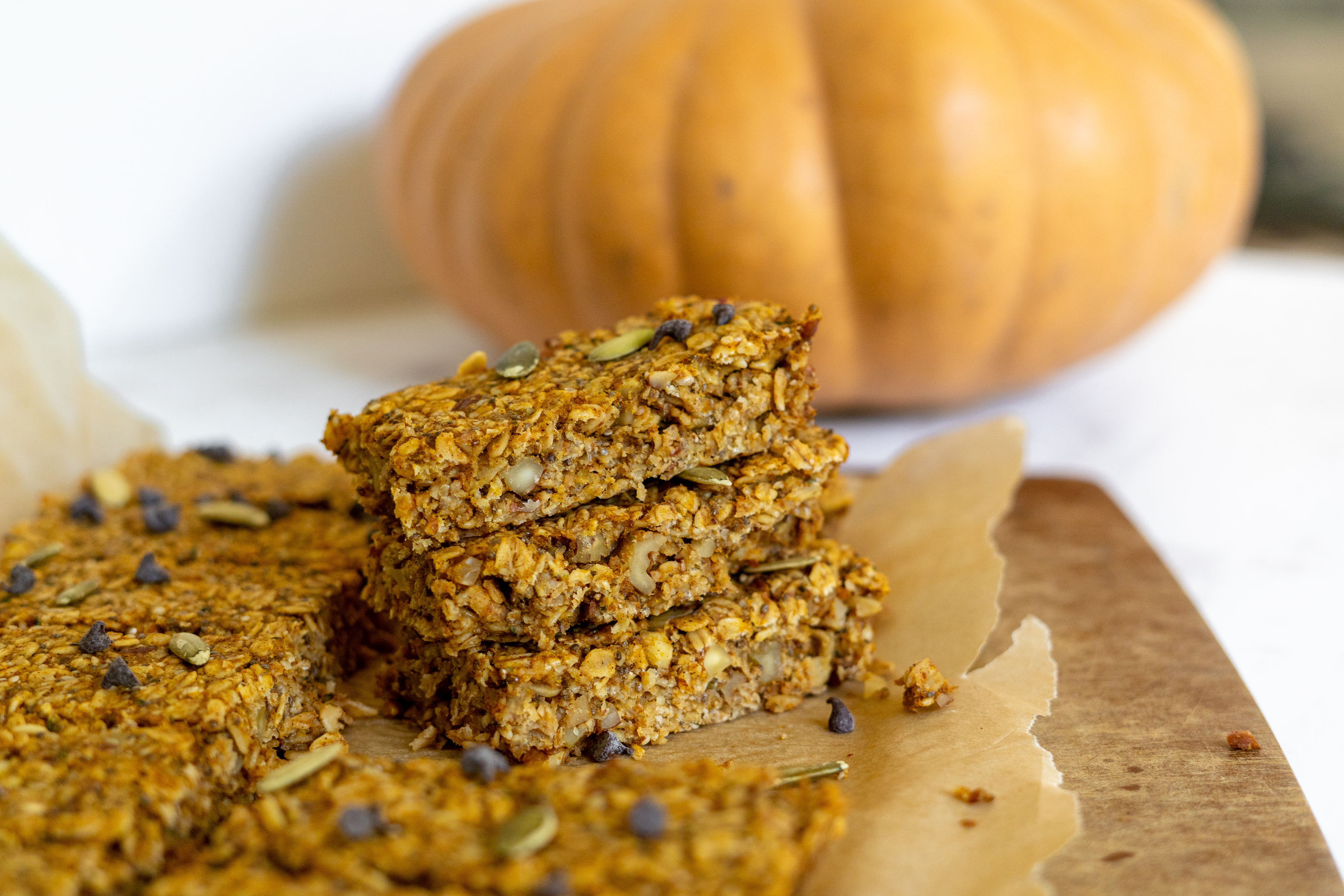 Many homemade granola bar recipes also rely heavily on nut butters or honey to keep them together. Those recipes are delicious, but higher in fat and sugar. By using pumpkin puree in the wet ingredients, we are able to keep the granola bars together well without all the added fat and sugar.
Additionally, pumpkin puree is an awesome source of potassium, vitamin A, vitamin C and iron. All these immune-boosting nutrients will help keep your family healthy and happy through the busy fall season!
How to Make Pumpkin Granola Bars
Start by melting the coconut oil in a large glass measuring cup. Once melted, whisk in the pumpkin puree, maple syrup and vanilla extract.
Then mix together all the dry ingredients. Feel free to use any nuts or seeds that you have in the pantry. With pumpkin, I always like to use pecans or walnuts, but almonds, pumpkin seeds or pistachios are all delicious. Don't be afraid to amp up the flavor here too with some extra cinnamon or nutmeg to double down on the pumpkin spice flavor.
Prepare your pan with a sheet of parchment paper that hangs over the sides. This is ensure that your pumpkin granola bars are easy to lift from the pan once they're baked and cooled.
You want to make sure that your granola mixture is pressed together very well in the pan. I like to use a small piece of plastic wrap that I place over the mixture so that I can press it down with my hands or the flat bottom of another pan. By pressing the granola bar mixture together well, you'll get finished bars that don't fall apart so easily!
Once the bars are pressed together, bake for 20 minutes. Remove them from the oven and let them cool all the way before cutting into bars. Cut into 12 bars and store in an airtight container.
Pumpkin Granola Bars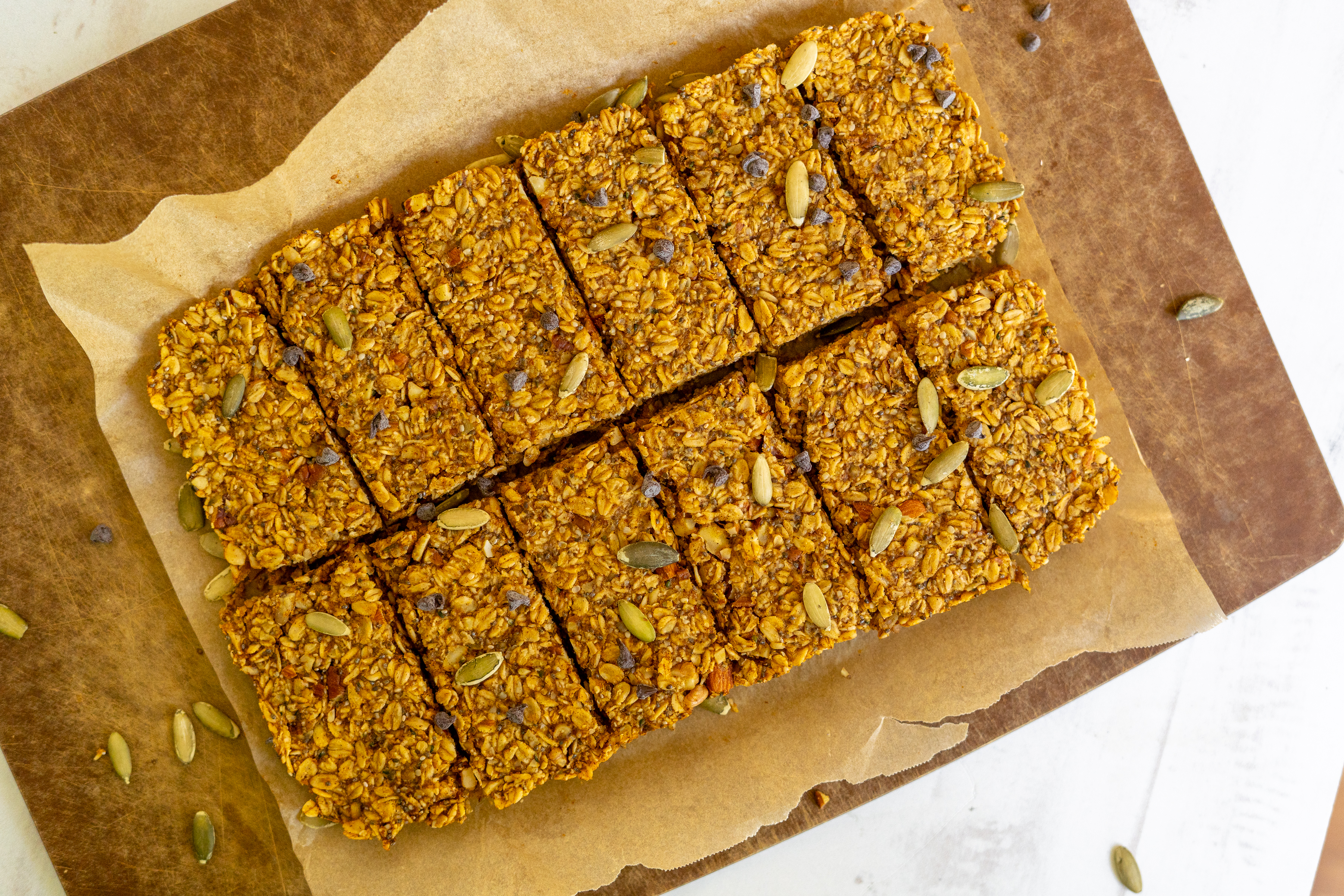 Prep Time: 15 minutes
Cook Time: 20 minutes
Total Time: 35 minutes
Makes 12 bars
Ingredients
3/4 cup pumpkin puree
1/4 cup + 2 tablespoons coconut oil, melted
1/2 cup maple syrup
1 1/2 teaspoons vanilla extract
3 cups old fashioned rolled oats
3/4 cup chopped pecans, almonds or walnuts
1 1/2 tablespoons chia seeds
1 ½ tablespoons hemp seeds
3 teaspoons pumpkin pie spice
1/2 teaspoon sea salt
1/2 cup chocolate chips
Instructions
Preheat your oven to 350 F. Line a 8x11" pan with parchment paper and spray with baking spray.
In a large bowl, whisk together pumpkin, coconut oil, maple syrup, and vanilla extract.
Add in the the oats, nuts, chia seeds, pumpkin pie spice, salt and chocolate chips.
Pour the granola mixture into prepared pan. Use a piece of foil or plastic wrap to press the granola firmly into the pan. Make sure it's tight and compact so that the bars hold together after baking.
Bake for 20 minutes. Remove from the oven and cool for at least 30 minutes.
Once cooled, remove from the pan by lifting up the parchment paper. Place on a cutting board and slice into 12 even bars.
Store in the fridge for up to 1 week.