Rose and chamomile, doesn't that combination just sound dreamy? Luckily I've incorporated these botanicals into a homemade lip repair balm recipe that's relaxing, dainty, and rich, all in one tiny little punch. It is packed full of mineral-rich oils, soothing shea butter, and healing vitamin E oil. This rose and chamomile lip balm recipe creates something that is so much more than your everyday lip balm. It makes a nourishing homemade lip repair cream that keeps your lips hydrated, pink, and painless through the winter season and beyond.
In the winter, the heater dries out the air and our skin, making for chapped, cracked, and painful lips. In warmer months, the sun can also be damaging to the fragile skin on the lips. This recipe has natural ingredients that heal and repair the skin, as well as keep it hydrated. It all starts with a touch of raw honey. Honey is good for just about everything, and is oh-so nourishing for the skin. As a humectant that attracts moisture, it has the power to hydrate and heal. Raw, unfiltered honey also has antimicrobial properties which help to guard your lips against infection. (1)
Shea butter and olive oil are combined with coconut oil to make for a thick, creamy base for this homemade lip repair balm. Vitamin E oil capsules are incorporated for antioxidant benefits. The antioxidants in Vitamin E help guard against free radicals, protecting your lips from sun exposure and air pollution. Vitamin E also helps to strengthen skin barrier function and is naturally very anti-inflammatory. (2)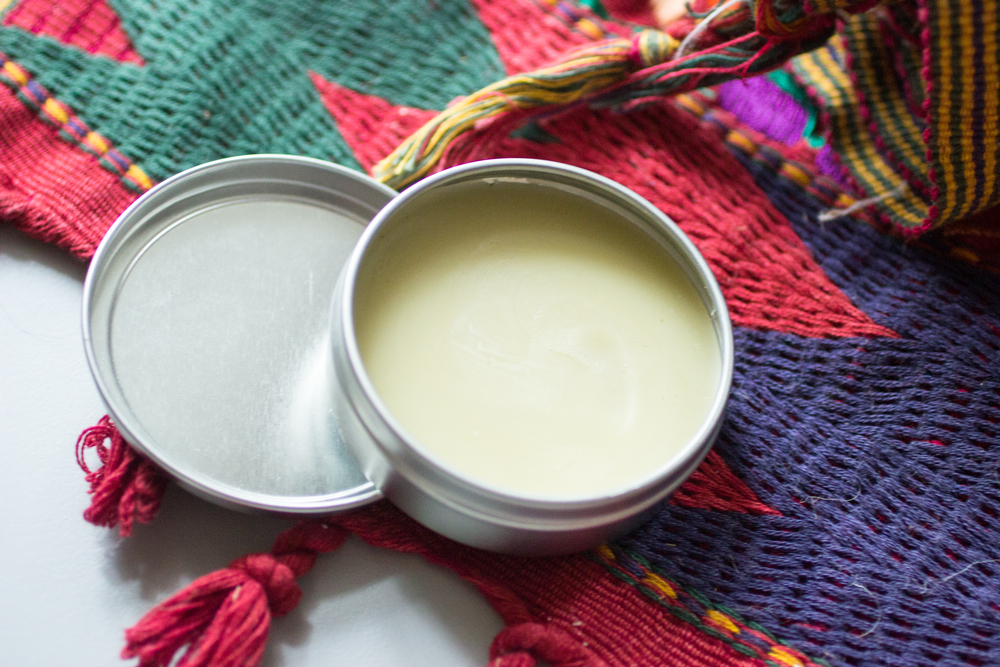 If you live in a warmer climate or will be using your lip balm on-the-go, I recommend using beeswax as an alternative to coconut oil. This will help to solidify your balm. I love coconut oil and it provides medium chain triglycerides, as well as other healthy fats, minerals, and anti-inflammatory properties. The only downside to coconut oil is that it liquefies at temperatures above 76°F. This will make your balm runny if it is exposed to heat (think hot car, pocket etc.). Simply choose the ingredient that best fits your needs!
Lastly, I am all about essential oils, and frankly, you can use whichever ones you want in this recipe. I personally just love rose and chamomile for any skin or healing. Chamomile is naturally very calming and can help reduce inflammation and redness to irritated skin. Rose is like the queen oil for skin care. It is expensive, but a couple of drops are all you need. It guards against free radicals, it heals, it soothes, it repairs, it does just about everything that all the ingredients in this recipe do combined. Enough said. Plus, rose just feels beautiful.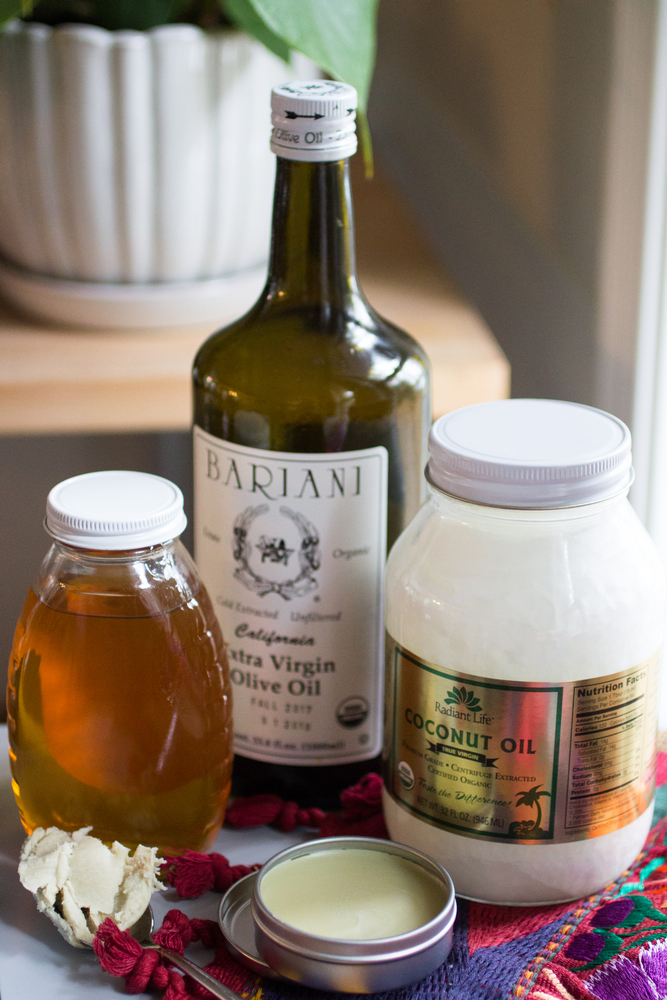 Ingredients:
One tablespoon shea butter
1 teaspoon raw honey
1 teaspoon olive oil
1 tablespoon coconut oil
¼ teaspoon vitamin E oil (3 capsules squeezed out)
7 drops chamomile essential oil
3 drops rose essential oil
Instructions:
Melt the coconut and olive oil in a small saucepan on very low heat. You want to be careful not to burn the oils, so if you have a double boiler, that is even better.
Once oils are fully liquid and incorporated together, take off the heat and stir in the honey and shea butter.
Let the mixture cool slightly.
Squeeze Vitamin E oil capsules in and add essential oil drops.
Mix well, but gently.
Before the mixture totally solidifies, put it in small, sealable containers. I love little metal ones or small glass jars.
Seal and store for use!