A big hot pot of simmering chili might not be your first idea for a meal in the middle of the summer. Who wants to heat up in an already hot season? Well, recently I had some extra homemade bone broth on hand and a craving for pumpkin that just would not go away. So I decided to get creative and make my own version of Nourishing Broth's Spiced Beef and Lamb Chili recipe. It was exquisite and totally hit the spot! Another perk: I had enough left overs for several more meals throughout the week. With a busy work schedule and always being on the go, it was a win. But best of all, this recipe was super quick and easy to make, while still being full of nourishing foods.
Nourishing Broth was written by Sally Fallon and Kaayla Daniel as a supplement to Sally Fallon's main cookbook, Nourishing Traditions. The book contains delicious traditional recipes incorporating bone broth, alongside detailed information on the science behind this time-tested food.
As the subtitle states, it is an "old fashioned remedy for the modern world." Not only does bone broth taste delicious in and of itself, it is vital in repairing the gut lining and excellent for the immune system. It is also a key component for those who like to do intermittent fasting. When fasting, a person is advised to keep away from all foods, however, they are not to drink just water. Bone broths and herbal teas are highly recommended to sip on throughout the day to provide the body with the critical nutrients and electrolytes it needs to keep functioning properly. In my home, whenever there is an illness, a bone broth fast for at least two days is a must!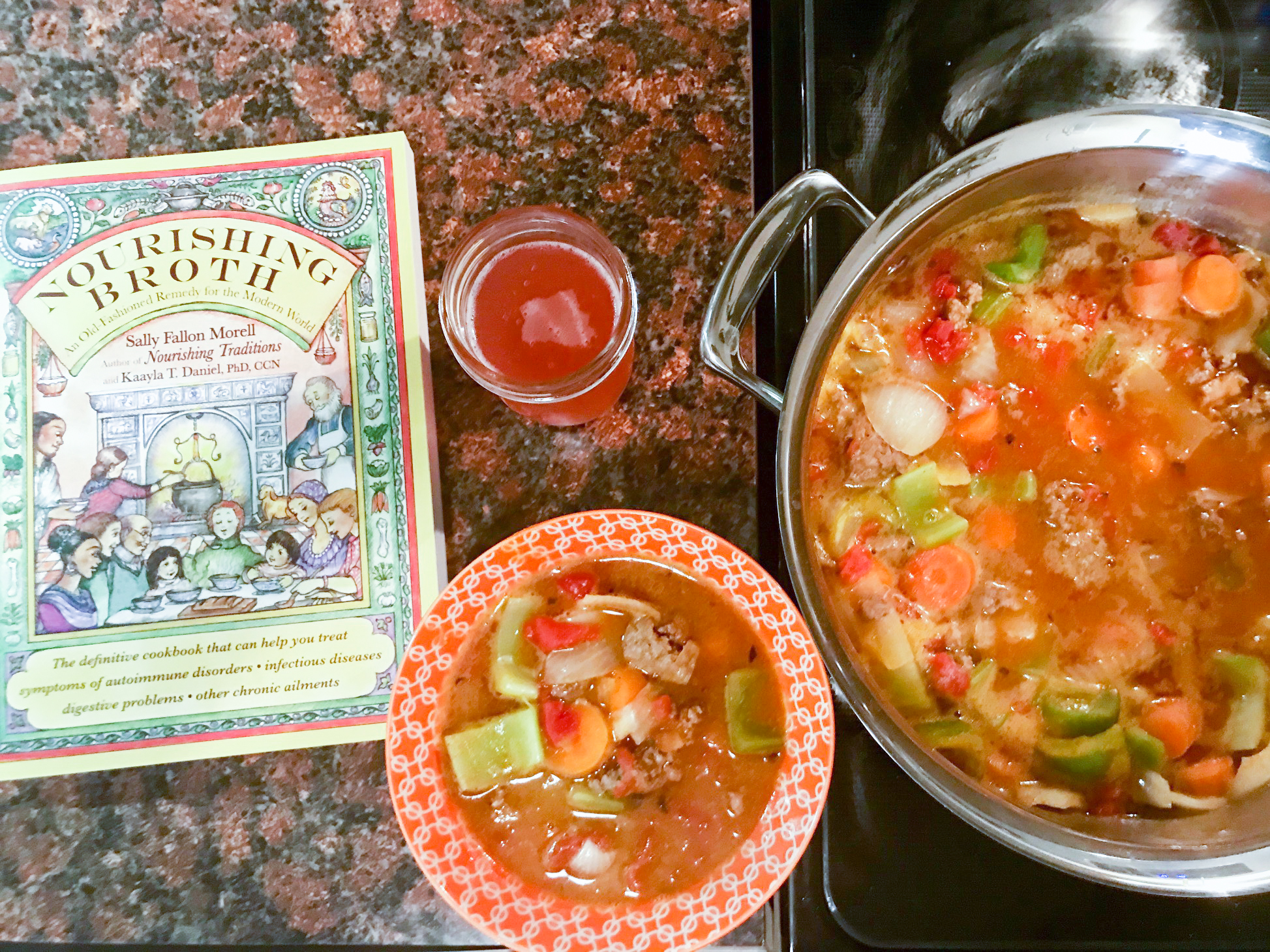 This cookbook takes a look at the culinary practices of our ancestors to help the reader understand the many health benefits that come with making broth a regular staple in one's diet. Nourishing Broth also dives into the science behind the unique combination of amino acids, minerals and cartilage compounds in bone broth.
Some of the health benefits of bone broth include:
Gut healing and soothing of the intestinal lining.
Aiding in a faster recovery from illness.
Protection of joints and cartilage.
Strengthening bones and teeth.
A deeper, more restful sleep.
Weight loss. (1)
So with a Nourishing Broth recipe for inspiration, a few cups of broth on hand and a can of pumpkin in my cupboard, I got to work. The resulting recipe provides all of the benefits of broth, plus tons of protein and iron through grass-fed beef and lamb. I am blessed to live in farm country, where I can buy locally from a grass-fed farm. In addition, this recipe is a great opportunity to load up on fresh, organic veggies. As the chili simmers, the juices soak in and make the veggies perfectly soft and full of flavor. I also add tomatoes and plenty of spices to go around. Normally this recipe does not call for pumpkin, but that 12 ounces of orange goodness definitely adds to the flavor! Serve it on up over a bed of rice, or right on its own. You can't go wrong. My mouth is already watering!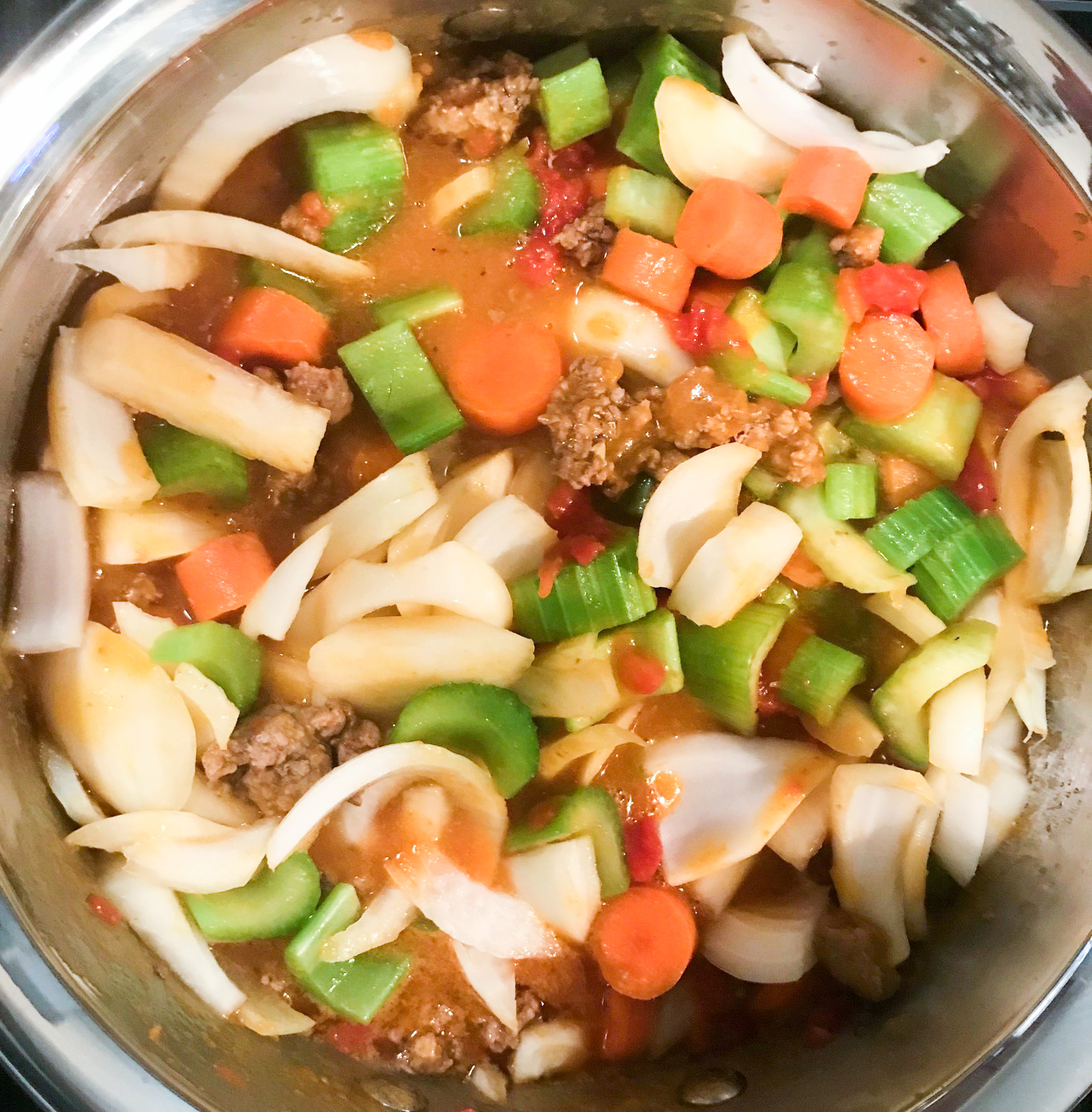 Ingredients:
Two tablespoons of pasture raised lard, coconut oil, or grass-fed tallow
One pound of grass fed beef
One pound of grass fed lamb
One 12 ounce can of pure organic pumpkin
One 28 ounce can of diced tomatoes
Two chopped carrots
One cup of chopped celery
One onion diced
One and a half cups bone broth
One tablespoon chili powder
One teaspoon cumin, oregano
Half a teaspoon ginger, cinnamon
Salt and pepper to taste
Grass-fed Liver Powder (optional but a great way to sneak in organ meats!)
Instructions:
Melt fat in the bottom of four-quart saucepan.
Cook meat until it is not pink anymore.
Add in cans of pumpkin and tomatoes.
Let simmer while you chop veggies.
Dump veggies in the pot.
Add bone broth and stir all contents to mix.
Add spices, stirring briefly in between each one.
Cover and simmer for about 40 minutes, or until veggies are softened.
Enjoy your leftovers for up to four days! Storing them in airtight containers will help preserve freshness.