Throughout the warm summer months, there are so many occasions that call for veggie-heavy side dishes. From BBQs and picnics to an abundance of gorgeous produce at the farmer's market to nights when it's just too hot to cook, you find yourself gravitating towards easy salads that highlight the deliciousness of the season!
This Spicy Chopped Salad with Sesame Lime Vinaigrette and Curry Cashews works just as brilliantly as a side dish for a BBQ as it does for weekday lunch meal prep or a quick throw-it-together dinner on a hot summer night!
It's packed with delicious flavors and can easily be made with whatever's looking good at the farmer's market this week - plus a few pantry items to round it out for a balanced, filling dish.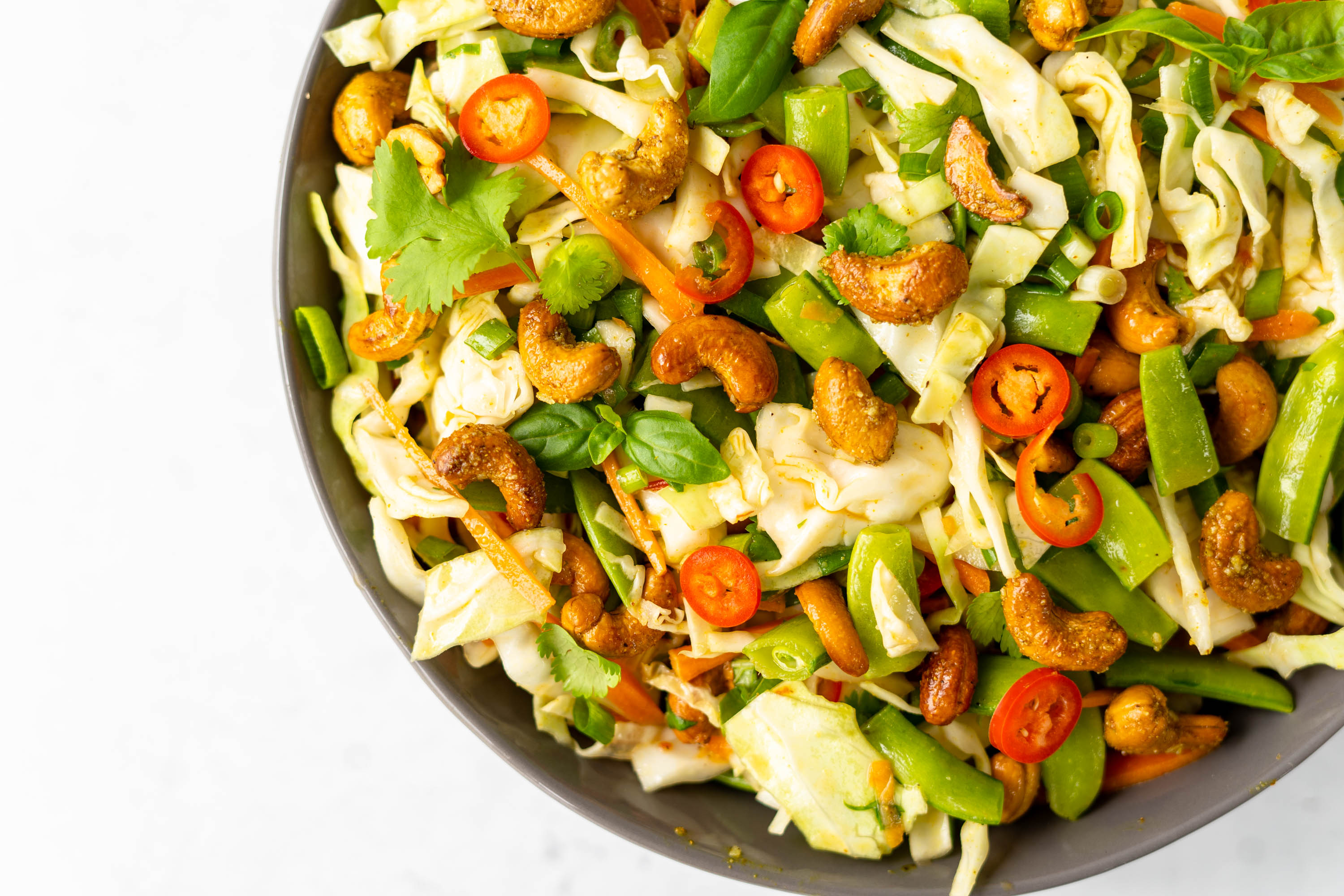 What makes this Spicy Chopped Salad so special are the curry cashews. They help bring some fat and protein to the salad, while also providing a TON of flavor. They're made in less than 10 minutes with ingredients that you likely already have in the pantry. I suggest doubling the batch so you have extra to snack on over the next few days!
As for the spice factor, feel free to amp it up or cool it down depending on your taste preferences. I love using the little Thai chilies for their brilliant red color, but they can be hot! If you're not at all a fan of spice, omit it - but maybe toss in a little diced red bell pepper for that gorgeous pop of color!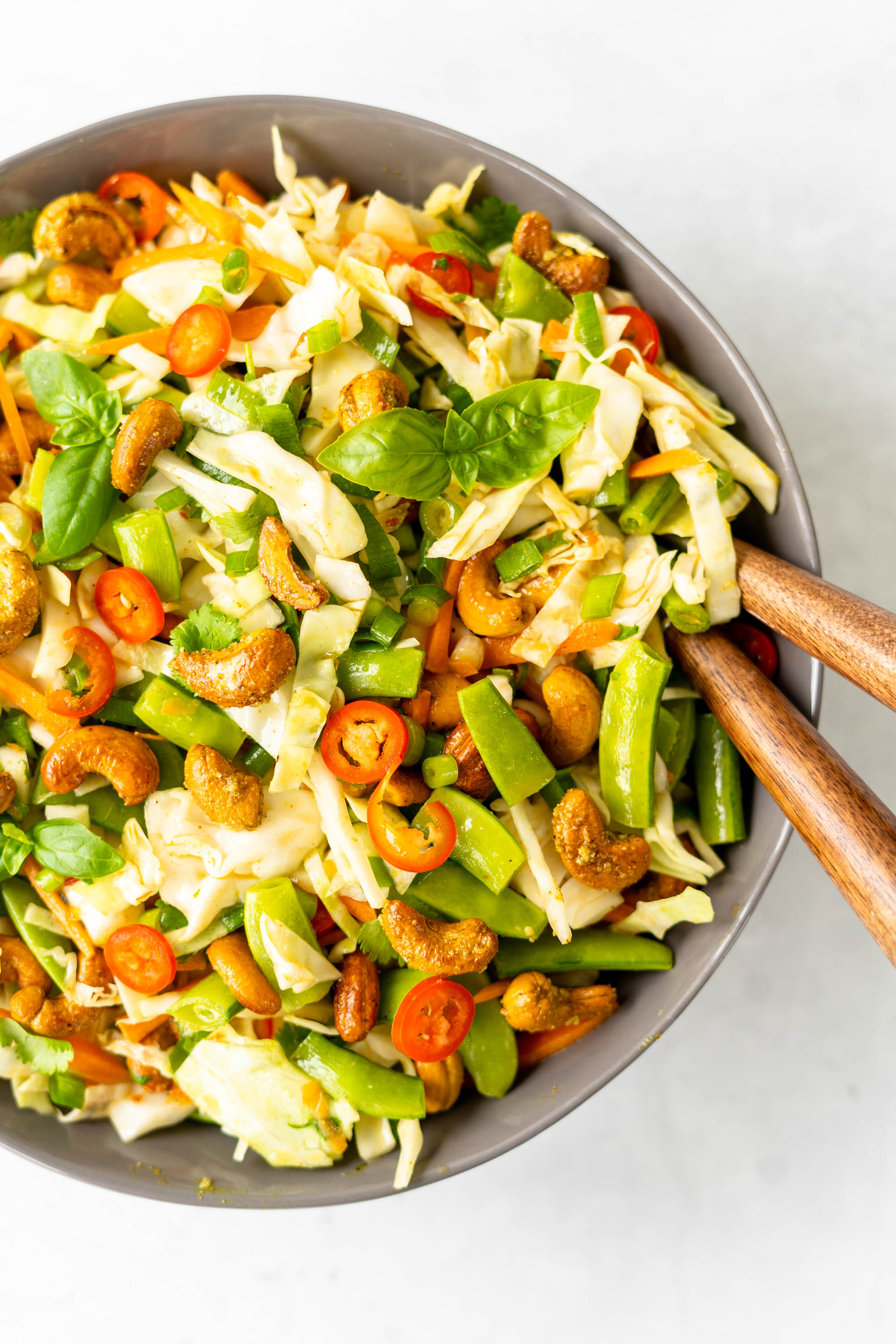 Prepping this Chopped Salad is super easy! First, we want to roast the cashews so we give them some time to cool down before eating. Roast the raw, unsalted cashews on a sheet pan in the oven. Watch them carefully, once they start to toast, they'll go quickly! Don't let 'em burn.
While they're roasting up, melt your coconut oil and combine it with curry powder and any other spices you choose. Once roasted, toss the hot cashews into the coconut oil-curry mixture and let them cool.
Next up chop your cabbage, prep the peas, carrots and scallions. Mix them all together in a bowl with fresh herbs and the optional hot chilies.

For the dressing, I highly suggest using a mason jar or other homemade dressing container to make the mixing easy. I love mason jars for making dressing because the tops are tight so you can shake them vigorously without fear! Combine all the ingredients and shake up!
Add about half the cashews to the cabbage salad, then pour the dressing over top. Mix it up well, then serve with extra cashews on top!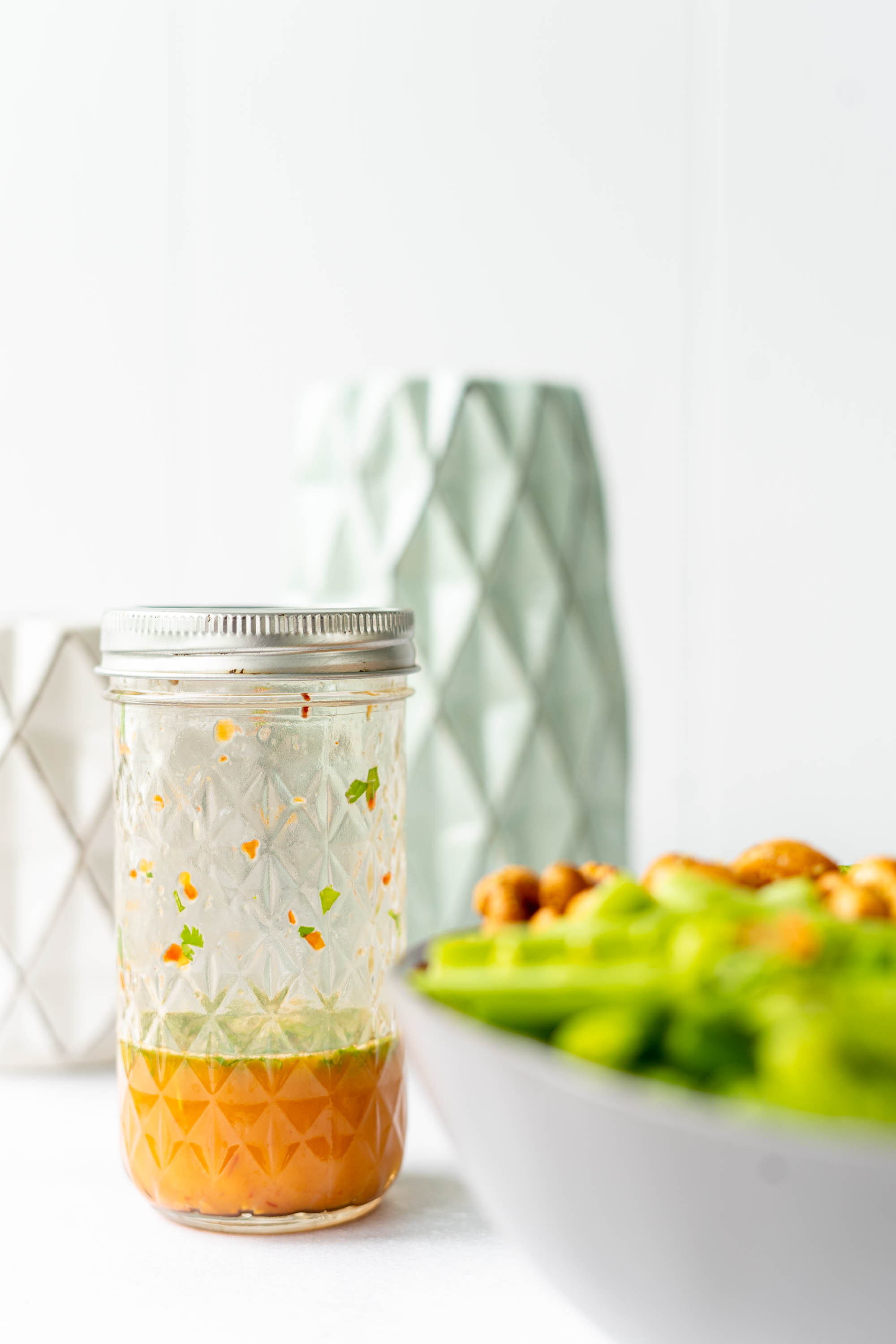 Spicy Chopped Salad with Sesame Lime Vinaigrette and Curry Cashews
Prep Time: 20 minutes
Total Time: 25 minutes
Servings: 4-6
1/4 of a whole green cabbage, sliced thinly and chopped
1 cup sugar snap peas, strings removed and cut in thirds
1 carrot, shredded
1/3 cup scallions, about 3-4 scallions
1 small red chile, thinly sliced crosswise (optional)
1/4 cup cilantro, roughly chopped
1/4 cup basil or mint, roughly chopped
Spicy Sesame Lime Dressing:
2 tablespoons rice-wine vinegar
1/2 teaspoon fish sauce
1 teaspoon chili garlic paste
1 teaspoon soy sauce
1 teaspoon organic sesame oil
1 lime, juiced
1 tablespoon organic olive oil
1/4 cup chopped fresh cilantro
Curry Cashews:

1 cup raw, unsalted, whole cashews
2 teaspoon virgin coconut oil
1 teaspoon curry powder
1/2 teaspoon sea salt
1/2 teaspoon garlic powder
Dash of cayenne, optional
To make the cashews: Preheat the oven to 400F. Place the cashews on a baking sheet in a single layer. Roast for 5-7 minutes, until slightly golden brown. In a bowl, stir together the melted coconut oil and the spices. Once the cashews are roasted, add them to the spiced oil and stir well. Set aside to let them cool.
In a mason jar or bowl, combine the dressing ingredients. Shake or whisk well and set aside.
In a large bowl, combine the cabbage, snap peas, carrots, scallions, red chile, cilantro, basil and half the roasted cashews. Drizzle the dressing over the top and stir well to combine. Serve with more cashews on top.