Fresh veggies are here! We truly couldn't be more excited. This Summer Vegetable Frittata is a celebration of the vibrant produce of the season - and it's perfect for a brunch, lunch or light dinner.
A frittata is an Italian-style egg dish that is made partially on the stovetop and then finished in the oven. It's similar to a quiche, but without all the work of making, rolling and blind baking the crust. In fact, frittatas are one of our favorite savory breakfasts because they can be pulled together in less than 30 minutes.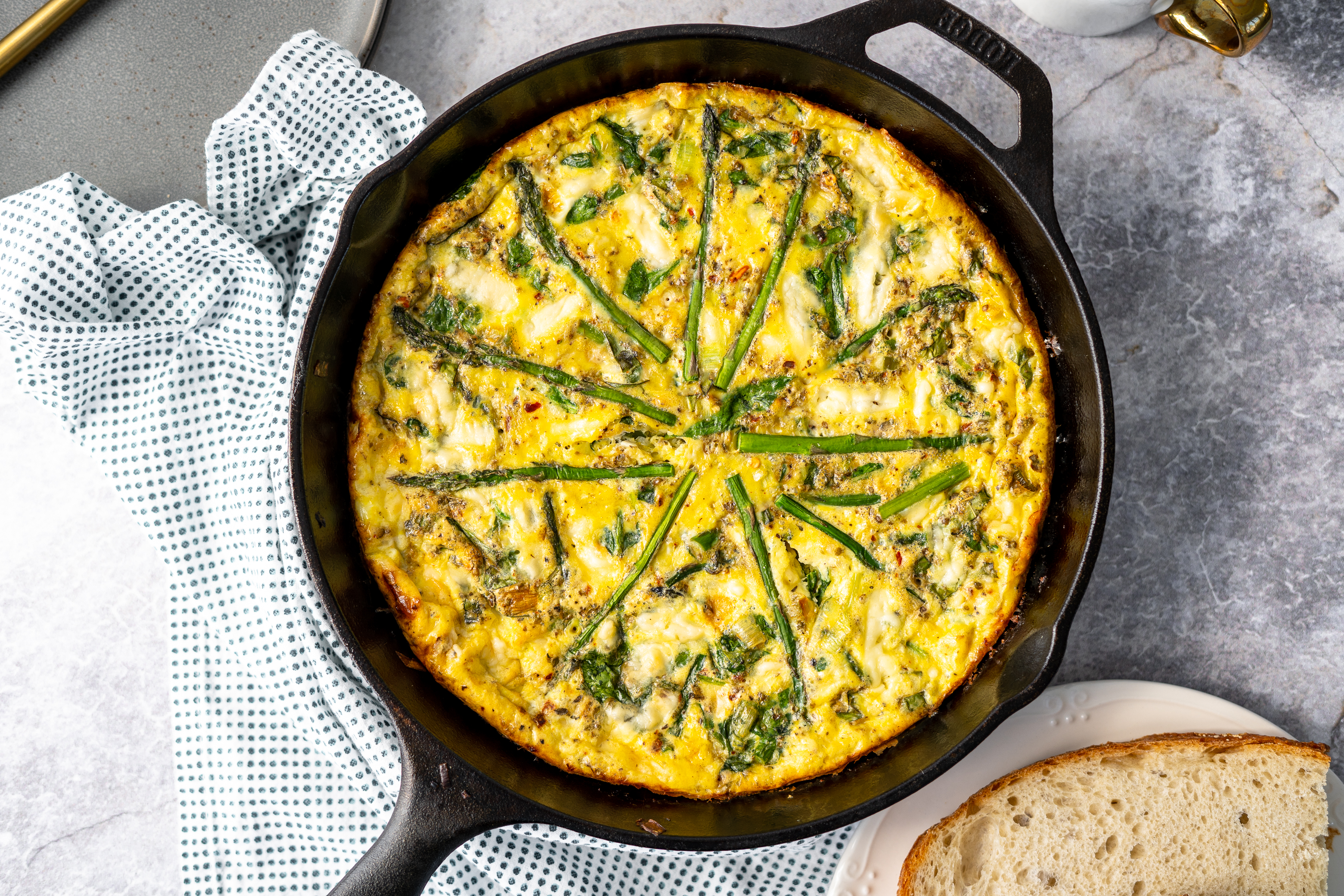 One of the best things about a frittata is just how versatile it is! While this recipe calls for summer vegetables, you can use essentially whatever you have in the fridge. It's fun to get creative - and it's a great way to use up some small bits of produce or leftovers that might otherwise go to waste in the fridge.
As long as you have a carton of eggs and a handful of vegetables, you've got everything you need! Having a basic frittata recipe on hand means that you can whip up an easy breakfast or brunch anytime for any amount of people. It's packed with protein and nutrient-rich vegetables - and it also makes amazing leftovers for weekday lunches!
This recipe uses 8 eggs, but you can use a couple more or less if you're feeding a different number of people. Then you can add in any vegetables you have, but this celebration of summer calls for asparagus and spinach. We think that adding in some artichokes, spring onions or peas would be delicious! And finishing it with a sprinkle of fresh herbs gives it a deliciously savory pop of flavor right at the end.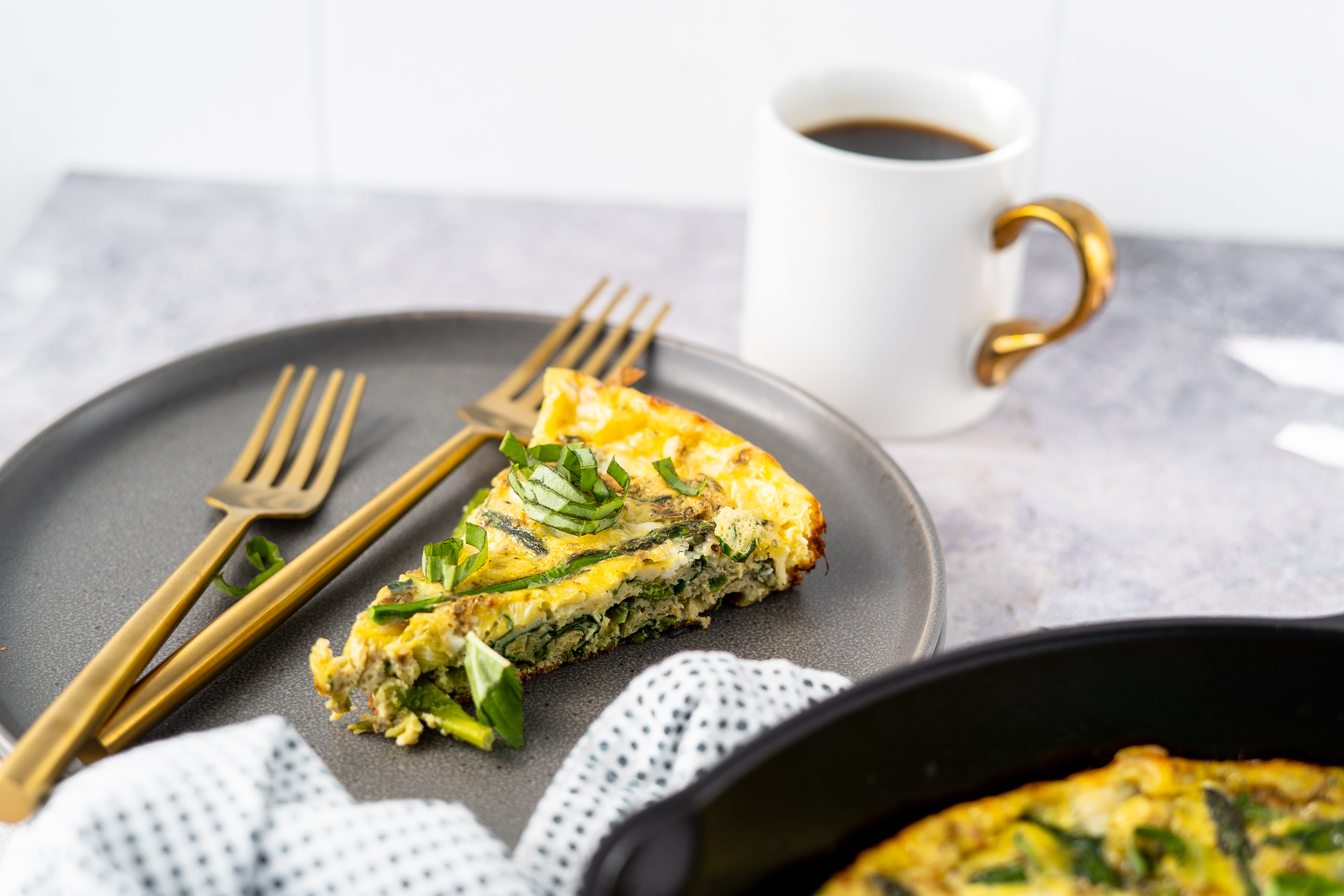 How to Make this Summer Vegetable Frittata
Start by whisking together egg, milk and seasonings, along with some shredded cheese and fresh herbs, if desired. We love our frittata with a light sprinkle of either cheddar or parmesan, but mozzarella balls or dots of goat cheese work really well too!
Next, we'll saute the vegetables a bit to soften. Make sure to choose a skillet that can be used on the stovetop and in a hot oven. We love using cast-iron for this, but any oven-safe skillet works well!
First cook the scallions and asparagus until just softened, then add in the spinach to let it wilt. Pour the egg-cheese mixture over the top and gently stir to make sure the vegetables are evenly distributed.
Make sure the heat is about a medium-low and let the eggs cook for a few minutes until the edges are just starting to set. Fight the urge to stir it -- the edges need to set before the center.
Move the skillet into the oven to let the eggs finish cooking evenly. The frittata is done when the eggs are set all the way to the center. We usually do a quick test with a sharp knife inserted in the center just to make sure!
Serve the frittata warm. If serving for breakfast, we love it with a piece of toast and some fruit. If you're having it for lunch or a light dinner, try it with a bright salad of frisee and vinaigrette.
Summer Vegetable Frittata
Prep Time: 10 minutes
Cook Time: 25 minutes
Total Time: 35 minutes
Makes: 6 servings
8 eggs
1/4 cup milk
1 garlic clove, minced
1/4 teaspoon salt
1/8 teaspoon black pepper
1/4 cup shredded parmesan or cheddar
2 tablespoons basil, chopped, plus a little more for garnish
1 tablespoon olive oil
6 scallions or 1-2 leeks, cleaned and chopped
½ bunch asparagus (about 1 cup), chopped
1 cup spinach, chopped
Instructions
Preheat the oven to 400°F.
Whisk the eggs, milk, garlic, salt and pepper until well combined. Add in the cheese and chopped basil and whisk to combine. Set aside.
Heat olive oil in a cast-iron skillet (or other oven-safe saute pan) over medium heat. Add the scallions, asparagus, and a pinch of salt and pepper. Cook, stirring occasionally, until the asparagus is tender, about 5 minutes. Add the spinach and let it wilt, then pour in the egg mixture and chopped basil. Gently stir to distribute ingredients, and let cook on the stovetop for about 4-5 minutes until the edges just start to set.
Turn off the heat and carefully move the skillet into the oven. Bake for 10-15 minutes to finish cooking the eggs. The frittata is done when the eggs are set all the way to the center.