The messiest closet in my house is definitely the one that holds all of my favorite natural skin care ingredients. It's bursting with jars of healthy oils, stacks of glass containers, bags of random essential oils, different kinds of tins that I've picked up here or there, and notecards with recipes on them are piled everywhere in between. Somehow I don't think I will ever have enough shelves to contain my ever-growing collection of homemade, organic personal care products. And recently I've added a new favorite to the mix: 100% raw and unrefined shea butter. Here's a little information about this unique skin moisturizer and and a simple DIY recipe for a whipped shea butter lotion that I think you're going to love.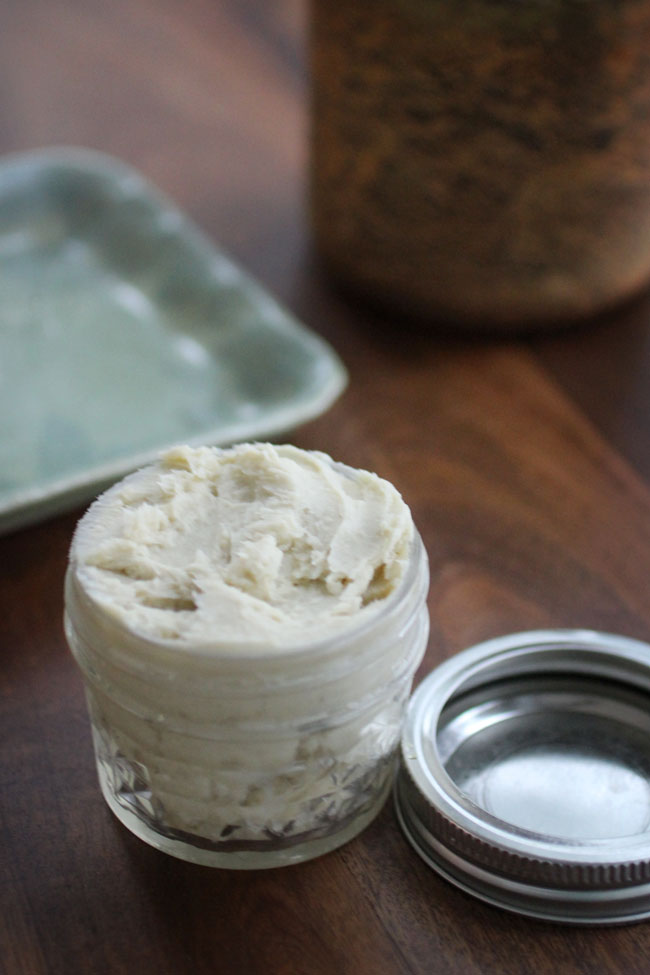 Why Shea Butter?
Shea butter is a type of rich, creamy fat that is extracted from the kernel of a fruit native to West Africa. These fruits grow abundantly on the Karite tree—also called the Shea tree—of which there are two main species, Vitellaria paradoxa and the less common Vitellaria Nilotica. Shea trees grow wildly in a 3,000 mile belt that sits between the southern African rain forests and northern Sahara dessert. Their branches can loom a grand 50 feet above the ground, and the tree can take up to 40 years to mature enough to bear the fruit from which shea butter is produced.

The pits from the fruit of the shea tree contain the thick, white shea butter fat, which has been used for centuries as a topical ointment to treat a wide range of ailments. This fat is naturally concentrated in vitamins and antioxidants that are highly beneficial to the hair and skin. Thus while shea butter does have some culinary uses, it is most widely know for its capacity to quickly rehabilitate dry or irritated skin. With anti-inflammatory, humectant and emollient properties, shea butter is also an effective treatment for wind-chapped lips, rashes, scars and sunburns.
Key nutrients in shea butter include:
Vitamin E As a fat-soluble nutrient, vitamin E comes in two forms: tocopherols and tocotrienols. Both classes of vitamin E play roles in defending the skin from free radical damage. In particular, vitamin E is known for its anti-aging and anti-inflammatory effects. When used topically, vitamin E penetrates the top layers of the skin and is absorbed into underlying tissues. By repairing these deeper layers, vitamin E is able to create longer-lasting change in the skin. Clinical studies have shown that vitamin E is useful for wound healing, reducing wrinkles, and guarding against irritating environmental pollutants.
Carotenoids This fancy word is used to describe the pigments found in many plants that are precursors to Vitamin A. When consumed or used topically on the skin, carotenoids protect the skin against the ravages of UVA radiation from the sun. Clear and consistent studies have shown that certain carotenoids act as a natural sunscreen while still allowing for the proper dose of vitamin D to get through. Carotenoids have also been cited for helping with skin moisture, elasticity, smoothness, fine wrinkles and blemishes. Learn more about carotenoids in this article.
Mixed Polyphenols Plants contain thousands of micronutrients known as polyphenols. These compounds exist in addition to the commonly recognized vitamins and minerals in our foods, and are believed to help with the prevention of many disease states. Although the specific benefits of each polyphenol class are wide, varied and still being studied, it has become apparent in recent years that these micronutirents are more important to human health than previously thought. Shea butter contains polyphenols that are thought to carry antioxidant and anti-inflammatory properties.
Not All Shea Butters Are Created Equally
Shea butter is naturally solid at room temperature and has a smoky, nutty scent. Many shea distributors in the US have tried to chemically alter their butter in an attempt to give it a more alluring scent and smooth texture. However industrial heating, bleaching or adding preservatives to shea butter significantly diminishes its healing properties. Most phytonutrients and fatty acids are fragile and easily denatured, making the handling of the shea butter a key part of its potency. Therefore just because a product lists shea butter as an ingredient on the label, this doesn't mean that it holds all of the same benefits as the plain fat. The most therapeutic shea butters are 100% raw and unrefined—simple, unembellished, and right from the source.
This is why Juka's Shea Butter now has a special place in my cabinet of holistic skin care products. This shea butter is fairly traded and sustainably harvested by women in the small villages of Africa where the Shea tree naturally grows. The fat is extracted without the use of chemicals and is prepared using cold press methods. This means that the integrity of the nutrients is carefully preserved from the time the fruits are picked to when the shea butter arrives at the door.
DIY Whipped Shea & Olive Oil Body Butter
By Kayla- Radiant Life
Shea butter can be applied directly to the skin as a powerful, rejuvenating moisturizer. I use it this way to soothe my cracked hands after coming in from the garden or as a rub for my shoulders after a long day in the sun. However some people find raw shea butter to be too thick and sticky for use as an everyday lotion. In such situations I have enjoyed whipping shea butter with other skin-healing oils like olive oil or coconut oil to make a homemade lotion.
This method thins out the shea butter so that it is easier to apply, yet does so without the use of chemicals or harsh manufacturing processes. The heat in this recipe is kept low so as to protect the nutrients within the shea butter. The addition of essential oils also allows for the creation of a customized scent that enhances the therapeutic value of the lotion, rather than one that diminishes it like artificial commercial fragrances would.
Ingredients
1/2 cup shea butter
1/4 cup olive oil

10-20 drops essential oils for fragrance (optional)

Instructions
Scoop shea butter into a measuring cup and add it to a double boiler over medium-low heat (if you don't have a double boiler, use the mason jar method described in this post). Once the shea butter has melted, drizzle in the olive oil, add essential oils if desired and stir to combine. Remove from heat and allow the blend to cool until it is about half way solidified and opaque. The timing of this step will vary depending on the ambient temperature, but tends to be a little over 1 hour if left on the counter or about 30 minutes if placed in the refrigerator. Using a handheld mixer (or KitchenAid if you are lucky enough to have one!) whip for several minutes or until a light, airy texture is achieved. Scoop into a small container for storage. Lotion is stable enough to keep for a number of months without refrigeration. Enjoy!