As we get into the holiday season, we're craving dishes that feel special, but are actually quite simple to prepare. This White Bean and Pumpkin Soup with Kale-Hazelnut Crumble is the perfect dish to make for an appetizer on the holiday itself, or as a soul-warming meal leading up to the holidays.
Especially this year when everything's looking a little different, having foods that will bring comfort with ease is extra important. We want to help you bring a little holiday cheer to the table without needing to stand over the stove for hours.
That's why we love this pumpkin soup. It's soul-warming, filled with excellent sources of protein and vitamins, and comes together in just 30 minutes.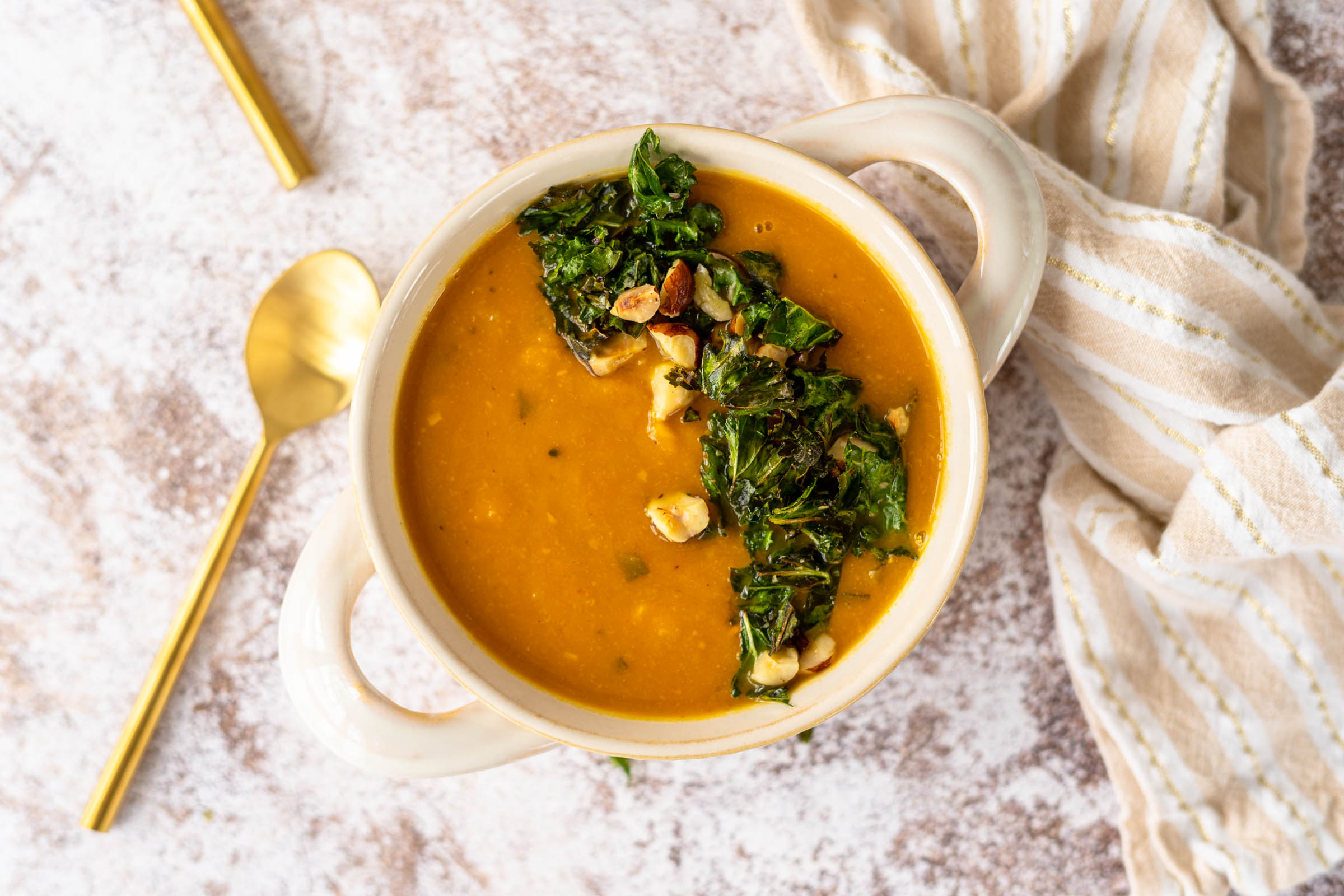 When we first thought about this soup, we knew we had a choice: make the soup from a whole pumpkin or take the shortcut of using canned pumpkin puree.
Now, if you're feeling fancy or you have extra pie or sugar pumpkins around, this soup would be excellent made from freshly roasted pumpkin. However, in the name of keeping things simple, we're opting for canned pumpkin. For one thing, you're super likely to have an extra one lying around after all your Fall baking. And for another thing, it saves a whole lot of time and mess!
This pumpkin soup is naturally vegan and gluten-free. By adding the white beans, we include an awesome source of protein, as well as a great thickening agent to ensure that the soup is extra rich in the end. You can mash them prior to adding into the pot or you can do it towards the end of cooking.
And no squash soup would be complete without a crunchy topping to help bring texture into every bite. This crumble, made of chopped kale and hazelnuts roasted with olive oil, adds a necessary bit of color and crunch into every bite. You may want to make a little extra, since you'll likely find yourself sneaking bites while the soup finishes cooking!
How to Make This Pumpkin Soup and the Kale Crumble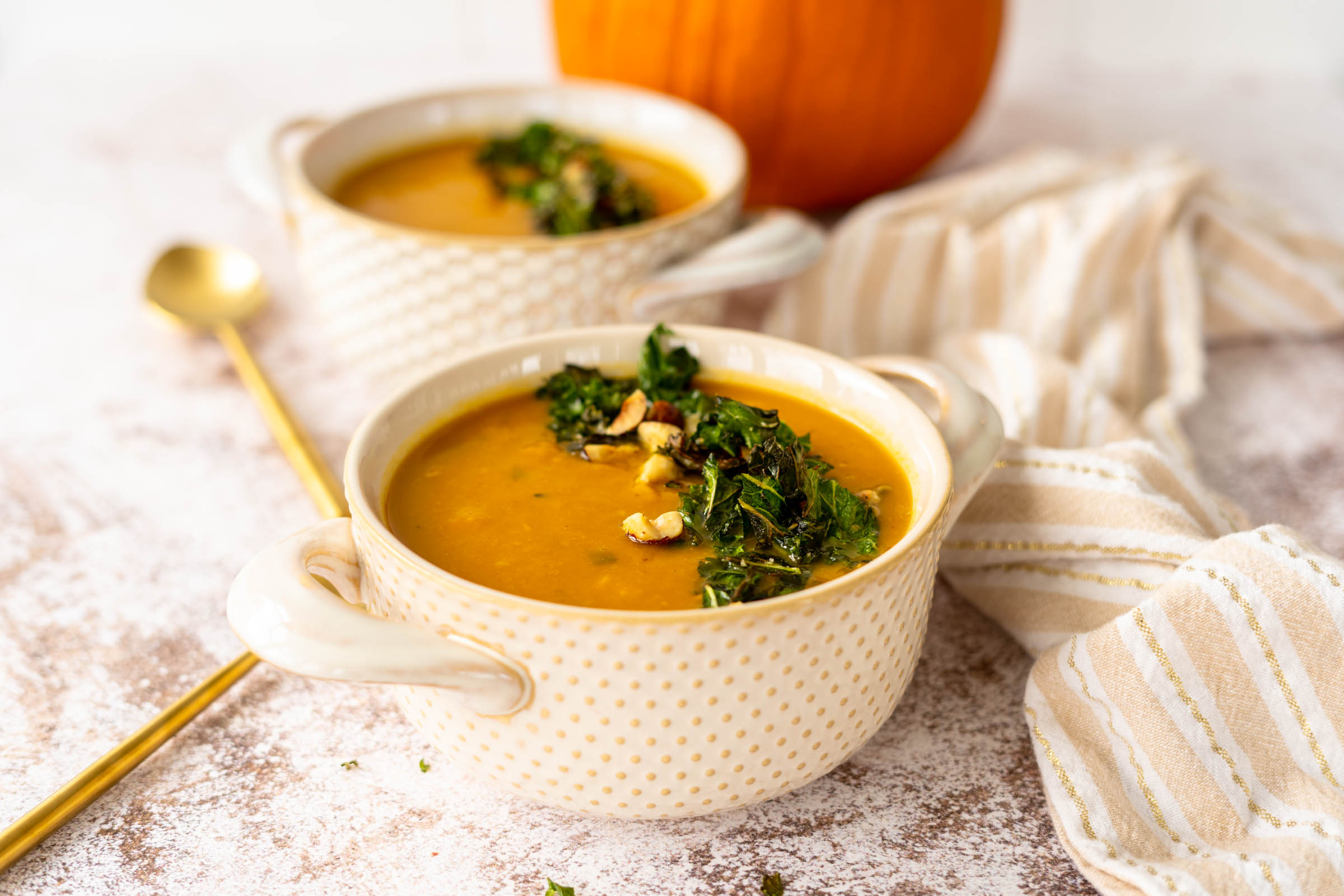 We start by cooking down the shallots and carrots in olive oil to soften. Then add in the garlic, sage, cumin, salt and pepper.
Next, we toss in the drained cannellini beans, stock and pumpkin puree. Bring it to a boil and then lower the heat to let all the flavors meld.
While the soup is simmering, we'll make the kale and hazelnut crumble for the top. Toss the chopped kale and hazelnuts with some olive oil, salt and pepper and roast for just about 10 minutes. Remove from the oven and set aside to cool.
When the soup is almost done simmering, use a masher or just a fork to smush some of the beans and vegetables. This will help thicken the soup and give it some more body.
Then taste the soup and add any additional seasonings it may require. Serve in bowls with a sprinkling of the kale-hazelnut crumble on top!
White Bean and Pumpkin Soup with Kale Hazelnut Crumble
Prep Time: 10 minutes

Cook Time: 30 minutes
Total Time: 40 minutes
Servings: 2 as a main, 4 as an appetizer
Ingredients:
1 tablespoon olive oil
1 shallot, chopped
1 carrot, chopped
2 garlic cloves, crushed

1 tablespoon chopped fresh sage
1/2 teaspoon kosher salt
1/4 teaspoon black pepper
1/4 teaspoon cumin
A pinch of cayenne
1 (15-ounce) can cannellini beans, rinsed and drained
1 (15-ounce) can pumpkin puree

2 ½ cups chicken stock
Kale-Hazelnut Crumble
1 cup kale, chopped
2 tablespoons hazelnuts, chopped
1 teaspoon chopped sage
1 tablespoon extra-virgin olive oil
Salt and pepper, to taste
In a medium saucepan, heat the olive oil over medium high heat. Add the shallot, carrot and garlic. Stir and let soften for 5 minutes. Add in the crushed garlic, sage, cumin, salt and pepper and let cook for 3 minutes. Stir in the cannellini beans, stock and pumpkin puree. Bring to a boil and lower heat to simmer for 20 minutes.
Meanwhile, heat the oven to 375° F. On a sheet pan, combine the chopped kale, hazelnuts, sage, olive oil, salt and pepper. Massage with your hands, then bake for about 10 minutes until crispy and nuts are just toasted.
Using a masher, a fork, or just the spoon along the side of the pot, mash some of the white beans and vegetable chunks to help thicken the soup. Leave as much or as little whole as you like to provide some texture. If you want a really creamy, even textured soup, you can give the whole thing a whirl in the blender.
Serve hot with a sprinkle of the kale-hazelnut crumble on top of each bowl.